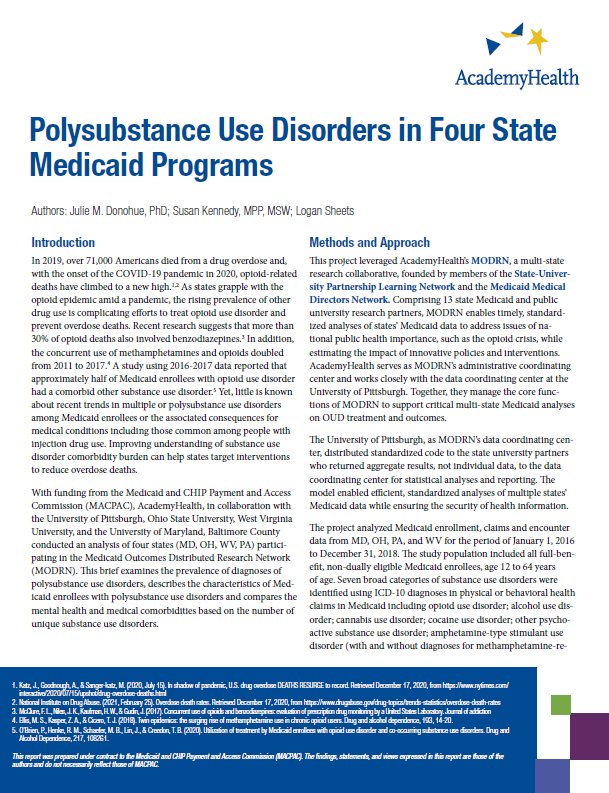 Polysubstance Use Disorders in Four State Medicaid Programs
This project analyzed Medicaid enrollment, claims and encounter data to examine the prevalence of diagnoses of polysubstance use disorders, describe the characteristics of Medicaid enrollees with polysubstance use disorders, and compare the mental health and medical comorbidities based on the number of unique substance use disorders.
Download Publication
In 2019, over 71,000 Americans died from a drug overdose and, with the onset of the COVID-19 pandemic in 2020, opioid-related deaths have climbed to a new high. As states grapple with the opioid epidemic amid a pandemic, the rising prevalence of other drug use is complicating efforts to treat opioid use disorder and prevent overdose deaths. Yet, little is known about recent trends in multiple or polysubstance use disorders among Medicaid enrollees or the associated consequences for medical conditions including those common among people with injection drug use. Improving understanding of substance use disorder comorbidity burden can help states target interventions to reduce overdose deaths.
Findings from this multi-state analysis of 2016-2017 Medicaid data confirms opioid use disorder as the most prevalent of all diagnosed substance use disorders. The authors also found that four in ten Medicaid enrollees with substance use disorders have polysubstance use disorders and that these enrollees had increased risk of several mental health and medical comorbidities. The complexity of treating Medicaid enrollees with polysubstance use disorders, mental health conditions, infectious diseases and medical complications common in those with injection drug use has implications both for Medicaid expenditures, and for the way states design delivery systems for this vulnerable population.