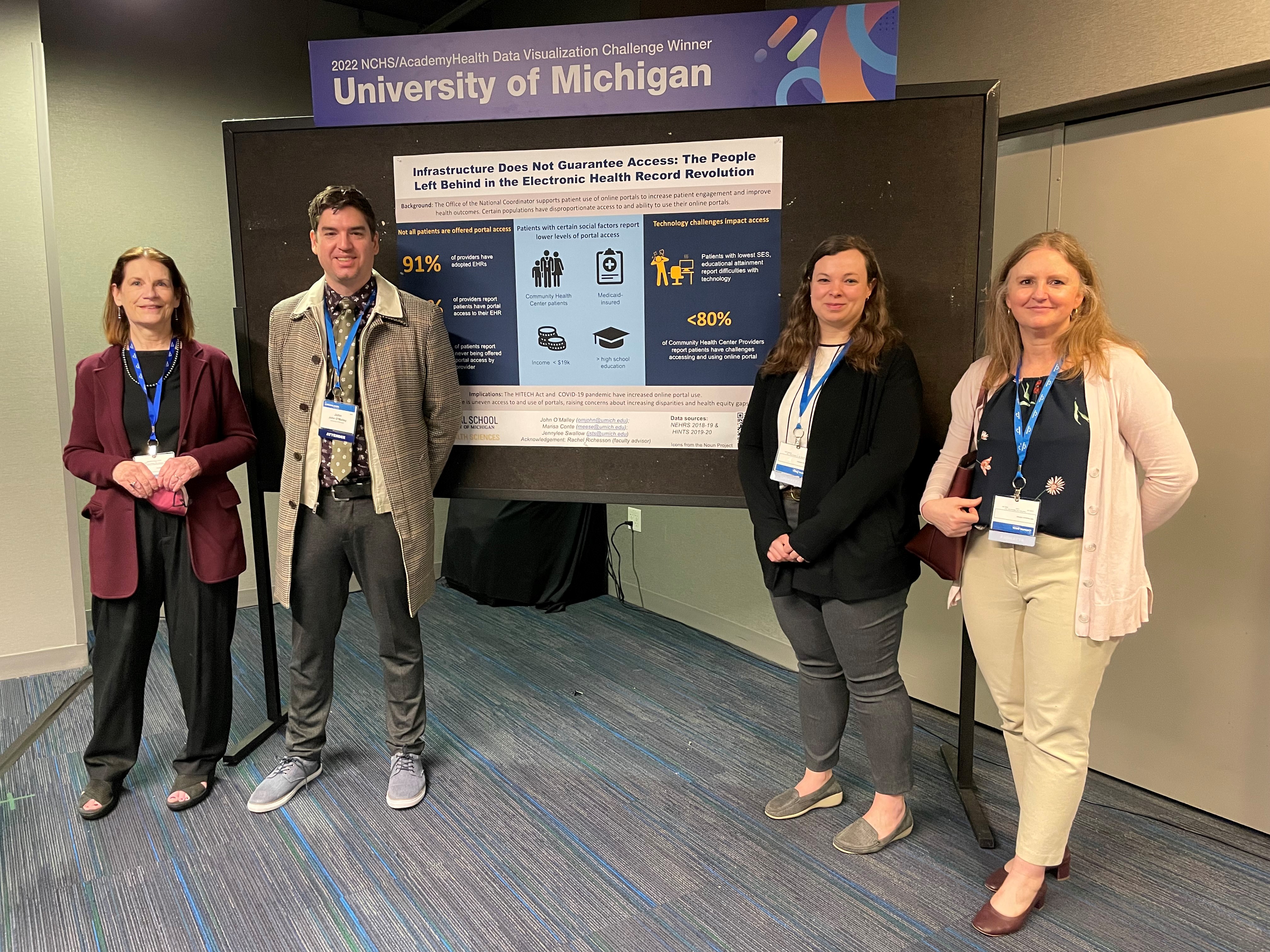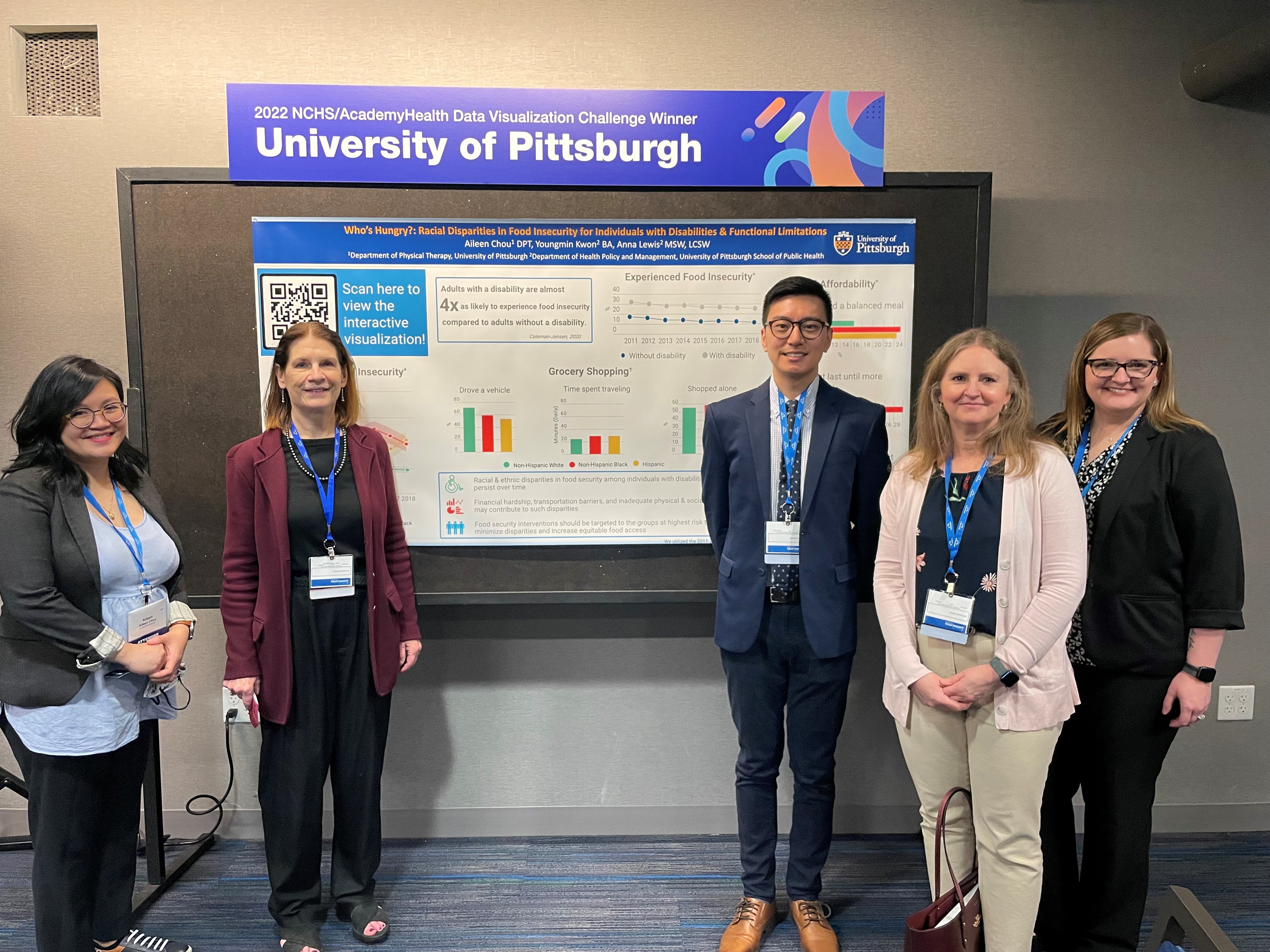 Pictured above is Dr. Margo Edmunds with the 2022 Challenge winners, the University of Michigan Team (left) and the University of Pittsburgh Team (right).
You can view both team's visualizations here.
Interested in Participating in the Challenge?
---
Applications will be opening January 16, 2024. To be notified about the next Challenge cycle, please fill out this brief form.
Overview
---
The Centers for Disease Control and Prevention's National Center for Health Statistics (NCHS) and AcademyHealth are pleased to announce a competition for graduate students (masters or doctoral level) to create a static or interactive data visualization that addresses social determinants of  health using NCHS public use files with non-NCHS public use data.
NCHS data cover a wide array of topics that can be explored across demographic, socioeconomic, and geographic characteristics. This range can make it challenging to present data to different audiences, which include policymakers, researchers, community-based organizations, and members of the public, who may not have the time or resources to analyze the data themselves.
At least one data source must be publicly-available NCHS data that are prominently featured, and we strongly suggest that the other data source(s) be external to NCHS.
The aim is to clearly illustrate and communicate an important public health issue graphically, and to write a short narrative to plainly demonstrate impact and why this issue is important, and to discuss new information provided by the graphic.
Challenge and Award
---
The challenge is to create an informative graphic submission with a narrative that uses at least two publicly-available data sources to examine one or more social determinants of health (SDOH). The Healthy People 2030 (HP 2030) initiative defines SDOH as "the conditions in the environments where people are born, live, learn, work, play, worship, and age that affect a wide range of health, functioning, and quality-of-life outcomes and risks". The HP 2030 SDOH framework includes five broad domains of economic stability, educational access and quality, health care access and quality, neighborhood and the built environment, and social and community context. More information about the Healthy People 2030 program, framework, and objectives can be found here.
Two winning teams will receive complimentary registration to attend the 2024 AcademyHealth Annual Research Meeting.
Timeline
---
The 2022 application cycle is now closed.
Who Should Enter?
---
This Data Visualization Challenge is geared towards U.S. graduate students who are interested in innovating the statistical display of public health trends for various target audiences. The Challenge serves as an opportunity for those who are looking to earn visibility and experience as a public health or data science researcher. Graduate students (masters or doctoral) of any academic discipline may apply as individuals or in teams of up to 3 people. Working with a faculty mentor is permitted, although not required.
All participants must be aged 18 years or over at the start of the competition.
 
All participants must be United States citizens.
 
Participants shall not be:

a federal entity or federal employee acting within the scope of their employment;
a federal employee working on their applications during assigned duty hours;
an employee of for-profit companies or organizations;
an employee of the Centers for Disease Control and Prevention or Department of Health and Human Services (HHS); or
federal grantees or contractors.
Data to be Used
---
Participants will choose one of more public use files (PUFs) from data systems across NCHS (e.g., the National Health Interview Survey (NHIS), the National Health and Nutrition Examination Survey (NHANES), the National Ambulatory Medical Care Survey (NAMCS), the National Hospital Ambulatory Medical Care Survey (NHAMCS), the National Post-Acute and Long-Term Care Study (NPALS), the National Survey of Family Growth (NSFG), the National Electronic Health Record Survey (NEHRS), and/or point-estimates or trend data from provisional COVID and/or Vital Stats rapid release data, or Health United States. All data are freely available online. The NCHS data must be prominently featured. 
We strongly suggest that the other public data source(s) be external to NCHS. A non-exhaustive list of external data sources to NCHS includes data from the Census Bureau or another Federal statistical agency; healthdata.gov; or credible, reliable, and valid public data available from a university, non-profit, public or private foundation, et cetera. If questions or concerns are raised about an external data source, NCHS will consult with AcademyHealth. NCHS will make the final decision about whether that data source is suitable and can be included.
Questions?
---
For more information please contact nchs@academyhealth.org or visit the Challenge FAQ page.
Intellectual Property Policy
---
Submissions to the 2024 NCHS/AcademyHealth Data Visualization Challenge shall be the sole and exclusive intellectual property of the author(s), except as they may voluntarily choose to transfer such property, in full, or in part. If AcademyHealth or NCHS were to link to any submissions, the author(s) would be credited.
Privacy Policy
---
AcademyHealth is committed to ensuring your privacy and understands your need for appropriate protection and management of any personally identifiable information ("personal information") you share with us. Personal information means any information that may be used to identify an individual, including, but not limited to, a first and last name, a home or other physical address and an email address or other contact information, whether at work or at home.
All NCHS/AcademyHealth Data Visualization Challenge applications will be kept confidential and will only be used for the purpose of evaluating applications. By submitting your application to AcademyHealth for consideration in the Challenge, you grant permission for your personal information (including name, college email, name of college, and type of degree being pursued) to be collected. In addition, you acknowledge that AcademyHealth will not return submitted materials to applicants. Challenge winners will be contacted for permission to share their headshot, name, brief bio and winning submission on the AcademyHealth website.