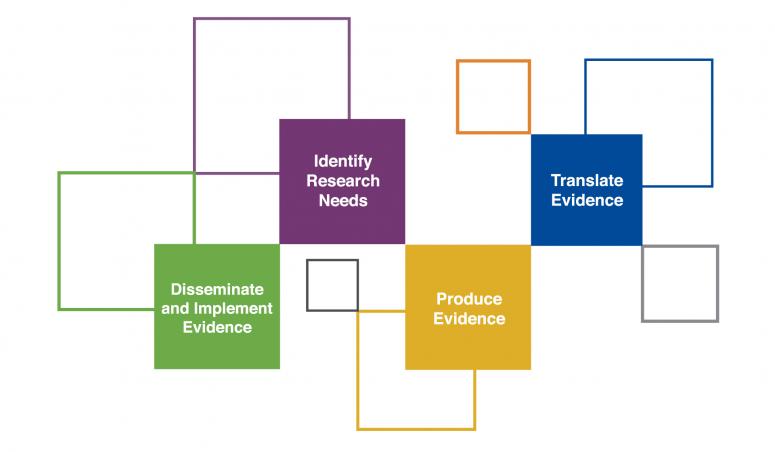 Read on to see examples of how AcademyHealth can support efforts to both use and produce evidence that improves health and the performance of the health care system.
Supporting the Production of Evidence
Identify Research Needs
Through the establishment of technical expert panels, councils, and boards as well as the development and facilitation of deliberative dialogues, we engage key stakeholders in priority and agenda setting to identify research needs.
Across these and other activities, our staff is adept at identifying and securing participation of content experts from diverse fields and disciplines.
Produce Evidence
We support our members' growth and ability to produce rigorous evidence through scholarships and fellowships, awards, grantmaking programs, and forums to exchange knowledge, like our interest groups.
We also cultivate and support communities of practice and learning networks to advance evidence and identify workable, collaborative solutions to persistent challenges.
Supporting the Use of Evidence in Policy & Practice
Disseminate and Implement Evidence
To improve health and health care, AcademyHealth focuses on getting actionable evidence to key decision makers at the right time, in the right format, and on topics that are relevant to current decisions and debates.
Through tailored communications and training, technical assistance, guided peer-learning, and professional development opportunities, we help our members and the field more effectively translate, disseminate, and implement their work.
Translate Evidence
Our activities, including environmental scans and qualitative research, provide context and help decision makers evaluate the strength of existing evidence.
We also have more than 30 years' experience hosting conferences, workshops, policy briefings, webinars, and other participatory convenings of varied size and advocating to support the robust production and enhanced dissemination of health services research.
To discuss how your organization can partner with AcademyHealth contact info@academyhealth.org.