Health care provider organizations are increasingly offering Medicare Advantage (MA) plans, according to an Aetna-funded report by Avalere released in January. As shown in the chart below, the rate of market entry of such provider-sponsored plans has picked up in the last decade.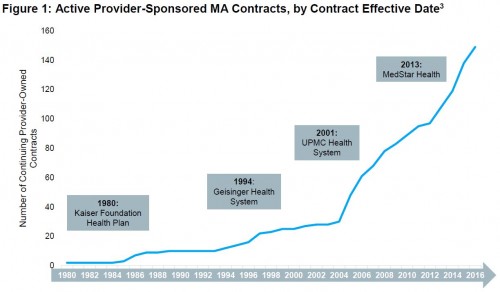 In 2016 alone, 58 percent of new MA plan-offering parent organizations were providers. In total, such plans are available to 64 percent of the MA market and claim 20 percent of MA enrollees.
Just as colleagues and I found in our study of vertically integrated MA plans, Avalere reports that provider-sponsored MA plans tend to have higher quality than other plans. As shown in the chart below, 53 percent of provider-sponsored plans have a five-star rating, while only 11 percent of other plans do so.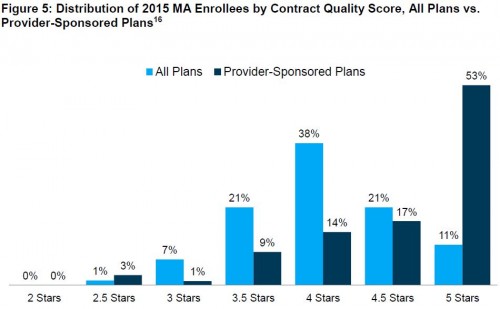 Provider sponsorship is not limited to the MA program. Most of the large MA provider-sponsored plans cover more lives in the commercial and Medicaid (managed care) markets than in MA.
For example, while Geisinger enrolls 87,000 Medicare beneficiaries in its MA plans, it insures 384,000 individuals in its non-MA group, individual, and Medicaid plans.
The Avalere report does not include an analysis of MA plan premiums. We found that provider sponsorship is associated with higher premiums ($28 higher per month). However, about 70 percent of the greater premiums of provider-sponsored plans is not attributed to higher quality or better benefits. One possibility is that organizations that offer their own plans also command greater market clout.
Provider sponsorship of health plans is a growing trend in MA, and likely in other health insurance markets. Given the documented associations with quality and premiums, it's a trend worth watching and studying.
Blog comments are restricted to AcademyHealth members only. To add comments, please sign-in.