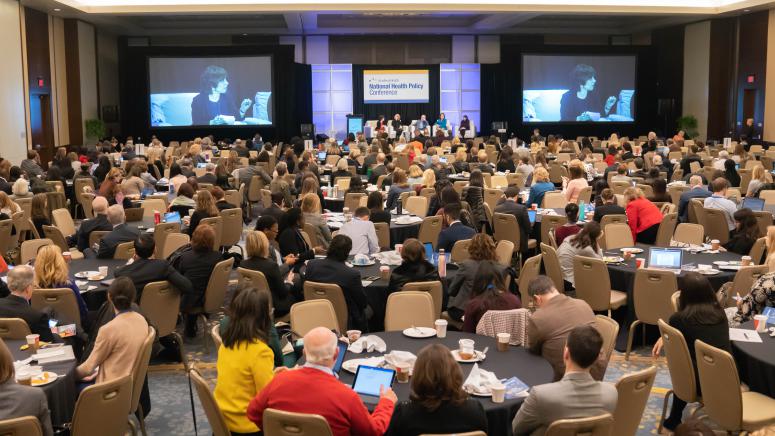 Just three months after the 2018 midterm elections, on the eve of a much anticipated State of the Union address, and with the 2020 elections looming large on the horizon, conversations at this year's National Health Policy Conference (NHPC) ran the gambit on predictions for what issues would be the most pressing for policy makers, researchers and voters in general this election season.
"I want to focus on the ultimate purpose – how does our collective work translate into better care and outcomes for patients, their families and communities?" said AcademyHealth President and CEO Lisa Simpson in her opening remarks. "AcademyHealth is committed to closing the gap between research, policy and practice, supporting a cycle of learning and innovation that drives change. This meeting is one way we aim to do that."
Throughout the two-day meeting, three key issues rose to the surface including the need to address health care spending, a recognition of the urgency to innovate in delivery system settings, and the growing body of work to address the many non-clinical factors that affect our health.
Health Care Spending
Across the health care ecosystem, health care costs are a top concern. Perhaps one of the most glaring issues of health care spending has been prescription drug costs. Indeed President Trump listed it as a priority in last year's State of the Union address.
The health policy community had been waiting for anticipated action on this front and just days before his NHPC keynote, Health and Human Services Secretary Alex Azar announced the largest change to the prescription drug pricing system the administration has put forward so far. The proposed rule would allow drug makers to offer discounted prices to consumers but not to pharmacy benefit managers, as they currently can through a system of rebates.
"Even health policy wonks are largely in the dark about where these rebates go—we may know the structure of the system, but we still don't know what happens to the rebates on any drugs we take," Azar said. "Under our proposal, the rebates moving around Part D, which in 2017 totaled more than $29 billion, will have to be passed directly on to patients, right at the pharmacy counter."
Beyond drug pricing, NHPC attendees dug into the many other complicated factors of growing health care costs including broad issues such as cost shifting rather than cost saving. As plenary panelist Michael Chernew of Harvard Medical School noted, one person's health care spending is another person's revenue.
"When you think about any policies we talk about, it involves a shift where someone else is paying, which creates different problems in different sectors," Chernew said.  
In that same panel, Reed Tuckson of Tuckson Health Connections, LLC, highlighted new forces at play in today's health care spending environment. Specifically, he mentioned vertical and horizontal integration, consumerism, and artificial intelligence and machine learning.
Elsewhere during the conference panelists discussed the challenge of engaging consumers in value-based payment reform. Charlene Wong of Duke Children's Health and Discovery Initiative noted that while there's been efforts to make prices more transparent through various tools, research shows that only 10-15 percent of patients who could be using the tools are doing so. Charlotte Yeh of AARP emphasized the important role of trust in consumer relationships, urging providers to think about how various treatments and tools will make consumers' lives more convenient, not just improve their health.
Delivery System Transformation
Plenary panelists touched on several areas of focus for delivery system transformation including the need to address social determinants, to better leverage digital health technologies to improve access, and expanding the traditional use of payer data to better address issues such as care quality. 
"Digital health leverages technology to deliver care and information to patients and providers that's more convenient, cost-effective, and often more personalized," said plenary panelist Naomi Fried of Health Innovation Strategies. "It has potential to decrease costs, improve quality, improve efficiency, and deliver care and information in ways that could not be done before."
Other sessions throughout the conference highlighted the ways researchers are using data from a variety of sources to transform health care delivery. For example, researchers in Maryland are finding ways to better assess quality of care for complex patients, while others are identifying trends in alternative care venues.  In the same rapid fire session, Elizabeth Messenger-Jones explained data gleaned from form filing reviews shed light on how to better enforce mental health parity regulations.
Public Health
NHPC presenters also shared promising efforts and innovations by researchers, providers, and payers to address public health issues. A common theme among all presenters was the need for the robust collection, analysis, and distribution of information in order to understand risk factors and develop preventative measures.
Mat Reidhead of the Missouri Hospital Association presented his team's effort to build predictive models and a learning network in order to identify social risk by tracking ICD-10 coding and hospital utilization in Missouri. In the same session, DaShawn Groves of the Department of Health Care Finance shared their development of practical tools and resources for data sharing across domains to address significant health disparities amongst Washington, D.C. wards.
In a rapid-fire session, panelists offered a variety of studies that addressed population health needs, including the utilization of PrEP among social groups to prevent HIV through sexual transmission; addressing household dysfunction to keep children with disabilities healthier and away from high-cost interventions; and a study to address behavior health and mental health among low-income families.
In reference to what keeps her up at night, closing plenary speaker, Kimberlydawn Wisdom of the Henry Ford Health System spoke about the "unintended consequences of not looking at things through an equity lens." Panelist Garth Graham of the Aetna Foundation stressed the importance of "building more community input into addressing health inequity." The panel concluded that trust is essential to change health outcomes in communities and that community health workers - those who are there, real, and present - are often the frontlines of building that trust.
Throughout the conference, the theme of moving evidence into action resonated loud and clear. During her keynote address, congresswoman Rosa DeLauro emphasized the need for the health services and policy research community to support her vision for every American to have the opportunity to live a healthy life.
"We cannot do public policy if we do not have the research to back it up," she said.
Blog comments are restricted to AcademyHealth members only. To add comments, please sign-in.