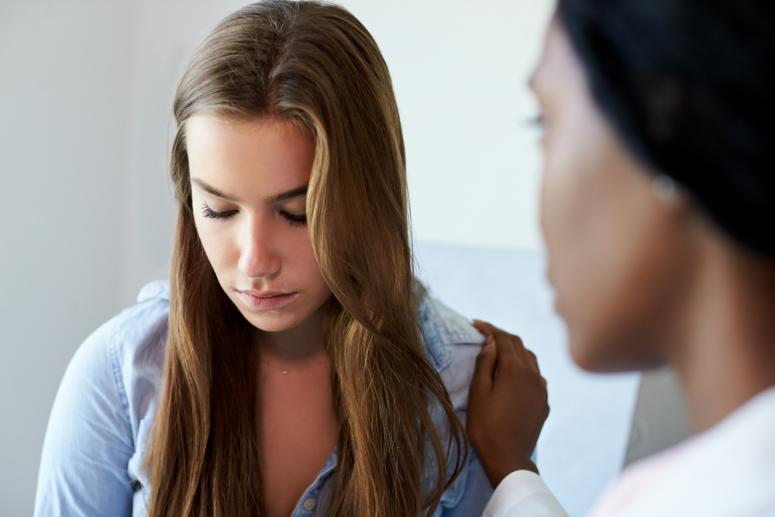 This year, October 6-12 is Mental Illness Awareness Week. One new effort to help raise that awareness, and to accompany it with concrete steps to alleviate pressing problems, emerged from a June 2019 National Summit for Policy and Action on Teen Mental Health Crises.
Forty-five national and local advocates and policy experts met at AcademyHealth to identify high-priority policy activities aimed at fixing gaping holes in the safety net for teens in crisis. Their recommendations are contained in a new publication from AcademyHealth and its partners Adolescents and Children Together for Health (ACT for Health) and the Jewish Healthcare Foundation, Addressing Teen Mental Health Crises:  A National Policy Playbook.
Unfortunately, our teenagers are not OK. Half of all mental disorders appear by age 14, although few are recognized and treated. When our teens face a potentially dangerous mental health emergency ­– a high risk of suicide, a drug overdose or perpetration of violence – systems that are meant to protect them are failing.
Policies and Priorities
Mental health promotion, prevention, and treatment systems for teens (including substance use and aggression-related) require a full-scale overhaul. At the Summit, one theme emerged above all others: a new approach to financing and funding is needed to ensure that organizations and families trying to cope with teen mental health challenges get the dedicated resources they desperately need. This new approach should be based on identification of a defined floor of benefits for teens and on new models of care that cover all the entities that could be engaged in responding to teens, including in emergencies. They should also be teen-centered and -led, engage families, take advantage of digital health information and communications technology, and use value-based payment approaches tailored to teen mental health.
Our crisis response approaches should be accessible anywhere in the country via a three-digit call number, a recommendation recently agreed to by the Federal Communications Commission for suicide emergencies. Such a number should quickly connect callers to local centers that would be able to perform triage; dispatch help; and coordinate care that is effective, safe, and guarantees a path to recovery and a more stable environment for preventing relapses. In its online presence, the system would feature a teen-friendly user interface and user experience.
National Summit participants emphasized the importance of building a new kind of infrastructure to respond to teen crises. This will require a multi-disciplinary workforce of professionals and peer specialists with greater expertise in adolescent development, and greater support for schools and school districts.
The evidence base for creating such a model needs to be strengthened even as it is built, preferably by using hybrid effectiveness-implementation research and evaluation designs, and with particular attention to teen diversity, equity, and inclusion. As the model matures, it will be essential to ensure that it includes evidence-based, cross-sectoral, continuous performance improvement, based on evidence-informed standards and research-based performance measures.
Advocacy Strategies
In addition to setting out an agenda for how mental health for teens in crises needs to change, National Summit participants also identified advocacy strategies for top policy priorities across multiple domains. Target audiences invariably included local, state and/or federal officials, and ranged from Congress and governors, in the case of financing and funding, to the National Institutes of Health and the Agency for Healthcare Research and Quality, in the case of research and evaluation.
The advocacy strategies themselves included educational efforts, such as showing legislators the consequences of not having a teen mental health benefits floor, as well as innovative partnerships with law enforcement, first responders, hospital emergency department, digital mental health experts, and teens themselves on designs for teen crisis text and phone lines.
Indeed, the group emphasized that teens and their families are primary partners and allies for advocacy, preferably in leadership roles. Other allies include established mental health organizations, private foundations, college and university leaders, law enforcement, youth groups, and health care and other professional societies.
Conclusion
Mental health emergencies are complicated, but recent findings from adolescent brain science, continued developments in information and communications technology, and media attention to teen mental health can all help pave the way to a true safety net for adolescents in crisis. No teen considering suicide or any other harmful act to themselves or to others should ever be more than a text or three-digit phone call away from teen-focused help. It is the minimum we owe our teen children and, in these unstable times, the minimum we owe ourselves.
Blog comments are restricted to AcademyHealth members only. To add comments, please sign-in.