There are now close to 17 million individuals living with and beyond cancer in the U.S.; most of these cancer survivors are at least five years beyond active treatment and are largely represented by those aged 70 and older. One decade ago, the Institute of Medicine (now the National Academy of Medicine) report, From Cancer Patient to Cancer Survivor: Lost in Transition, outlined ten recommendations aiming to provide coordinated, comprehensive care for cancer survivors. There has been significant progress made since the release of these recommendations, though gaps remain in research, clinical practice, and policy. Specifically, the recommendation calling for the development of quality measures in cancer survivorship care has yet to be fulfilled. 
As the inaugural scholar in the NCI/AcademyHealth Healthcare Delivery Research Visiting Scholars Program, my project aimed to develop a comprehensive, evidence-based cancer survivorship care quality framework and propose the next steps to apply it in clinical settings, research, and policy. Through an iterative process, my colleagues and I developed a framework that may be used to systematically deliver and evaluate the quality of cancer survivorship care across the population of adult cancer survivors. The framework was derived using a multi-methods analysis including U.S. and international professional guidelines, funded grants, comprehensive state cancer plans, patient voices, and published literature. The model was validated through semi-structured stakeholder interviews followed by presentations at a number of venues including the 2018 AcademyHealth Annual Research Meeting. 
Based on these efforts, we propose that quality cancer survivorship care address cancer-related and general care needs including: prevention and surveillance for recurrences and new cancers; surveillance and management of physical effects; surveillance and management of psychosocial effects; surveillance and management of chronic medical conditions; and health promotion and disease prevention. Although represented distinctly, each of the domains are inter-related and often co-dependent on one another. Further, contextual domains of the health care delivery system also influence cancer survivorship care quality, including clinical structure; communication and decision making; care coordination; and patient/caregiver experience.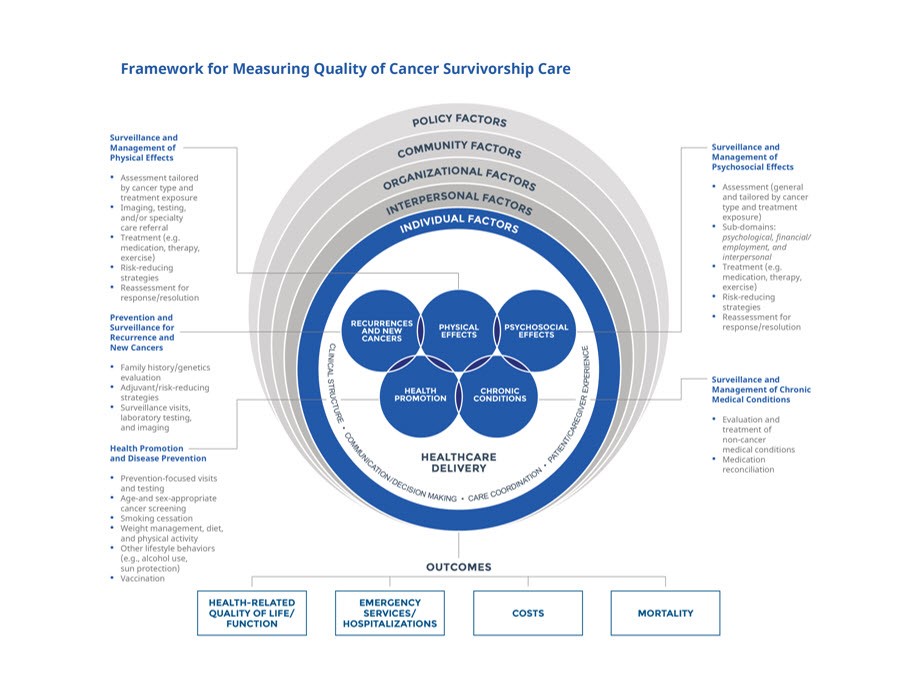 In our paper published in the Journal of the National Cancer Institute, we propose how the quality framework may be used as a roadmap for future efforts aiming to measure and improve cancer survivorship care quality.
Key findings from our paper include the following:
In clinical care there are known existing b

arriers in

the

provision and measurem

ent of cancer survivorship care. Actions steps may include reaching consensus on which quality indicators are most

clinically important;

which indicators are feasible and not burdensome within the clinical context;

and how the use of electronic health records can be maximized to achieve measurement and improvement of quality.

In research, there are existing gaps in the evidence while at the same time, there are proven strategies that are not being implemented in clinical settings. It is critical to identify areas where sufficient evidence exists and move the evidence into care delivery.  On the other hand, in areas where evidence is insufficient, there must be a focused strategy in place in order to address the gaps. 

In policy, there are inconsistent guidelines, lack of

performance measures,

and inability to compare outcomes across different settings and populations. There is a need to develop consistency across guidelines to address comprehensive survivorship care, cultivate quality measures based on evidence, and define a mechanism to drive (and adequately reimburse) quality of care.
The National Cancer Institute (NCI) recognized the contribution of this work to the field and in December 2018, I convened an NCI-funded 40-member stakeholder meeting "Measuring Cancer Survivorship Care Quality: Framework and Future Directions" that addressed the next steps in the implementation of the framework. We are currently working on disseminating the recommendations of this meeting and will soon be launching a crowdsourcing inventory of efforts being conducted in this field. 
One year after completing the NCI/AcademyHealth Healthcare Delivery Research Visiting Scholars Program, I remain tremendously grateful for this opportunity. In addition to promoting the field of cancer survivorship, the program led to tremendous professional growth and fulfillment. The publication of the framework paper has led to a variety of ongoing efforts including an international collaboration to evaluate the evidence in breast cancer survivorship and the launch of a special issue of the Journal of Cancer Survivorship in early 2020 focusing on innovative clinical interventions. . The framework also served as the foundation for the PhenX Cancer Outcomes and Survivorship Protocol development that will be finalized soon. To my knowledge, the framework is being adopted for use by the NCI Office of Cancer Survivorship as a mechanism to drive its future research agenda. 
In the years to come, I am optimistic that the framework will be systematically applied in clinical settings through implementation of effective, evidence-based interventions, in research through expansion of initiatives to address gaps in knowledge and in policy through development of recommendations and assessments that promote cancer survivorship quality improvement. 
AcademyHealth offers a number of scholarships and fellowships to help researchers gain visibility and develop professionally. Additional information about current open opportunities is available here.
Blog comments are restricted to AcademyHealth members only. To add comments, please sign-in.