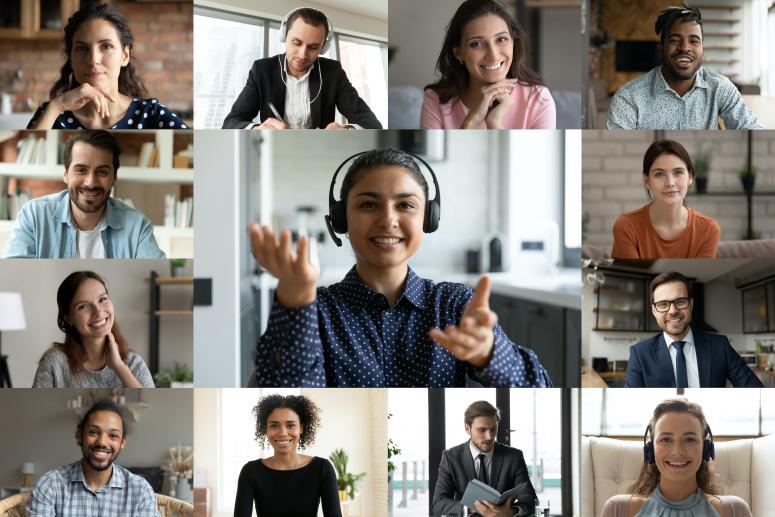 By this point in the COVID-19 pandemic, we have all had our share of video meetings and virtual conferences that fell short of expectations. Technical difficulties, distracted colleagues, and a fundamental sense of separation can dull the impact of presentations and make it harder to absorb important information.
Overcoming these challenges isn't always easy, especially when trying to implement complex, large-scale interventions in health care settings. But it can be done by applying a few key best practices to build relationships, sustain engagement, and maximize the positives of the virtual environment.
In this second installment of AcademyHealth's Implementation Science blog series, we take a look at successful strategies for virtual implementation facilitation that can turn online meetings into something to look forward to, even after the pandemic abates.
Understanding the challenges of remote implementation facilitation
Implementation facilitation is a multi-faceted strategy to improve the quality and outcomes of an intervention, explained Christine W. Hartmann, Ph.D., a research career scientist at the VA Bedford Healthcare System and research professor at the University of Massachusetts Lowell.
"Facilitating implementations requires interactive problem solving and support and occurs in a context of recognized need for improvement and supportive interpersonal relationships," she said. "When you talk about moving to a virtual environment, you are taking some or all of the 'in-person' component out of the 'interpersonal' part of the equation. That creates a number of obstacles that have to be addressed."
For implementation teams, virtual environments can introduce a sense of disconnection from the intervention site, resulting in lower engagement, difficulties with monitoring fidelity, and frustration with the inability to directly observe the site team.
But there are benefits to remote collaborations, as well, pointed out Katherine M. Dollar, Ph.D., ABPP, Associate Director for Implementation at the VA Center for Integrated Healthcare.
"There is often increased flexibility in terms of scheduling, which could allow more participants to engage in the process," she said. "And you can extend your reach by bringing together facilities that might not be in the same region. They might not have ever had the opportunity to collaborate before."
"That is because in-person facilitation often requires the facilitator, and sometimes the participants, to travel. Virtual implementations can allow facilitators to more easily connect with sites that might be difficult to reach without having to devote part of the budget and a certain amount of staff time to travel."
Building meaningful relationships across virtual borders
The key to a successful virtual implementation is establishing personal, authentic relationships that encourage engagement and keep site teams motivated, said Stephen Bartels, M.D., M.S., Director of the Mongan Institute at Massachusetts General Hospital and a professor at Harvard Medical School.
"It takes time to build relationships, but it helps to prepare for resilience and challenges if things don't go exactly as planned," he said. "It is important to create opportunities for learning about the on-site team members and understanding their processes."
"In addition to providing a forum for those who readily discuss their successes and challenges, you also want to identify those who may be less verbal and find ways to engage them," he continued.  "Oftentimes, those are the individuals who may be conflicted about the intervention or have concerns about their progress, so it's important to make sure they have a safe and non-judgmental opportunity to voice their concerns and preferences and ask questions."
Hartmann also suggested conducting virtual site tours early in the process to break the ice and create a sense of community. Site tours also enable implementation facilitators to get a better idea of the physical environment, team dynamics, and available resources so the team can plan adaptations to the initiative, if necessary.
"I encourage you to think of site tours as a two-way street," Hartmann said. "You can give the site team a tour of your research facility, too, so they get to know you a little more and feel like they're being invited into your space."
"That puts you on a more equal footing. It's not just their strengths and challenges that are under the microscope. Yours are, as well. What your team does to share and build equitable relationships early on will have a big impact on your success."
Maintaining engagement during virtual sessions
Introducing new concepts and processes to health care professionals can require long hours of training and discussion. Whether these sessions involve five people or five hundred, it's critical to structure your time carefully to foster engagement and effectively transfer knowledge.
Facilitators should make it a point to always start and end meetings on time, Hartmann said. Watching the clock conveys respect for other people's schedules and establishes a sense of order and predictability.
"Sometimes people might come early, so you should always have a greeter ready on the call at least 15 minutes before the actual session starts," she suggested. "This should be someone comfortable making conversation with early birds to keep everyone engaged.  It sets the tone that this is going to be a pleasant experience that includes participation and starts off the session with high energy."
Adding interactive components to a virtual meeting can also help participants stay focused and gives them the opportunity to ask questions and apply new concepts to real-world situations.
"If your implementation includes adding daily huddles to the routine, for example, give your folks an opportunity to role play and practice what those huddles will look like. Build in time during your virtual interaction," said Hartmann. "They can try it right then and there with the people who need to be involved in it. This is a benefit of being virtual. You can do things you couldn't if only one representative from a team came to a meeting a hundred miles away and they're tasked with bringing information back to the rest of their organization."
In addition, breakout sessions, interactive polls, and the liberal use of chat and Q&A features in video conferencing software can give participants the chance to share their concerns, ideas, and observations.
Reviewing and adapting strategies for continuous improvement
Sometimes, despite a facilitation team's best efforts, a session simply falls flat. Too many slides, a technical glitch, or the wrong mix of attendees, can all dampen the learning environment.
Facilitators need to give themselves the opportunity to review which strategies were effective – and which ones could be adapted for greater success.
"We will always do at least a 30-minute debrief with the whole team every day during a multi-day implementation to discuss what went well and what needs to be changed for the next day," Hartmann said. "We might change the slides, or the order of the agenda: we tweak things that will improve engagement and retention."
Dollar agreed that spending time as a facilitation team on making virtual implementations as comprehensive, tailored, and engaging as possible can bring positive results.
"Always be over-prepared and try to be as creative as possible," she said. "Look for new strategies to integrate whenever possible and leverage the standardized frameworks you have at your disposal to help you. It might take a little additional time and energy, but that investment will certainly be worth it."
Next time, we will continue our Implementation Science series with a look at the economics of implementations and how to evaluate the costs of interventions.
This blog post highlights quotes and learnings from the panel "Virtual Implementation Facilitation: Strategies for Successful Application" presented at the 13th Annual Conference on the Science of Dissemination and Implementation in Health in December 2020. A full recording of the panel is available here.
Blog comments are restricted to AcademyHealth members only. To add comments, please sign-in.