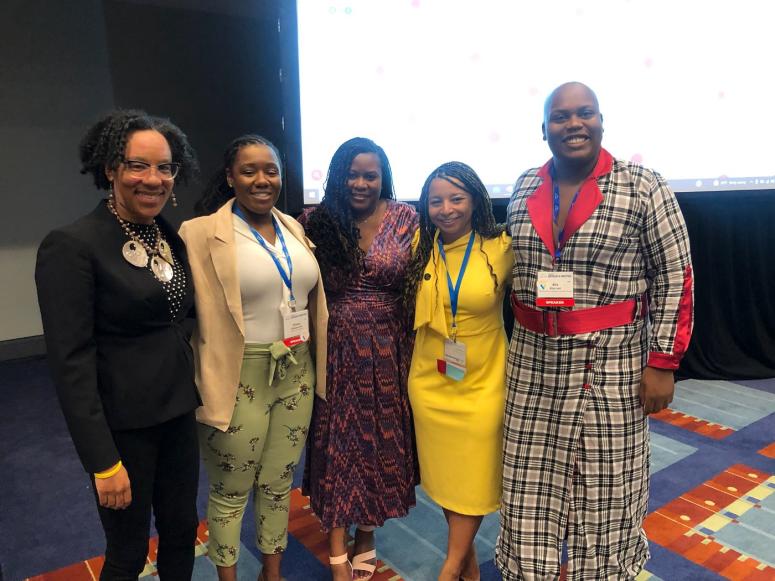 Health Equity Tourism is a new term to describe how previously unengaged scholars capitalize on the public's new interest in health disparities research and new funding opportunities to advance their own careers without having the necessary expertise to meaningfully address gaps in knowledge. The term was coined by Dr. Elle Lett in a pre-print publication in 2021 that was later published the peer-reviewed Journal of Medical Systems. A viral STAT investigative article helped bring visibility to the term.
While the term is new, the concept is not. The practice of health equity tourism has always existed within academia, when privileged researchers have excluded the work of historically excluded scholars from their lists of citations, grant teams, and co-authored publications even while "borrowing" their ideas without acknowledgment. Many scholars without the necessary foundational knowledge to conduct equity research, or "tourists," have benefitted by essentially exploiting minoritized scholars for publication credentials and professional advancement.  
The new focus on health inequities research is a result of updated policy priorities and new funding for health equity studies, without official guidelines on what comprises a health equity expert. Established health equity experts warn that the field needs to interrogate itself on how this work is done to close the gap between who has the expertise to critically study health inequities, and who gets credited on equity scholarship.
This post summarizes a discussion at AcademyHealth's Annual Research Meeting among the following national thought leaders in health equity research:
Dr. Elle Lett, M.D. Candidate and Statistician-Epidemiologist studying at the University of Pennsylvania School of Medicine;

Dr. Rachel R. Hardeman, Endowed Professor and Founding Director of the Center for Antiracism Research for Health Equity at the University of Minnesota;

Dr. Monica McLemore, Professor, Reproductive Justice Scholar, and Interim Director of the Center for Antiracism in Nursing at the University of Washington;

Dr. Mya Roberson, Assistant Professor and Social Epidemiologist at Vanderbilt University School of Medicine; and

Dr. Ellesse Akr

é

, Assistant Professor at The Dartmouth Institute for Health Policy and Clinical Practice

.
Health Services Research has Supported Health Equity Tourism
Fueled by systemic inequities embedded in funding, reviewing, and publication processes used for academic advancement, health equity tourism is a practice that predates its official terminology. Studying structural racism has spiked in popularity, though Black scholars have long been aware of systemic drivers of inequity in health, and the reluctance of health services research (HSR) and related fields to name racism as a cause of health inequities. This historical background is described in Dr. Hardeman's disciplinary self-critique of HSR as well as in a commentary with Dr. McLemore on the lack of publishing standards for racial inequities.
Terminology new to HSR is required and has been adapted from other fields, including law, public policy, and social sciences to understand and combat health equity tourism:  
Self-interrogation

: examination of one's own actions and motives

Academic capitalism

: 1.

productivity measured in earning money and value for institution (Akr

é

) 2. commodification of knowledge production on an institutional level (McLemore)

Praxis

: the act of putting one's theory or politics into practice through one's own life and actions
Academic Capitalism as a Driver of Health Equity Tourism
While many efforts to advance diversity, equity and inclusion have been focused on workforce diversity, equity scholars are adamant that more systematic interventions are needed to attract and retain Black and brown scholars. Between 2000-2006, NIH R01 grants were awarded to Black PIs at a rate of approximately 55 percent in comparison to their white counterparts. Ten years later, this trend remained around 55 percent from 2014-2016.
"Making space is not bringing people in, it's reevaluating your values, metrics, time, and dollars to invest in health equity by uplifting historically and contemporarily marginalized voices," said Dr. Akré.
Because these commitments require sustained and intentional efforts, institutions often bypass these investments in favor of using health equity language without the praxis of centering health equity scholars.
It comes as no surprise that the currency of success for many academics is research funding. Many research institutions incentivize faculty to win grants, present at academic conferences, and publish in peer-reviewed journals. However, this exists in opposition of intentional research methods such as community based participatory research, a core tenet of the health equity ecosystem. Black and brown scholars have been contributing to health equity for some time without acknowledgement from mainstream (white) researchers and institutions, often because their sustained commitment to methods and partnerships that advance health equity are not seen as traditionally productive or lucrative for their institutions.
Embracing an Interdisciplinary Approach to HSR
Another tenet of academic capitalism is viewing peer-reviewed publications as the gold standard for research, discounting the scholarship of other disciplines and methodologies. Black scholars have published frameworks and theories in books that have continued applicability to equity methods, although they often go uncredited.  Because of the emphasis on peer-reviewed publications, ideas that inform antiracist methodology are often overlooked. This practice creates an echo chamber that perpetuates racist biases in the peer-reviewed literature. Take a recently published concept analysis from white scholars about Black maternal health as an example. Aiming to 'analyze the concept of reproductive justice,' the publication referenced only peer-reviewed literature, effectively passing over the rich reproductive justice scholarship pioneered by Black women.
Even within peer-reviewed papers, the work of minoritized researchers have been passed up by scientific journals in favor of similar work submitted by their white counterparts. For instance, Dr. Elle Lett submitted a paper to JAMA on the declining trends of racial and ethnic representation in clinical academic medicine. JAMA rejected her paper, only to accept and publish a nearly identical study from a white scholar using less rigorous methodology a few months later. While Black scholars have combatted this practice by publishing in other journals that are more receptive to broader views of research, the elitist perception remains that JAMA and NEJM are among the most credible journals.
Action Steps to Curb Health Equity Tourism:
To combat the practices that perpetuate health equity tourism, panelists at this session called for the following interventions to make the health equity ecosystem less predatory:
Make the diversity of a research team a scoreable criterion for NIH funding.

Institutions can improve disparate awardee numbers by scoring the diversity and/or representation of a research team, especially those applying to study minoritized populations or structural drivers of racism.

Require race and racism auditors at journals.

Similar to the way statistical calculations are audited during the review process of many journals, Dr. McLemore is a proponent of analyzing methods and findings related to racial inequities to stop perpetuating biases and inaccuracies.  

Advocate for longer windows for funding opportunities.

Equitable work requires sustainable, bidirectional engagement with community members and their expertise about their own experiences. This trust is something that is earned over time, not within an arbitrary three-month window of grant applications.

Interrogate and reflect on whether and why you should be the one doing racial inequities work.

Although the funding and correlated credentials for health equity work are enticing, it's essential for (white) researchers to examine why they are interested in racial inequity research and ask themselves what qualifications they bring, and whether they have sufficiently engaged with minoritized experts in health equity.

Cite Black Women

To properly give credit to the scholarship and theories that inform antiracist research, it is necessary to recognize the original intellectual property of Black scholars who are often erased. The Cite Black Women Collective is a notable resource for this effort.
Ultimately, doing equity research well is difficult and requires a multidisciplinary approach. It is incumbent upon scholars to not perpetuate incomplete science and further pollute the justice landscape, and instead aspire to a more equitable research ecosystem.
Blog comments are restricted to AcademyHealth members only. To add comments, please sign-in.