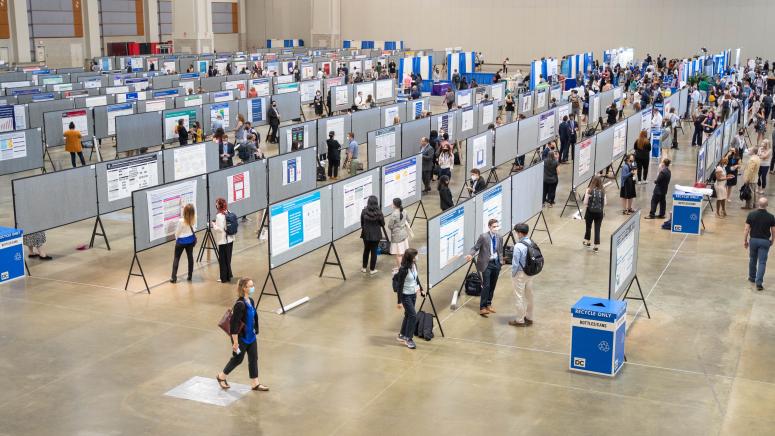 Panelists at the 2022 AcademyHealth Annual Research Meeting (ARM), including moderator Dr. Claire Brindis of the University of California, San Francisco, Drs. Arrianna Marie Planey, Kellan Baker, Janet Coffman, and Abdul Shaikh spoke about the various ways health service researchers can use their research to influence policymaking at all levels. 
Evidence-Based Research Drives Policy Changes at All Levels
Many health service researchers imagine their published findings will have a direct impact on new federal legislation. The panel was quick to remind the audience that the impetus to a new law will never be a single publication. Responsible researchers agree that a body of evidence-based findings from diverse analysts are key to developing and enacting new federal policies.
The panel urged attendees to recognize the many types of policies. "Big P/little p" is a phrase commonly used to describe the existence of policies at all levels of government. For some, eyeing change at the federal level may not be the best place to disseminate evidence-based research. For example, a researcher who conducts a study in one school district might eye local school boards who can achieve evidence-based change for a direct impact. While federal legislation can potentially have broader influence, local community change can have a cumulative, beneficial effect in the long-term.
This theme of community engagement was an overwhelming point of discussion. The panel reminded the audience that community issues need HSR expertise immediately. Health service researchers should engage the community of interest before the research questions are asked and when findings are disseminated. This can get the attention of local policymakers and can drive more substantial change.
Translation of Research Findings
Dissemination is a key component of policy impact. One panelist reminded the audience that in the world of policymaking, research limitations are not relevant. Researchers often qualify or preface their findings with "but," "however," or "although." These limitations are critical to acknowledging the generalizability of the findings between other researchers, but policymakers seek significance over flaws.
One panelist mentioned that advocacy groups are especially proficient in dissemination efforts. By merging evidence-based data with visualizations and storytelling, advocacy groups use emotion and personal connection to bring about policy change. HSR leaders can adopt these practices for their work.
Being able to extrapolate findings and amplify implications can be the difference between being just another study and having an impact on policy. Summarization skills are necessary to communicate research with a broad audience.  More academic journals are asking authors for the 'key findings', 'policy relevance', and 'application of study findings'. Some funders, like Robert Wood Johnson Foundation, require grantees to engage the community as a part of dissemination. In addition, NIH-funded publications must be included in PubMed, thereby enhancing public access to high-quality research.
Strategic Communications Outside of Academic Journals
After the research article has been typeset and published online, researchers should leverage free outlets to share the findings through social media, news media, and blogs (like AcademyHealth's!).
Social Media
Social media is a good outlet for sharing new information and combating misinformation. New technologies that go beyond citations, namely Altmetric scores, can help researchers follow the contextual impact of their published work, by tracking news, Tweets, and more.  
Journalists in News Media
To make an impact, speak with journalists. Journalism is a two-way street: you want to disseminate research and journalists are looking for stories. Keeping a good working relationship with journalists is also key. Maintain a list of journalists and outlets you have or want to work with and contact them when a new study is published. Make yourself available and if you are interviewed, always follow up on the publication. When discussing contentious topics, answer the question you wish they asked and correct the record if misquoted.
Some academic institutions may prepare a press release upon journal or news publication. Press releases allow the researcher to speak to a broader audience while highlighting research findings and implications.
Organization Blogs
One panelist suggested blogs as another outlet for research findings. Like a press release, a blog post can summarize conclusions and elaborate on implications. Writing a blog for a major outlet, such as AcademyHealth or Health Affairs, allows more freedom to share the "story" beyond a character-limited Tweet or LinkedIn post.
Conclusion
The chances of following a linear line from study conception to policy impact are slim to none. Policy impact requires years of evidence-based research from diverse fields and researchers. However, one point is clear, dissemination is the only way to make an impact at any and all policy levels. Aim for the best place to disseminate the research: local, state, federal, etc. In the digital age, take advantage of free outlets like social media, journalists, and blogs. Sharing research widely enhances the field's understanding of certain topics and brings attention to community issues. As one panelist said, "you can get a lot done when you don't care who takes credit."
AcademyHealth is leading the charge on maximizing policy impact through a newly released course, Communicating for Impact, and the Fall Health Policy Orientation. Click here to register for these events.
Blog comments are restricted to AcademyHealth members only. To add comments, please sign-in.