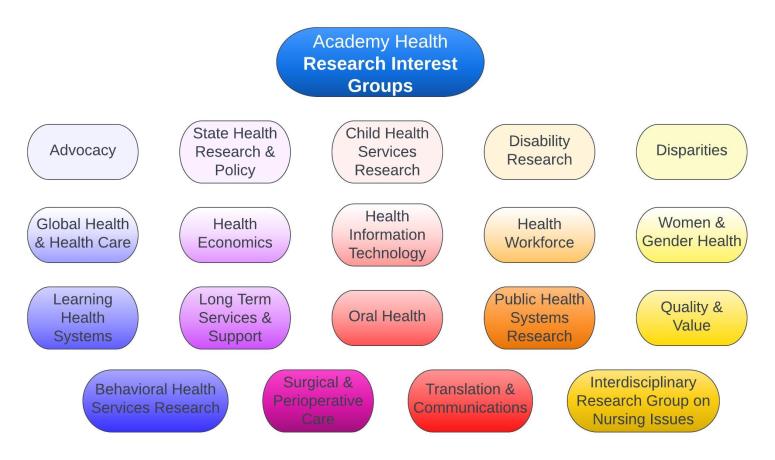 In just a few weeks, health services researchers, policy makers, practitioners and stakeholders will come together in Seattle to connect and network, learn about the latest research and recognize leaders in the field. As a first year Ph.D. student at the University of Washington, a student member of Academy Health and first-time ARM attendee considering how to make the most of my time at AcademyHealth's biggest event of the year, I recently discovered Interest Groups. Interest Groups provide members with opportunities for knowledge exchange and collaboration, to share and discuss research findings, enhance research skills, and network with others with common goals; and all of this happens throughout the year online AND in person at ARM!
There are currently 19 different Interest Groups within AcademyHealth, and nearly all of these groups will host multimodal sessions during ARM. These sessions are dynamic and unique to each Interest Group and highlight the work of emerging professionals, presenting/discussing the latest research findings, hosting panel sessions, round table discussions, awards, and time for networking. This blog will provide a brief overview of how engaging with Interest Groups at ARM can help maximize your conference experience by joining connection, reflection, recognition, learning, and professional networking into one place.
Connection and Networking – Did you know that many Interest Group sessions actually allocate time for participants to network? The State Health Research and Policy Interest Group will host a panel discussion with state officials about health equity advancement efforts, and will conclude with a lightning round of student-led research presentations and time for networking on Tuesday, June 27 from 10:30am-12:00pm. The Health Information Technology Interest Group encourages members to bring their coffee and join interactive small group discussions and participate in networking opportunities, reflecting on the latest presented research on Tuesday, June 27 from 8:30am-10:00am. The Child Health Services Research Interest Group will conclude their session on Monday, June 26 from 4:15pm-5:45pm with discussion and networking opportunities after a keynote address on the role of bioethics in child health services research and delivery.
Recognition – Interest Groups often take time to showcase new research led by emerging professionals and/or students and present awards for abstracts or specific accomplishments. On Saturday, June 24 from 12:30pm-2:00pm, the Mental Health and Substance Use Interest Group will host a brief award ceremony for the top student poster presenter related to their theme of mental health and substance use services. The Learning Health Systems Interest Group will announce winners of their Selected Abstract Competition during their session Tuesday, June 27 from 8:30am-10:00am. The Child Health Services Research Interest Group will be honoring their Nemours Early Career and Lifetime Achievement Award recipients during their session Sunday, June 5 from 7:00am-8:30am. In the Health Economics Group session Sunday, June 25 from 8:00am-9:30am, three health economists in the early stages of their careers will be able to showcase their new research. This a great way to discover who is doing what work in the fields you are interested in.
Learning – If you are looking to learn about the latest research regarding a certain Interest Group topic, look no further. Many Interest Group sessions incorporate a combination of podium presentations, interactive panels or round table discussions with leaders in the field that include new empirical research, diverse methods, emerging policy relevant topics, and future research opportunities. Don't miss the Disparities Interest Group's expert panel session Sunday, June 25 from 5:00pm-6:30pm that will explore current applications of AI in public health and how different sectors can ensure safeguards against bias in AI-enabled technologies. Join the Disabilities Interest Group-sponsored session Sunday, June 25 from 1:45-3:15pm to learn about the differential impact of Medicaid policy changes on individuals with intellectual disabilities and other high impact equity relevant research.
In addition to Interest Group conference sessions, some groups will host receptions for members to come together outside of conference hours. If you are interested in joining an Interest Group and don't want to miss these key connection opportunities, sign up at this link! Join other health services researchers, policymakers, practitioners, and stakeholders at ARM 2023 to transform your career trajectory, and engage with Interest Groups during to connect and cultivate professional relationships that amplify this advantage.
How to Join
Joining an Interest Group is a members-only benefit, so be sure to renew or join AcademyHealth's membership! If you are already a member and would like to join an Interest Group, you can update your profile or fill out the form here.
Blog comments are restricted to AcademyHealth members only. To add comments, please sign-in.