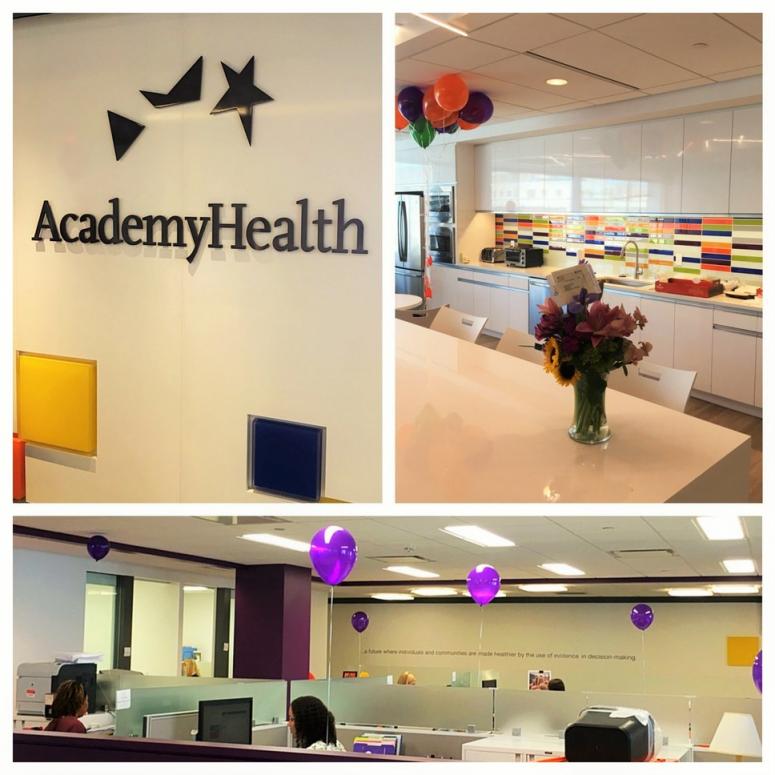 It has been a surreal 72 hours for AcademyHealth. On Friday, we officially closed our doors on 17th street and bid a fond farewell to our former home. Today, we eagerly gather to a welcoming hello as we begin the next phase of our work in AcademyHealth's new offices on K Street.
Leaving our "old" offices after over seven years of memories and milestones is bittersweet. In fact, it was in our 17th street offices where we worked to save the Agency for Healthcare Research and Quality (AHRQ), founded the Translation and Dissemination Institute (TDI), established new conferences Concordium and the National Child Health Policy Conference, and launched our online peer-reviewed journal eGEMs, among other successes. And on a personal note, it's where I first settled in as your President and CEO, and embraced the incredible opportunity to build on the legacy of Dr. David Helms, and Alice Hersh before him. We saw two of our esteemed and longtime programs, State Coverage Initiatives and the Changes in Health Care Financing and Organization (HCFO) sunset there, having laid a foundation for ongoing work with our partners and members to develop new state-focused and researcher supporting programs that advance the field of HSR to generate useful, high-quality evidence and move evidence into policy and practice.
In the past seven years, we've also seen tremendous growth—not only in the number of our dedicated staff members, but also in the number of events, learning communities, advocacy initiatives, and professional development opportunities we offer to our members and the field more broadly.
Our new space is symbolic of where we are as an organization. As health and health care continue to evolve, we aim to find new, innovative approaches to advance our mission. Our move signals the need and desire to embrace and build upon that change, and to do so with a renewed sense of energy. This new space will allow for the continued growth and success of AcademyHealth and our field, and I am confident it will foster increased forward-thinking and collaboration, both inside and outside our walls. Case in point: our new space will give us the ability to host large in-house convenings, a benefit we are also excited to extend to our Organizational Affiliates! We look forward to hosting our brightest minds in the new offices of the same professional home for health services and policy research that's been serving you for over a decade.
To our members and community—thank you for your support of AcademyHealth and the broader field of HSR. We look forward to serving you in our new and improved offices.
Blog comments are restricted to AcademyHealth members only. To add comments, please sign-in.