Syringe exchange programs (SEPs) provide free, sterile injection equipment to injection drug users and collect their used equipment. SEP's primary purpose is to reduce the blood borne infectious disease like HIV and hepatitis B/C, all of which are disproportionately prevalent among injection drug users. Some programs also offer other services (e.g., condom distribution, infectious disease testing and prevention education) and can be a gateway to drug treatment programs. The preponderance of evidence suggests that, for all these things, they work and that they're cost effective or even cost saving. Let's review.
Improving Injection-Related Practices. Many studies show that injection drug users who visit SEPs use safer injection practices.
Reducing Blood Borne Viral Infection. Safer injection practice is a process measure. Does it translate into reduced incidents of infectious disease among injection drug users? There's a lot of evidence it does.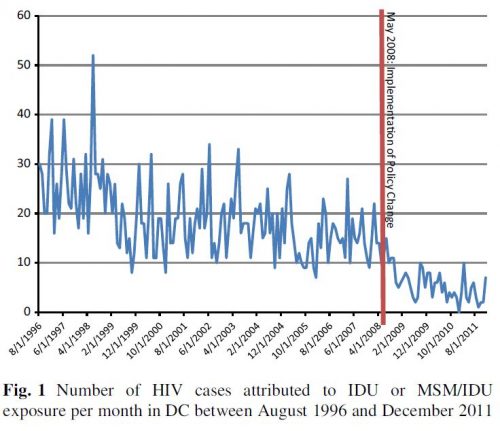 Not Increasing Injection Drug Use. A significant concern among many is that the provision of free, clean injection equipment will promote injection drug use. The research says it won't.
Promoting Drug Treatment. SEPs are an effective way to reach a population in need of drug treatment.
Cost-Effectiveness. In their literature review, Wodak and Cooney (2006) conclude, "a number of careful studies in several developed countries and some transitional countries have demonstrated convincingly that NSPs are cost-effective." However, they're more than that — they're cost saving.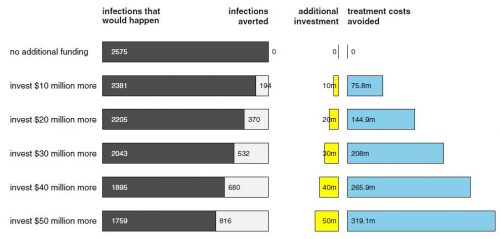 Some studies differ. It is important to acknowledge that findings contrary to some of the above exist. For this reason, in a review of reviews, Palmateer et al (2010) found "insufficient" and "tentative" evidence to support effectiveness of SEPs in preventing hepatitis C and HIV transmission, respectively. This, however, is not the same thing as concluding SEPs do not reduce transmission. Additionally, as discussed in Wodak and Cooney (2006), studies that don't find SEPs effective in preventing transmission of these diseases are more likely to have been conducted in settings in which injection drug users have legal access to syringes through local pharmacies. "[I]n settings with [SEPs] but without additional legal access to sterile injecting equipment, there were no negative or null findings," they wrote. This only reinforces the idea that access to clean needles by some mechanism — SEPs and legal sale at pharmacies among them — is an effective means of improving public health and saving downstream health care costs.
Blog comments are restricted to AcademyHealth members only. To add comments, please sign-in.