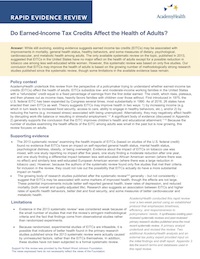 Rapid Evidence Review
While a significant body of research has examined the impact of earned-income tax credits on children's health, only recently have a growing number of studies explored the health impacts for adults.
Download Publication
This review, conducted over two weeks by AcademyHealth's Translation and Dissemination Institute, found a recent body of evidence suggesting earned income tax credits (EITCs) may be associated with improvements in mortality, general health status, healthy behaviors, and some additional measures of health among adults, though the effects are not large. An earlier systematic review found EITCs had little to no impact on the health of adults, though the number of reviewed studies was small and their conclusions were based primarily on survey data.
This rapid evidence review is part of an AcademyHealth series that seeks to pilot innovative approaches to quickly, but rigorously identify and communicate evidence to inform public and private decision-making. The series examines questions relevant to building a Culture of Health, the current focus of the Robert Wood Johnson Foundation, the project's funder.