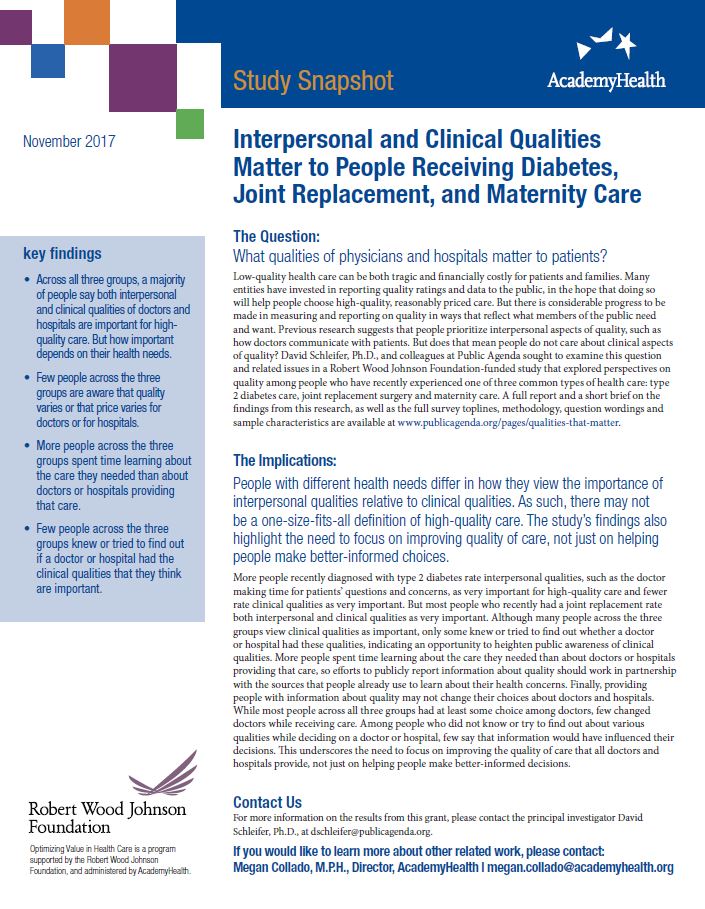 Study Snapshot: Interpersonal and Clinical Qualities Matter to People Receiving Diabetes, Joint Replacement, and Maternity Care
This study snapshot outlines findings from Robert Wood Johnson Foundation-funded research examining what qualities of physicians and hospitals matter to patients.
Download Publication
Low-quality health care can be both tragic and financially costly for patients and families. Many entities have invested in reporting quality ratings and data to the public, in the hope that doing so will help people choose high-quality, reasonably priced care. But there is considerable progress to be made in measuring and reporting on quality in ways that reflect what members of the public need and want.
This study snapshot outlines research from David Schleifer, Ph.D., and colleagues at Public Agenda who explored perspectives on quality among people who have recently experienced one of three common types of health care: type 2 diabetes care, joint replacement surgery and maternity care.
A full report and a short brief on the findings from this research, as well as the full survey toplines, methodology, question wordings and sample characteristics are available here.
This project is funded as part of the Robert Wood Johnson Foundation's solicitation "Optimizing Value in Health Care: Consumer-focused Trends from the Field," which is managed by AcademyHealth.