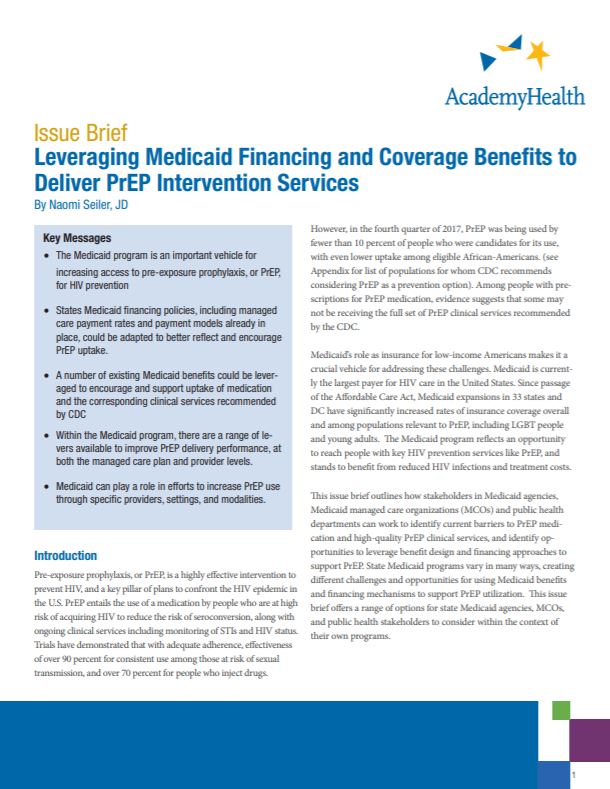 Leveraging Medicaid Financing and Coverage Benefits to Deliver PrEP Intervention Services
The Medicaid Strategies to Implement Comprehensive Pre-exposure Prophylaxis (PrEP) Clinical Care Services project resulted in two companion white papers. This issue brief distills the first paper, Leveraging Financing and Coverage Benefits: Medicaid Strategies to Deliver PrEP Intervention Services, which presents a framework for considering applicable Medicaid program levers to increase and improve PrEP delivery as well as an overview of Medicaid financing issues for PrEP specific to provider and setting types.
Download Publication
Pre-exposure prophylaxis, or PrEP, is a highly effective intervention to prevent HIV, and a key pillar of plans to confront the HIV epidemic in the U.S. PrEP entails the use of a medication by people who are at high risk of acquiring HIV to reduce the risk of seroconversion, along with ongoing clinical services including monitoring of STIs and HIV status. This issue brief outlines how stakeholders in Medicaid agencies, Medicaid managed care organizations (MCOs) and public health departments can work to identify current barriers to PrEP medication and high-quality PrEP clinical services, and identify opportunities to leverage benefit design and financing approaches to support PrEP. The brief offers a range of options for state Medicaid agencies, MCOs, and public health stakeholders to consider within the context of their own programs.
A second issue brief describes ways to leverage the Medicaid program to engage patients and providers in accessing PrEP and utilizing the full suite of recommended PrEP clinical services.