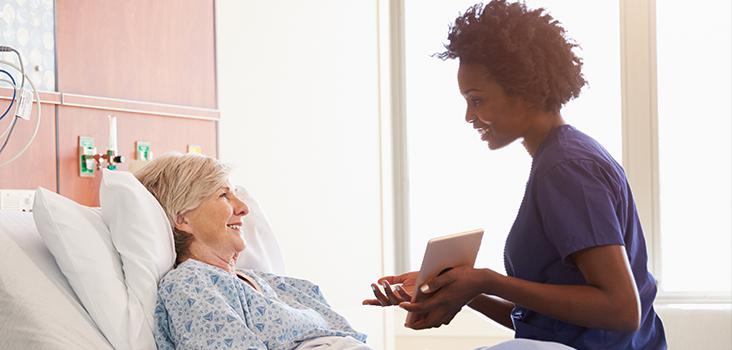 The Patient-Centered Clinical Decision Support Learning Network is pleased to announce Jessica S Ancker, Ph.D., M.P.H. as the editor of a new special section in AcademyHealth's peer-reviewed open access journal eGEMs. Ancker is associate professor of healthcare policy & research at Weill Cornell Medicine, within the division of health informatics. Ancker's expertise in facilitating good decisions through health information technology makes her the perfect editor for eGEMs' new section called Better Decisions Together: Decision Support for Patient-Centered Healthcare.  
 "With all the progress in recent years around electronic health records and patient portals, many of the pieces are now in place to ensure that patients understand the clinical perspective and evidence base for their decisions, and that the clinician understands the patient's priorities and preferences," said Ancker. "I'm honored to be part of this effort to advance collaboration between patients and clinicians – to put them on the same team for better outcomes."
The new section is the fruit of a partnership between eGEMs and the Patient-Centered Clinical Decision Support Learning Network, hosted by RTI International and funded by the Agency for Healthcare Research and Quality (AHRQ). Clinical Decision Support, a process for enhancing health-related decisions and actions including software-based solutions, plays a critical role in making key patient-centered outcomes research findings accessible and actionable. The Learning Network aims to build a community dedicated to developing and implementing solutions that leverage clinical decision support technology and patient-centered evidence to improve patients' and providers' care decisions.
"We are excited about the potential of this new special section to share promising research on patient-centered approaches to clinical decision support in an open and accessible environment," said Barry Blumenfeld, M.D., M.S., senior informaticist at RTI and principal investigator for the Learning Network. "Having Jessica on board to lead the section only fuels that excitement."
The section's inaugural call for papers is now open through Jan. 31, 2018.
"We are delighted to have someone with Jessica's background and insight join one of AcademyHealth's critical efforts to accelerate learning at this time of innovation in health data and systems," said eGEMs executive editor Paul Wallace. "I know under Jessica's leadership the Better Decisions Together section will serve to raise the visibility of work aimed at ensuring learning health systems are indeed patient-centered."
After receiving an AB degree magna cum laude in history and science from Harvard University, Ancker initially pursued a career in journalism and medical writing and editing. She then earned a Master of Public Health from the department of biostatistics at Columbia University's Mailman School of Public Health in 2004. She went on to complete a Ph.D. at Columbia University College of Physicians and Surgeons in 2009 as a National Library of Medicine/Robert Wood Johnson Predoctoral Fellow in the Department of Biomedical Informatics. Ancker joined Weill Cornell Medicine in 2009, and since 2011 she has also held a faculty position in the Weill Cornell Graduate School of Medical Sciences.
Ancker will join the eGEMs editorial board of experts from across the country who help lead the premier journal for approaches to redesigning the health system, including methods, interoperability, and governance. Visit the eGEMs website to learn more about the journal and review the current call for papers here.
Blog comments are restricted to AcademyHealth members only. To add comments, please sign-in.