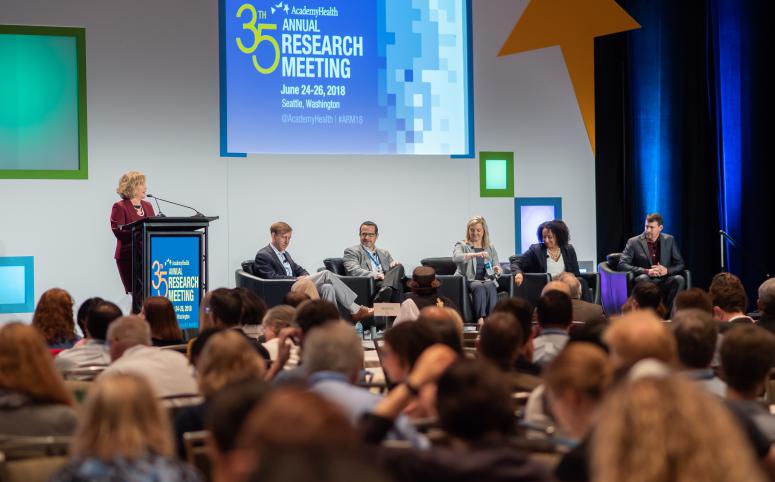 See below Dr. Simpson's remarks as prepared. Corresponding slides are available here.
Thank you, Eric and Welcome to the 35th Anniversary ARM!
Before I get to my remarks, I want to join Eric in thanking all the volunteers and committee members who helped get us to today. We also want to thank all the Federal Participating Agencies and supporters of the ARM, including a very special thank you to the American Dental Association Health Policy Institute, which is supporting this opening plenary. This is a landmark ARM in Seattle – it is our 35th meeting and it has done the unthinkable – unseated Boston as the location that gets the most attendees. So that puts me in a good mood. And if you know me, you know I'm an incurable optimist. I see opportunities in most any challenge.
But I have to be honest. It's been hard to be an optimist these days.
Our nation is beset by partisanship, where division drives us to our corners -- away from one another and the recognition of our shared humanity. We watch in horror as children cry out for their mothers and fathers. The gun violence and opioid epidemics are tearing apart our communities.
And amid the #MeToo movement, we are learning more about the ways women and minorities struggle for equality in the sciences. A report just last week pointed again to funding biases at the NIH, and a new National Academy of Medicine report on sexual harassment in the sciences has sobering statistics and solid recommendations for improvement. This is not just a "them" challenge – this is an "us" challenge. Our just completed member survey found that 57% of current member respondents report experiencing implicit or explicit bias based on personal characteristics.
In the other Washington, the one where I spend my days championing health services research, there is an anti-science, anti-evidence rhetoric that cuts at the core of our field. And even closer to home and despite 35 years of hosting a growing annual conference we know that:
Quality and safety are still major issues

Health disparities are pervasive

Health care access and costs continue to bedevil policy

Market transformation fuels unpredictability
Sometimes it is hard to be an optimist.
So this year as we celebrate 35 years, I'm not going to stand up here and tell you that your work is important—though it is. Or that you can make a difference — even though I believe deeply that, you can. Or that change is as good and inevitable as it is hard—all still true.
No. I've spent the last year looking at the world and our field and asking myself hard questions about what we do at AcademyHealth, what I do, and what we do collectively as a field. Yes, some of this reflection was also prompted by a milestone birthday. What will be my legacy? What difference have I made, however minuscule, in this glorious, confounding, and messy world? What difference are we collectively making?
So as I reflect on what we do, how we do it, for whom, and why, I find myself thinking about the challenges we are facing—oh, and yes, this is when the glass starts looking half empty... Because we have a relevance challenge. Whose problems are we solving? Whose questions are we answering? We have a translation, communication and implementation challenge. We have an incentive challenge when we get promoted and rewarded for papers and grants and not for the harder work of actually changing something. And we have diversity and inclusion challenge. And all of these challenges are driving the biggest challenge of all – the impact challenge. Why do so many members of Congress still not see the value of larger investment in our field?
We can't say "they don't get it!" We have to own this. We have to do better. Each and every one of us should each have three examples in our back pocket anytime anyone asks what we do and why it matters. So what are your three examples? Send me your examples! They are my arguments each and every time I face the complacent, skeptical questions about our value and impact in our nation's capital.
Optimism is a funny thing. For me, at least, it is a lot about our attitude – right? How we choose to see the world. It is also not the voice that whispers reassuringly 'everything will be fine' – although that might be nice to hear. In my head and in my heart, optimism whispers, 'there's a way to do this'. Hellen Keller said, "optimism is the faith that leads to achievement. Nothing can be done without hope and confidence." Confidence. Yes. I'm confident there's a way to solve these challenges.
So this year I'm not going to stand up here and tell you that everything is going to be fine. Because it won't be – not without action. So what must we do?
We need to ask better questions

We need to engage more diverse partners

We need to leverage and embrace new methods and data

We need to improve our message and become better messengers

We need to incentivize impact over output
As the President and CEO of AcademyHealth I have the privilege and honor of speaking for this field in Washington, the privilege of this podium, and the privilege of working with the team of professionals and volunteers – all of you - that make this incredible meeting happen.
This year, I'm going to use that privilege and opportunity to stand here and challenge you to make the changes needed to continue to drive our field toward healthy growth, adaptation and response to the problems around us.
As you look ahead to the next two days, I challenge you to think about the change you want to see in the world. How can the agenda before you help you to ask better questions? What opportunity might you find in sessions on new methods and data, on artificial intelligence and machine learning? How will you use the network in this room and beyond to engage more diverse partners? How can you work more often and more effectively with colleagues who don't look like you, think like you, or enjoy the privileges you do? Are you ready to settle into the initial discomfort of difference, and open yourself up to the creative power of being challenged? And, perhaps most importantly, I challenge you to think about what happens when the ARM ends on Tuesday.
How will you take what you learn here and transform it into better evidence, better policy and better care? What will you do to incentivize, recognize and support impact at your institution or organization? How will you promote and celebrate diversity and, at the same time, challenge disparities in our field, our institutions and our communities? Who among you will be a champion for impact and an advocate for evidence?
Nelson Mandela said "Part of being optimistic is keeping one's head pointed toward the sun, one's feet moving forward." I am an optimist. Let's turn our faces toward the sun, and move our feet. It's time to move forward. Together.
Blog comments are restricted to AcademyHealth members only. To add comments, please sign-in.