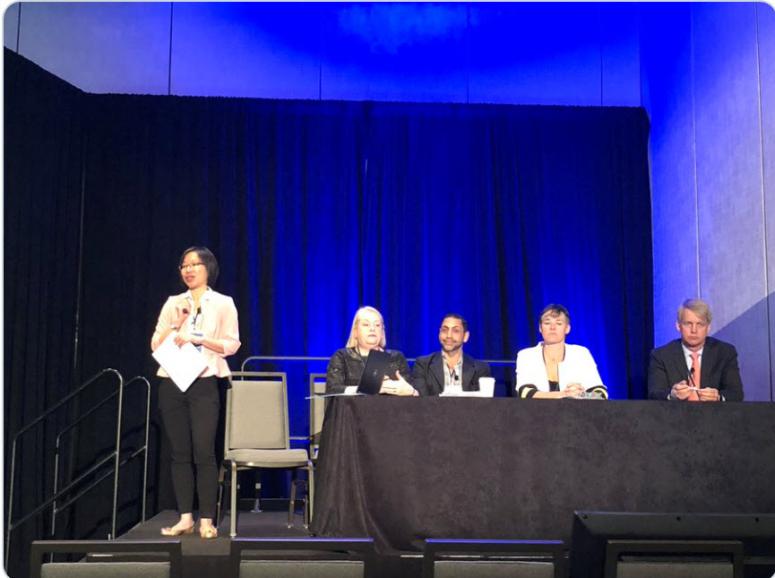 Late on an August night in 2017, Hurricane Harvey made landfall along the middle Texas coast. The category 4 hurricane then stalled there for four days, dropping 60 inches of rain onto southeastern Texas. The storm unleashed 27 trillion gallons of water over Texas and Louisiana in a 6-day period. The flooding was catastrophic. Estimates put total losses at as much as $75 billion.
Two years later, the city of Houston continues to track the impacts and lessons learned. The Robert Wood Johnson Foundation choose this location as the host for their annual Sharing Knowledge to Build a Culture of Health Conference in March of this year, a perfect setting for the meeting's theme of resilience: the capacity of community to prepare for, withstand, and recover from adversity. The meeting, held in collaboration with AcademyHealth, brought together researchers, practitioners, and thought leaders from across the country around the theme of this year's conference: Community Resilience: Innovation, Engagement, and Equity. This theme was inspired by the values of the Harris County Public Health Department in Houston and shaped many of the conversations at the conference.
Innovation
Researchers and practitioners alike are innovating around solutions to support communities in the face of various stressors.
One broad area of innovation is around making research outputs more actionable and less complicated to implement by promoting community-researcher partnerships. To make research more useful to end users, Associate Executive Director of the National Academies of Sciences, Engineering and Medicine's (NASEM's) Gulf Research Program Evonne Tang, Ph.D., and her team have begun hosting idea workshops that bring together stakeholders from different sectors and disciplines to develop new research project ideas. These workshops precede the funding opportunity and are used to inform it, which ensures that the research question relates exactly to the issues that stakeholders are facing.   
Another area of innovation focused on assessing the aftermath of adverse event. Assessing need after a natural disaster is particularly difficult logistically and can also include complex cultural considerations. In Houston, Julie Kaplow, Ph.D., Chief of Psychology and Director of the Trauma and Grief Center at Texas Children's Hospital, explained how her team overcame logistical issues by partnering with Lyft to improve families' access to mental health services. They also created developmentally appropriate screening to better assess the needs of children who had been witness to traumatic events throughout the disaster.
Engagement
Conference presentations on resilience all highlighted the importance of engagement with community members and partners to create sustainable change.
While community engagement has become somewhat of a buzzword these days, many research processes fall quite short of true engagement. Benjamin Springgate, M.D., M.P.H., of Louisiana State University School of Medicine laid out seven principles for community-partnered participatory research his team used to guide efforts to address mental health challenges after Hurricane Katrina. The principles address the importance of equal partnership in all phases of a project as well as equal sharing of resources and authorship as well as ensuring that project results are shared back with participants.
An important part of meaningfully engaging with people, is considering their experience holistically – as individuals, but also in the context of their community. Sheila Savannah, M.A., of the Prevention Institute highlighted findings from a report on the relationship between community trauma and violence illustrating this point. While there is growing understanding about trauma's prevalence and impact on an individual's health and wellbeing, the report highlights how trauma manifests at the community level. The report outlines emerging practices to address community trauma, where symptoms are exhibited in the social-cultural, physical/built, and economic environments.
Related to this holistic approach, a key theme amongst those working to build community resilience was the cross-sector nature of the efforts. Bakeyah Nelson, Ph.D., of Air Alliance Houston was on the frontlines of the Hurricane Harvey response, during which the area experienced one year's worth of air pollution in a 4-weeks. While she spoke in detail about her organization's efforts to monitor air quality in the aftermath of the storm, she highlighted ongoing efforts through the Coalition for Environment, Equity, and Resilience. The group engages those working on land, water, air, waste, and housing policies to reduce human exposer to pollution and strengthen environmental conservation.
Equity
Equity is core to building resilience. An effective resilience framework must have equity at its core, ensuring that adverse events do not disproportionately affect some populations over others.
Robert Bullard, Ph.D., of Texas Southern University noted that equity is a particularly important aspect of environmental resilience because the most vulnerable to adverse effects of climate change are also the least responsible for the drivers of climate change. He also noted that the most vulnerable geographic regions align nearly perfectly with those regions plagued by disparities in health outcomes, income, education, housing, and a multitude of other metrics. He urged special attention to the most vulnerable populations in resilience planning.
In another presentation, Denise Lewis, Ph.D., of the University Georgia discussed her work with Cambodian and Laotian refugee communities in Alabama to build resilience in the face of environmental challenges. Her work highlights the importance of cultural responsiveness in ensuring the project's ability to be in service of the community for the long-term. Researchers have prioritized relationship building and regularly attend community events. The project also provides training for community members grant writing, and hazardous risk management skills to facilitate sustainability.
Resilience is a critical aspect of building a Culture of Health. The range of social and physical stresses that people and communities experience has multiplied. And, these acute events combine with the stress and strain from economic challenges and environmental stress, affecting many populations and communities in a persistent or re-occurring way. Nonetheless, the science and practice of how to foster resilience for both individuals and communities has grown in scope, with many differing perspectives about the most important factors that contribute to making individuals and communities more resilient. There is great opportunity to continue to innovate around new solutions, engage with the wisdom of community members and other diverse stakeholders, and, most importantly, ensure that our resilience plans are founded on equity.
Blog comments are restricted to AcademyHealth members only. To add comments, please sign-in.