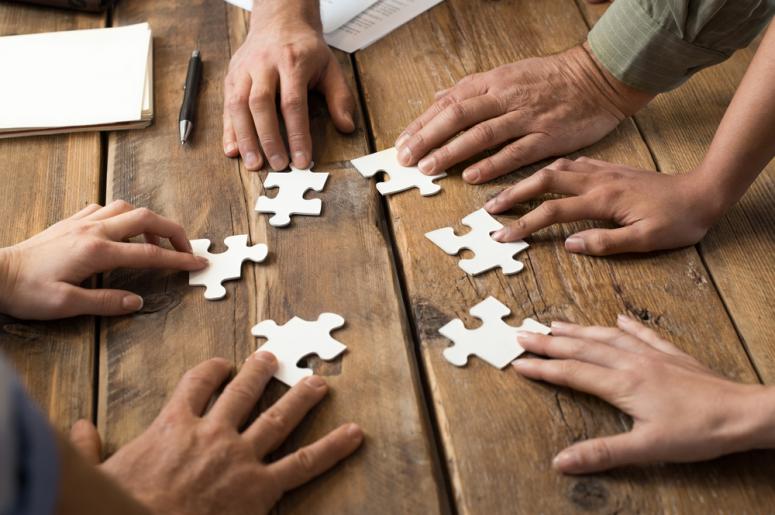 My journey to dissemination and implementation (D&I) science is unusual, to say the least. I used to be a journalist and when the field took a hit over a decade ago, I found a job in research really as just a way to pay the bills. I was immediately smitten and subsequently driven to pursue my master and doctoral degrees in social work, where I focused primarily on D&I science with a secondary focus on aging research. I received this training at Washington University in St. Louis (WUSTL), which is one of the pioneering leaders in D&I science.
As someone who was trained at WUSTL in D&I and has now returned as faculty, I am fortunate to have mentors who are leaders in D&I and the aging field. What I did not anticipate, and what has been an incredible asset to my growth as a D&I scholar, is having colleagues at WUSTL who study D&I in other fields. This "big tent" approach to D&I has helped to advance not only my scholarly work but also the science.
The Benefits of a D&I Big Tent
WUSTL is a great example of a robust and thriving D&I infrastructure that includes multiple workgroups, centers, training programs, and more. A common thread through it all is a focus primarily on D&I science and not a specific content area, such as aging research, global health, mental health, etc. When I attend a D&I event, I may find myself sitting next to someone interested in D&I in mental health, HIV, sickle cell disease, obesity prevention or more, however everyone is there because they are interested in D&I science. The discussions focus more on advancing the science than advancing a specific content area. I think this paradigm shift is critical for institutions and researchers who are looking to conduct and advance D&I science. 
I have seen the benefits of this paradigm in my own research. For example, I am interested in how transitional care (the care and services provided by hospital and community providers to an individual when they discharge from the hospital) is provided to older adults in rural areas. I can learn implementation strategies from my colleagues who conduct D&I research in under-resourced countries that may be applicable in rural parts of the United States. Similarly, my colleagues conducting de-implementation (or mis-implementation) research of cancer control interventions in the public health setting have used methods and strategies that I can test in the de-implementation of low-value care in the perioperative setting in a hospital. And I know the experience of learning from my colleagues in this way is not mine alone.
This exchange of methods, strategies, and ideas across substantive areas and settings is a tide that lifts all ships at WUSTL and for the D&I field at large. By having such unique and complementary areas operating within the same robust and thriving D&I infrastructure, new ideas and methods are translated quickly from one study to another. The cross-pollination of D&I researchers on different studies and teams has led to a strong internal D&I network. Instead of only knowing researchers in one's substantive area and together trying to advance the science of D&I, this internal network is one of D&I methodological expertise. We don't have to wait for the leading thinking on de-implementation outcomes or implementation mechanisms to come from our substantive areas (global health, cancer control, aging, etc.). We can quickly and easily pull in that thinking from across areas and apply it to our own.
Fostering a D&I Big Tent
Leaders at WUSTL were purposeful in placing the focus on D&I first and the content area second. Others who are interested in also creating a "D&I big tent" can take steps to achieve that, whether it is at an institutional-level of an individual-level.
At an institutional-level, having community-wide D&I events that are low-commitment is a great way to bring everyone together. The process of D&I involves practitioners, patients/clients, and policymakers so why wouldn't our research meetings involve them as well? We can certainly advance the science by incorporating practice-based evidence into our discussions on evidence-based practice. Also, many individuals have heard of D&I and want to learn more but feel intimidated by the new field. They may not want to jump into a webinar or conference to start. By offering both large and small D&I events, the "newbies" can come and observe with low-risk and the "experts" can find opportunities to deep-dive.
At an individual level, it can be as easy as reaching out to that person who is doing D&I in an area different than yours and grabbing coffee to talk about your work. There are often great opportunities at institutions - symposia, seminars, grand rounds – where you can share your work and learn about others'. The key to attending these events is to think critically about how their methods could be applied to your own work and then, of course, follow up with that person and grab that coffee!
December 4-6, AcademyHealth along with the National Institutes of Health (NIH) will co-host the 12th Annual Conference on the Science of Dissemination and Implementation in Health (D&I). This event is the gathering place for more than 1,200 individuals on the frontlines of D&I science and a great opportunity to meet and network with other D&I enthusiasts.
Blog comments are restricted to AcademyHealth members only. To add comments, please sign-in.