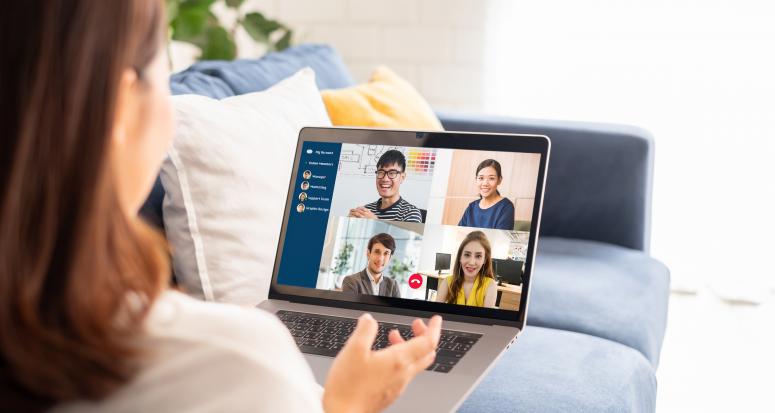 The lone academic researcher is a common meme, head bent over a microscope, keyboard, or spreadsheet late into the night. The pressure to "publish or perish" and the need to remain competitive in the global arena has forced many researchers to disengage from potentially energizing relationships with friends or their community, leaving the majority of social interaction to occur at work.
Then came COVID-19.
In a matter of days, researchers and staff were told to continue our programs of research from home. Books and files were collected, labs were closed, clinical trials were put on hold, teaching and program management were moved online. Makeshift offices were created in closets, bedrooms, garages and on kitchen counters. Suddenly, academic researchers are working remotely and unable to connect with colleagues in hallways or on campus.  
Having studied isolation, I developed a survey to understand the impact of remote work on researchers and staff at the Colorado Clinical and Translational Science Institute, (CCTSI) a research center that supports the University of Colorado system. The survey results confirmed my suspicion. Over 60 percent (198 of 322) of my colleagues reported the greatest barrier to their productivity was missing the daily face-to-face work and social interaction with colleagues. This is concerning for the scientific community because lonely workers perform worse, quit more often, and feel less satisfied with their jobs.
Lessons on how to cope with academic isolation and feelings of loneliness due to remote work can be learned from industries, such as technology firms, that have developed strong company cultures while having a dispersed workforce. Methods such as video conferencing, instant messaging communication platforms (e.g. Slack), Twitter or Facebook groups and occasional on-site meetings to bring employees together can strengthen social bonds. Researchers and staff in the survey reported that 88 percent had started using video conference platforms to stay connected. However, many face technical difficulties and hours of back-to-back video meetings have resulted in Zoom fatigue.
Daily email updates, and group texts are used less frequently by CCTSI researchers and staff during this remote work time. Many reported altering timelines and project expectations to reduce stress on staff and have started informal video conference-based social gatherings. Unfortunately, these practices have not been broadly adopted and may not continue as academic researchers are urged to return productivity to pre-COVID levels. We encourage individuals and program leadership to consider additional strategies to support academic researchers as remote work becomes the new norm.
Coping Mechanisms for Individual Academic Researchers:
Determine the "minimum effective dose" of video meetings you can tolerate before 

Zoom fatigue

and schedule accordingly

.

Identify and block time on your calendar for writing and creative work.

Learn how to use communication platforms such as Microsoft Teams and Zoom.

Learn how to run 

positive

 and 

productive

 virtual meetings.

Learn how to 

talk to your team

, build your 

team's resilience

 and 

re-craft their jobs

 during COVID-19
How University Leaders, Principal Investigators and Project Managers Can Address Academic Isolation:
Schedule virtual or on-site small group social gatherings such as writing retreats, coffee breaks, or happy hours to bring teams together routinely.

Coordinate 

networking opportunities

 within and across departments.

Identify IT issues your teams are experiencing and address them.

Broadly share tools and resources that can support remote work, 

personal health

, and a 

good remote work culture

.

Provide trainings for 

newly virtual leaders

 to support team culture and 

productivity

.    

Provide forums to share 

remote work best practices

, how laboratory and clinical researchers are addressing challenges, and how 

parents

 and others are adapting to work and 

home demands

.

Provide forums to discuss the mental 

health impacts

 of remote work, COVID-19, as well as  the health and economic challenges our institutions and society are facing.

Share how research programs are addressing delays in research, how they are communicating with funders and study subjects, and what the 

new normal

 may be for research in the United States.
Remote work has become a long-term strategy for COVID-19 prevention. Academic research center leadership, principal investigators, and program managers have a responsibility to take the issue of academic isolation and loneliness during COVID-19 seriously. The suggestions provided may require more planning, but they could have long-term benefits for the development of junior researchers, recruitment and retention of talented research staff, and the success of the scientific research endeavor.
Academic researchers and scientists around the world are taking action to understand, prevent, and treat the pandemic virus. We also need to creatively address the indirect impacts of the COVID-19 response – including academic isolation and loneliness.
Blog comments are restricted to AcademyHealth members only. To add comments, please sign-in.