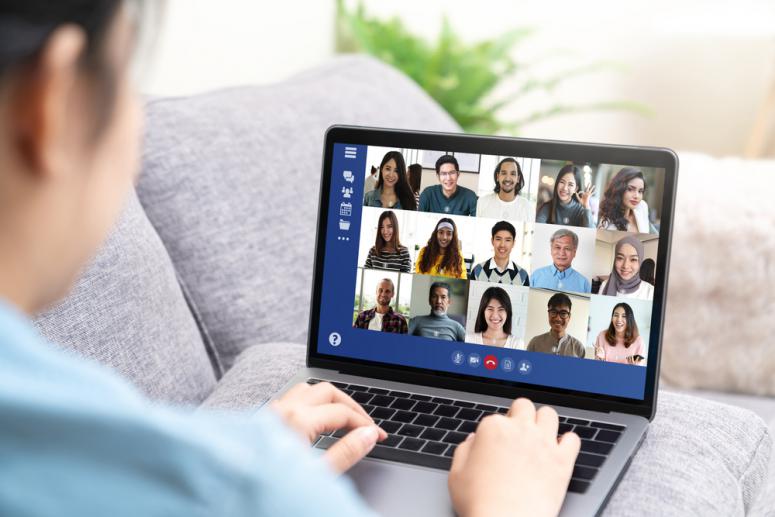 We always like to see "behind the scenes" details of how things are made – from reality chef shows to our favorite movies, but how do conferences (specifically for health services and health policy researchers) get put together? Even deeper than that, why do we meet in the first place? Recently, AcademyHealth staff members virtually attended the 2020 American Society of Association Executives (ASAE) Annual Conference, August 10-12, 2020. One of the most powerful sessions was led by Priya Parker, author of The Art of Gathering: How We Meet and Why it Matters and the host of the New York Times podcast, Together Apart. Parker's key question pushed everyone tuning in to reflect and explore: why do we meet?
Meetings Satisfy a Deep Human Need
While many nationwide are still impacted by the COVID-19 global pandemic, nearly every gathering has transformed from an in-person event to a virtual setting. Like many, AcademyHealth's Annual Research Meeting (ARM) this summer became a virtual event to provide a space for our community to connect.
It was an important meeting. Health services and health policy researchers were hungry to connect with their peers and there is an inherent understanding in HSR that rigorous research requires multi-disciplinary and diverse contributions. At the same time, the dual pandemics of COVID-19 and structural racism highlighted the need for timely, evidence-based policies to improve health and health care for all. ARM fulfills this need for the HSR community each year, and even though we were in our respective remote locations, we were still together and able to connect.
This blog explores key areas Parker addressed and how they impact the AcademyHealth community and conferences - from psychological considerations of why we meet to the tangible considerations – when we meet, and how do we create an environment conducive to learning and networking?
From a membership perspective, Parker's remarks highlighted the importance of meaningful engagement – even in a virtual environment. To respond to the need for connection, we needed to understand what could be done to engage members and attendees in the virtual 2020 ARM? We used all the tools and resources available to us on the virtual platform to provide a seamless and enjoyable experience. These included gamification, chat, welcome videos and other tools. We also included non-meeting content like yoga and meditation options. We closely evaluated the use of each, compared the data with our participant survey responses, and are applying the lessons of ARM 2020 to upcoming conferences – for example creating the face-to-face connections our community craves.
AcademyHealth Meetings Reflect the Priorities & Aspirations of the Field
On the surface our community meets for networking, connections, career opportunities and business leads. Underneath, we meet because of our need for connection and community. HSR is a multi-disciplinary field, requiring professionals with diverse backgrounds to deliver usable solutions to complicated problems. Convening doesn't just give attendees a chance to reconnect with their professional network, it gives them the opportunity to discuss how to make progress in their work for the ultimate goal of improving health and health care for all.
Health services research is an applied field – our members report doing this work because it speaks to their values and priorities. That's one of many reasons to apply evidence to inform policy and practice. In that vein, another reason we meet is to provide the field with a shared sense of purpose. At many of our conferences we call the HSR field to action by focusing on the most pressing issues of our time. At the virtual 2020 ARM, several of our plenaries focused on issues of structural racism, and how the field of health services and health policy research can take its part in dismantling these structures to improve our work and ensure that health and health care is accessible and equitable for all.
Engaging Conferences Require Ongoing Innovation
Because we believe that convening is an important and necessary part of our service to the field and the pursuit of our mission, we are actively working to find more ways for attendees to safely and effectively gather. At virtual ARM, we learned that in this era of zoom overload, there is an exception for annual meetings.  It's the one time a year you "see" your industry colleagues and share a common experience.  
Parker really pushed the ASAE attendees on this. And, it's something that came through the ARM evaluation forms: participants wanted to be more present and in the moment. Parker issued a challenge to the ASAE audience – when attending a (virtual) conference, be there. Close email, shut off your phone, don't browse other online sites – put your focus 100% in the platform so you can gain what you came to learn. This is a particular challenge with online convening. Going forward, we'll look at how scheduling and other changes may help participants maintain focus, maximize learning and more meaningfully connect with pears.
We are still unpacking all of the learnings from the 2020 virtual ARM and how we can improve our upcoming conferences – the Health Policy Orientation, the Conference on the Science of Dissemination and Implementation, our joint National Health Policy Conference and Health Datapalooza, and the 2021 ARM. The pandemic is providing many opportunities to grow these skills! In addition to meeting the challenge of providing connection opportunities for our community, we are also relooking at how we do business so we can provide more engagement opportunities for the field year-round.
As we consider ways to better serve the field, we want to hear from you! Why do you attend AcademyHealth meetings and conferences? What's in it for you? We'll keep this poll up until October 30 and once we've received all entries, we'll let you know what we discovered.
Take the survey here: https://www.surveymonkey.com/r/HSRgathers
Blog comments are restricted to AcademyHealth members only. To add comments, please sign-in.