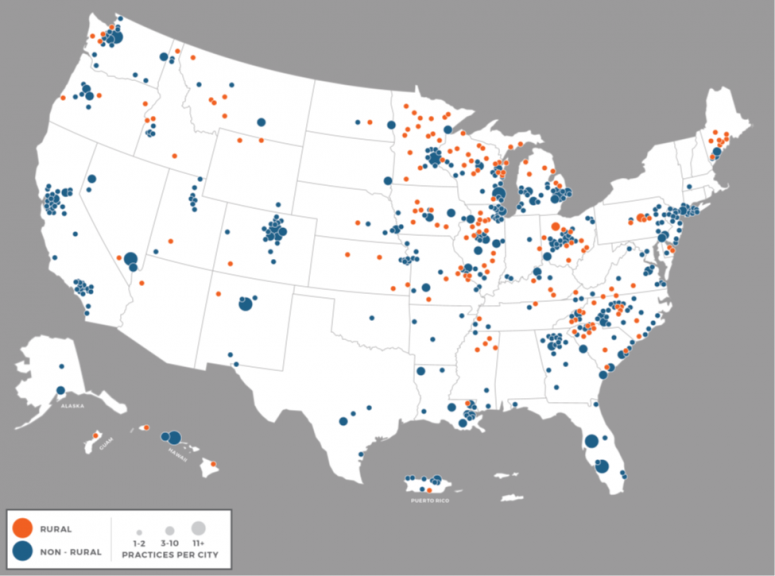 Rural Americans face higher cancer mortality than non-rural Americans and gaps in outcomes are widening. Because differences in quality and access to cancer care play an important role in these disparities, cancer care delivery research has potential to play an important role by discovering how to optimally deliver cancer care in a rural context. However, little is known regarding the extent to which rural oncology practices participate in care delivery research and how rural classifications may affect eligibility.
As a Visiting Scholar to the National Cancer Institute Healthcare Delivery Program, I sought to evaluate the impact of rural classification schemes on eligibility, identify whether rural practices participate in a national oncology research network; and describe characteristics of practices' accrual to studies. Through the program, jointly sponsored by NCI and AcademyHealth, I spent the year working with Kate Castro, RN, MS, AOCN®, and other members of the Healthcare Delivery Research Program to understand the capacity of the NCI Community Oncology Research Program (NCORP) to conduct cancer care delivery research in rural oncology practices.
NCORP is a long-standing national network conducting cancer treatment, control, prevention, and care delivery studies for patients in the communities where they live and a natural care delivery laboratory. The research indicated that 17 percent of practices participating in NCORP in the program's first five years were located in areas classified by Health Resources Services Administration (HRSA) eligibility criteria as rural, which is close to the proportion of rural population in the US. Two thirds of the 46 NCORPs included at least one rural practice among their affiliates. Further, almost 10 percent of all cancer care delivery research accrual originates from rural practices. However, there is variability in what rural sites accrue, with half of the rural sites contributing to cancer care delivery research.
We chose to use the HRSA classification scheme in our analysis because it was most inclusive of the definitions we compared and required the least amount of manual corrections to NCORP data. The benefits and challenges of three other popular classification schemes, RUCC, RUCA and FAR, are further discussed in our manuscripts describing the work.
The mixed methods study explored barriers and best practices for cancer care delivery research through qualitative interviews with 22 of the 173 rural NCORP practices. The qualitative results highlighted the heterogeneity of both rural communities in the U.S. and rural cancer care delivery contexts across the NCORP network. Differences in communities ranged from affluent retirement communities to high concentrations of vulnerable populations, and differences in cancer care delivery ranged from fully-staffed multidisciplinary cancer centers to care provided by oncologists serving multiple locations and facing high turnover among research staff.
Practices described challenges aligning participants, providers and the study protocols in many rural settings. Lack of social support, socioeconomic disadvantage and transportation issues, coupled with challenges in research staffing and physician coverage, were found to limit their ability to recruit patients to participate in research.
Transportation incentives, centralized research training, and staffing structures that promote retention of research staff were thought to help. Lowering study start-up burdens and aligning recruitment goals with the variable patient volumes across practices within the NCORP may further encourage more NCORPs to open cancer care delivery research studies at rural sites. Widening study eligibility criteria and recognizing and supporting the different organizational structures that exist in rural cancer programs may allow more rural sites to participate and benefit from the research conducted in NCORP. Participants also suggested that studies that aligned with rural practices' priorities; engaging rural providers in care delivery interventions; and assessing outcomes on rural health systems may increase rural practice participation in cancer care delivery research.
As geographic disparities in cancer mortality continue to widen, the need to conduct robust research on urban-rural differences as well as rural-specific care delivery innovations will only escalate. The NCORP network has the capacity to do this work and, as more rural practices have been incorporated into the network in the most recent funding cycle, is poised to address this challenge.
To learn more about our research, click here to listen to my AcademyHealth webinar. The NCI/AcademyHealth Healthcare Delivery Research Visiting Scholars Program is seeking applicants until March 22, 2021. If you have an interest in advancing cancer care delivery, I encourage you to apply.
Blog comments are restricted to AcademyHealth members only. To add comments, please sign-in.