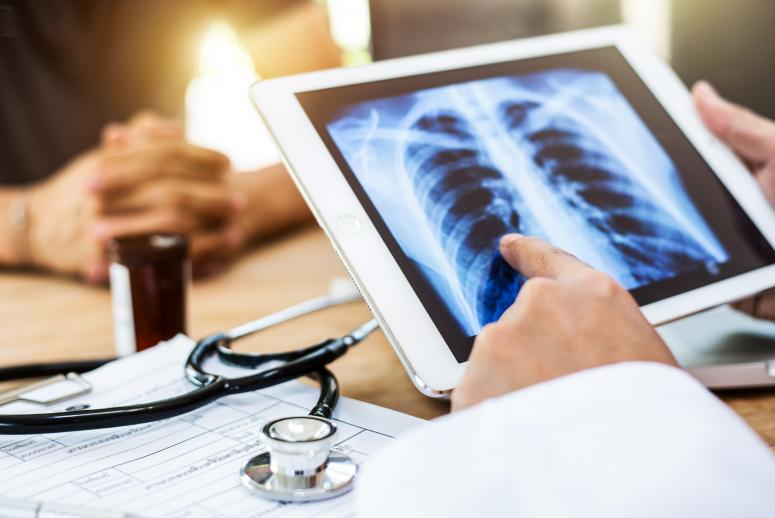 As the leading cause of cancer death in the U.S., the poor prognosis for lung cancer has remained relatively unchanged over the past few decades. One area of promise has been immunotherapy, in which drugs known as checkpoint inhibitors are used to help the immune system identify cancer cells and fight them off. This is a markedly different approach than traditional cancer therapies that kill cancer cells directly such as chemotherapy and also could result in fewer side effects.
Since their introduction in 2015, novel immunotherapies have been rapidly adopted into clinical practice as they have been found to increase overall survival by 2-3 months for advanced lung cancer patients. This is an important improvement considering only 30 percent of those diagnosed distant stage survive more than 12 months. While clinical trials can tell us a lot about how the drugs affect patient outcomes, they do not provide information on the real-world effectiveness and cost of these drugs. Cancer patients in the real-world are often older and frailer than those who participated in clinical trials and may benefit less from cancer treatments. Moreover, the average drug cost was estimated to be as high as $75,000. Within three years of their introduction, checkpoint inhibitors became the second and third highest-spending physician-administered drugs in Medicare.
A new study published in HSR reveals much more detail about the cost of these therapies, as well as more information about their use and effect on survival. By examining more than 25,000 Medicare beneficiaries diagnosed with advanced lung cancer, a team of researchers from Brown University, Providence Veterans Affairs Medical Center and Washington University in St. Louis found that while the use of new cancer therapies did result in noteworthy improvements in lung cancer survival rates, Medicare spending increased substantially — by nearly $6,000 per patient.
Researchers were able to determine the impact of new cancer therapies by comparing population-level trends in Medicare spending data and outcomes before and after the introduction of immunotherapies in 2015. The team, led by Bora Youn, Ph.D., of Brown University, also made important discoveries about rapid adoption of the new therapies and improved survival rates. Specifically, the study revealed that the percentage of patients treated with immunotherapies increased from zero to 15.2 percent between 2012 and 2015, while the use of other therapies remained the same. The increased use of immunotherapies corresponded to a 3 percent increase in the two-year survival rate in all patients diagnosed with advanced lung cancer. Median survival rates increased by about half a month after the introduction of immunotherapies.
While the improvements in survival rate are notable, the magnitude of the spending increase raises concerns about the financial impact and accessibility of these therapies to the Medicare program and its beneficiaries. As novel high-cost therapies continue to change the clinical management of cancer, examining the population-level impacts of their introduction can support their effective and efficient use.
For more information on this study, please contact Bora Youn, Ph.D. at younbora@gmail.com.
As part of our mission to advance evidence to inform policy and practice, AcademyHealth works with HSR, one of our official journals, to develop and publish plain language summaries of selected articles from each issue. Articles are selected by HSR Editor-in-Chief Austin Frakt, Ph.D. and the summaries are prepared by AcademyHealth staff in partnership with article authors.
Blog comments are restricted to AcademyHealth members only. To add comments, please sign-in.