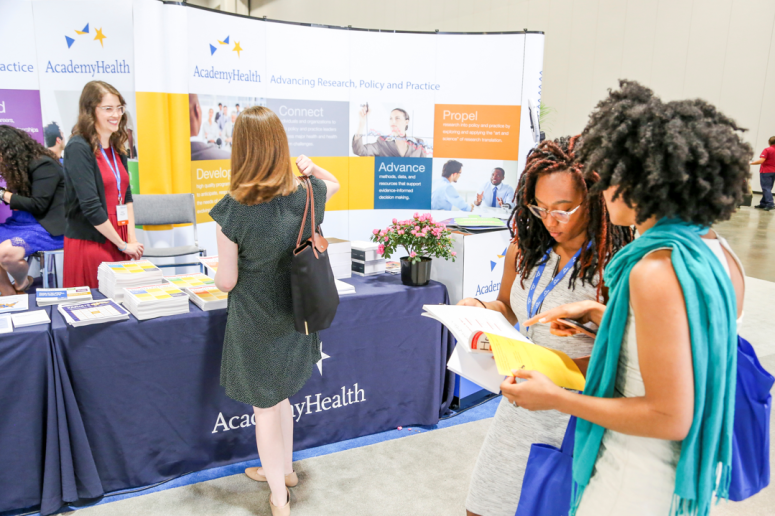 As June approaches, I begin hearing "are you going to AcademyHealth" from individuals who run in health services research circles. They aren't talking about the physical office space, but rather AcademyHealth's Annual Research Meeting or ARM. When I joined AcademyHealth 21 years ago, I found it intriguing that ARM was a "must attend" event. After my first ARM in Atlanta, it became a "must attend" event for me too.
As we mark AcademyHealth's 40th anniversary this year, the draw to this exceptional meeting could not be  clearer. The ARM hosts individuals looking to share and learn about research vital to advancing health care policy and practice. Attendees hold the meeting in high regard because of the quality of the information presented. The research is rigorous and timely. Valuable insights are shared not just from groups of panelists, but also during hallway conversations between sessions. ARM attendees, from students to seasoned experts, are lifelong learners with boundless curiosity.
ARM attendees understand the value of evidence-based decisions and the importance of doing the studies and sharing the results to ensure effective decision-making. They know that research presented at ARM has helped to inform health care milestones, including Medicare Part D, the Affordable Care Act, electronic health records, and the use of telehealth during the COVID-19 pandemic. The ARM has staying power because innovative features are introduced each year, enhancing an enduring legacy. Poster walks, the Innovation Station, and Pecha Kucha presentations are just a few examples of ARM's programming evolution. For our first time back in-person since the pandemic began, we're especially looking forward to hosting several networking events for colleagues to reconnect. The full agenda can be found here.
As we look to the next 40 years, AcademyHealth's strategic plan goals of Impact, Workforce, Engagement, and Innovation offer a useful framework for thinking about how best to build on the ARM's success. While measuring impact is challenging, presenting one's research at the ARM can increase the likelihood that a study's findings will be incorporated into policy decisions and thus make a difference. Developing and sustaining a diverse workforce is also vital. The ARM's methods and career development workshops provide opportunities to grow critical skills, particularly for those early in their careers. The heart of the ARM is engagement, particularly among individuals who rely on science and evidence to effect change. Finally, we know from history that innovation drives improvement. Health care innovation is moving rapidly, fueled by data and a willingness to explore new methods, and engage community voices. The ARM is a place where the best and most innovative research is showcased.
As you think about increasing your own impact, workforce skills, engagement and innovation, ARM remains a must attend event. So, "are you going to AcademyHealth?" I hope to see you there!
Join us at the AcademyHealth Annual Research Meeting (ARM) to experience what thousands of attendees have come to expect and anticipate annually − new research, innovative methods, and robust discussions about the impact of health services research on health policy and practice. Register here.
Blog comments are restricted to AcademyHealth members only. To add comments, please sign-in.