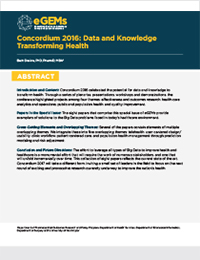 Concordium 2016: Data and Knowledge Transforming Health
This commentary by Beth Devine integrates each paper into several overlapping themes: telehealth, user-centered design/usability, clinic workflow, patient-centered care, and population health management through prediction modeling and risk adjustment. Devine discusses throughout how the eight papers that comprise this special issue of eGEMs provide exemplars of solutions to the Big Data problems in today's health care environment.
Download Publication
In an effort to share experiences and perspectives of those working with electronic health data (EHD), AcademyHealth's peer-reviewed open access journal, eGEMs' Concordium 2016 special issue shares research presented at a national meeting where people from across diverse sectors gathered to talk about how data and knowledge can transform health care.
Edited by Beth Devine, Ph.D., M.B.A, associate professor, department of pharmacy, University of Washington, the Concordium special issue draws from posters, presentations, and discussions at the 2016 meeting to share the experiences and innovations of leading health systems strategic uses of evidence to transform health.
The papers include national leadership perspectives on critical issues such as the future of telehealth practice and research, as well as work on predictive risk, patient portals, mobile health technology, and how incorporating social determinants and traditional health record data can help improve care continuity during transitions.  
To read the full issue, click here.