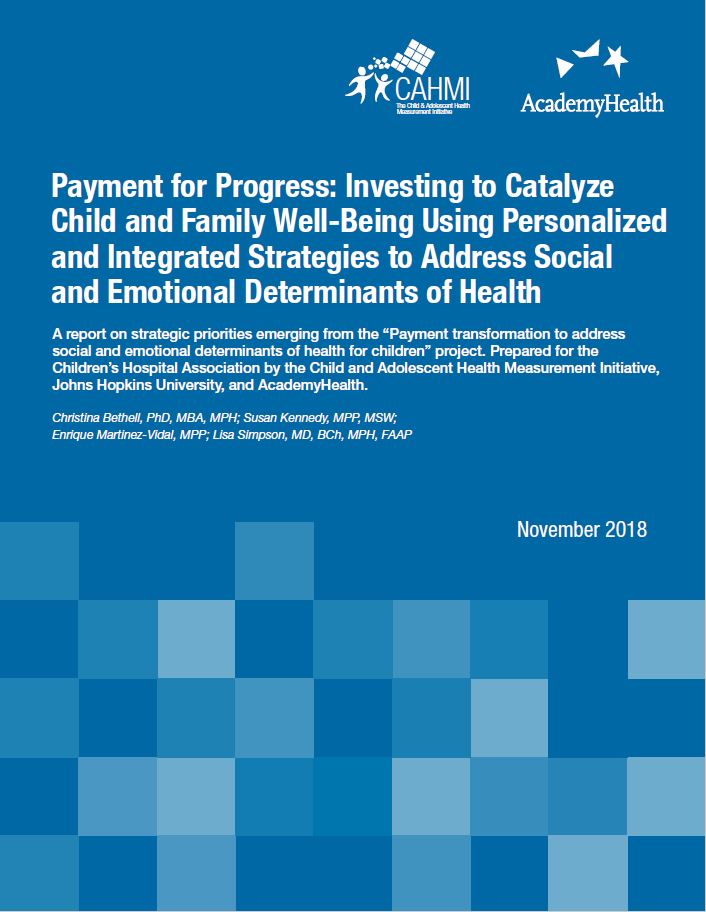 Payment for Progress: Investing to Catalyze Child and Family Well-Being Using Personalized and Integrated Strategies to Address Social and Emotional Determinants of Health
A report on strategic priorities emerging from the "Payment transformation to address social and emotional determinants of health for children" project. Prepared for the Children's Hospital Association by the Child and Adolescent Health Measurement Initiative, Johns Hopkins University, and AcademyHealth.
Download Publication
Despite it being of critical importance, our health care system does not adequately invest in the proactive promotion of positive social and emotional determinants of health (SEDH) or the prevention and mitigation of impacts of Adverse Childhood Experiences (ACEs) for children and families.
Doing so requires creating integrated community systems of care that address the full range of SEDH, including adequate housing, safe and supportive neighborhoods and a range of other contextual factors impacting child and family health. While paradigm shifts to greater investments in the systems, workforce and models of care needed to catalyze healthy child development have long been called for, doing so requires redefining goals and value in health care and aligning models of care and payment accordingly.
This report summarizes three priority recommendations from the "Payment Transformation to Address Social and Emotional Determinants of Health for Children" project. Each of the below recommendations are aimed at advancing payment approaches and policies that catalyze action to promote positive SEDH and address ACEs.
Pay to Improve Child and Family Well-Being: Measure value and return on investment in health services for children, including children with special needs, to incentivize and build capacity to implement a life-course approach that promotes positive social and emotional well-being, prevents and mitigates risks from ACEs and addresses SEDH.

Support Enhanced and Personalized Well-Child Care: Leverage and align existing payment approaches, federal law and practice innovations to establish an enhanced well-child care services model to promote healthy development that is guideline-based, personalized and systems-oriented (GPS).

Build Sustainable Capacity for Transformation: Invest and collaborate across sectors to build the cross-cutting workforce capacity, systems integration, data and measurement and continuous learning infrastructure to both scale high value primary care and the related services and supports children and families need to thrive.