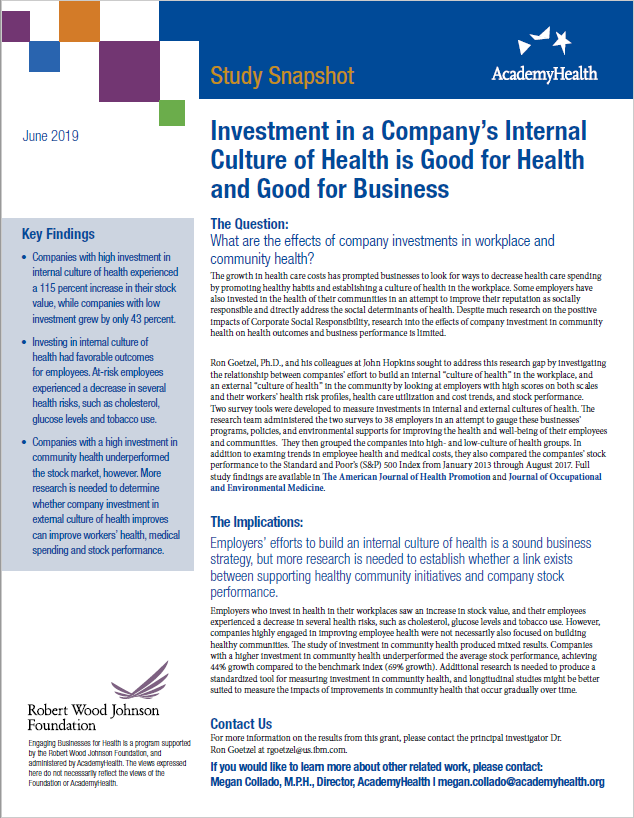 Investment in a Company's Internal Culture of Health is Good for Health and Good for Business
This study snapshot outlines findings from Robert Wood Johnson Foundation-funded research examining the relationship between employer investments in internal and external cultures of health and business performance.

Download Publication
The growth in health care costs has prompted businesses to look for ways to decrease health care spending by promoting healthy habits and establishing a culture of health in the workplace. Some employers have also invested in the health of their communities in an attempt to improve their reputation as socially responsible and directly address social determinants of health. Using two surveys to measure investment in internal and external culture of health, this study found that employer efforts to build an internal culture of health is a sound business strategy, but more research is needed to establish whether a link exists between supporting healthy community initiatives and company stock performance.
This study snapshot outlines research by Ron Goetzel, Ph.D., and colleagues at Johns Hopkins University who examined the relationship between companies' effort to build an internal "culture of health" in the workplace, and an external "culture of health" in the community, and the subsequent effect on employee health and business performance.
Full study findings are available in The American Journal of Health Promotion and Journal of Occupational and Environmental Medicine.
This project is funded as part of the Robert Wood Johnson Foundation's solicitation "Engaging Businesses for Health," which is managed by AcademyHealth.