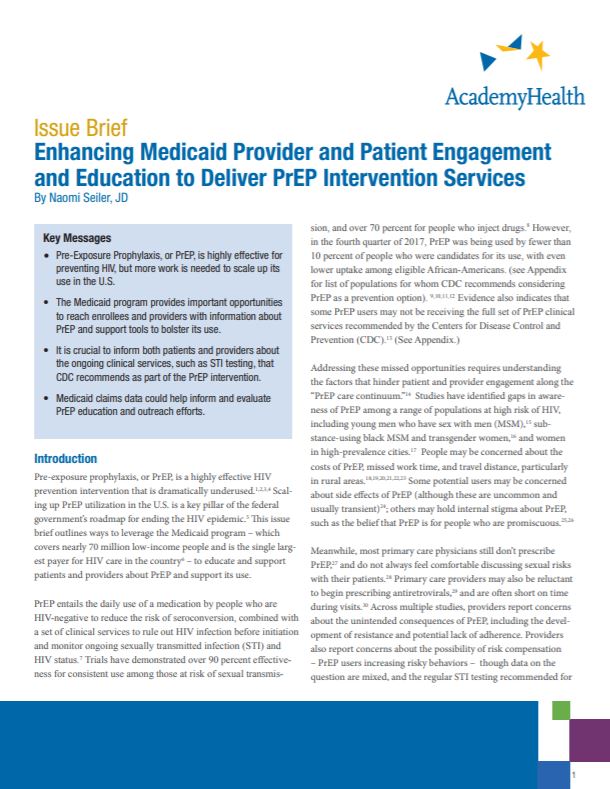 Enhancing Medicaid Provider and Patient Engagement and Education to Deliver PrEP Intervention Services
The Medicaid Strategies to Implement Comprehensive Pre-exposure Prophylaxis (PrEP) Clinical Care Services project resulted in two companion white papers. This issue brief distills the second paper, Enhancing Provider and Patient Engagement and Education: Medicaid Strategies to Deliver PrEP Intervention Services, which identifies educational resources and operational support tools that experts report would be most helpful in promoting engagement. It reviews potential uses of Medicaid claims data as well as discusses Medicaid benefits that may promote provider and patient engagement.
Download Publication
Pre-exposure prophylaxis, or PrEP, is a highly effective HIV prevention intervention that is dramatically underused. Scaling up PrEP utilization in the U.S. is a key pillar of the federal government's roadmap for ending the HIV epidemic. This issue brief outlines ways to leverage the Medicaid program – which covers nearly 70 million low-income people and is the single largest payer for HIV care in the country – to educate and support patients and providers about PrEP and support its use. The brief presents a roadmap for leveraging the Medicaid program to scale up PrEP by engaging patients and providers. It describes patient and provider educational resources and operational tools to support PrEP use, as well as specific conduits for state Medicaid agencies and Medicaid managed care organizations (MCOs) to distribute these resources. It then describes how Medicaid data can be leveraged to target PrEP resources and education, and closes with a discussion of specific scenarios that could arise for certain subpopulations of Medicaid PrEP users.
A companion issue brief identifies Medicaid benefits and financing mechanisms that could be used to improve uptake and comprehensive delivery of PrEP medication and clinical care.