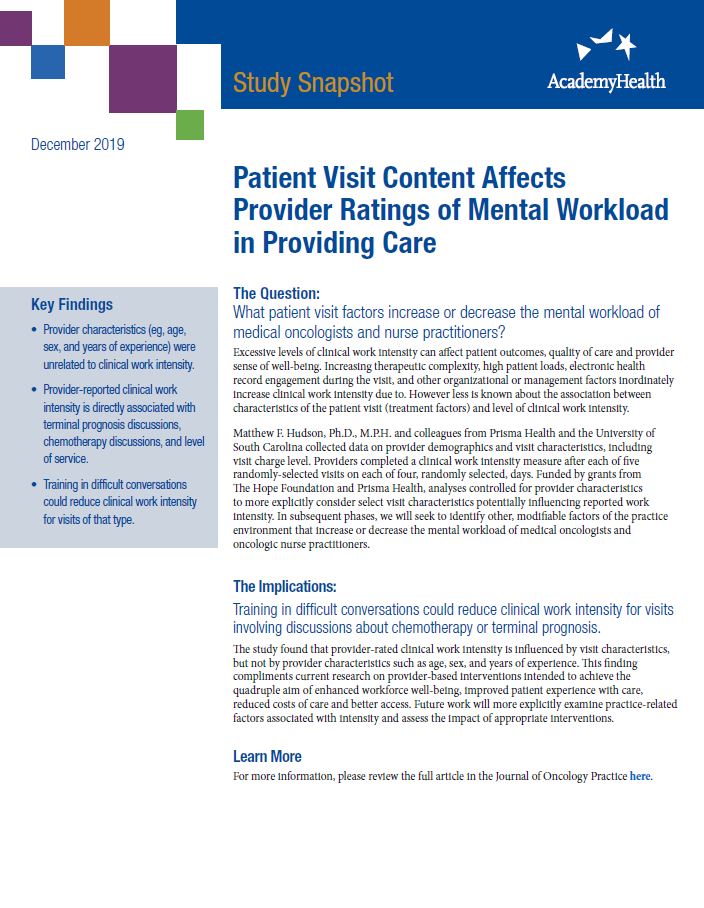 Patient Visit Content Affects Provider Ratings of Mental Workload in Providing Care
This study snapshot outlines findings from research examining patient visit factors that increase or decrease the mental workload of medical oncologists and nurse practitioners.
Download Publication
Excessive levels of clinical work intensity can affect patient outcomes, quality of care and provider sense of well-being. Increasing therapeutic complexity, high patient loads, electronic health record engagement during the visit, and other organizational or management factors inordinately increase clinical work intensity. However, less is known about the association between characteristics of the patient visit (treatment factors) and level of clinical work intensity.
AcademyHealth member Matthew F. Hudson, Ph.D., M.P.H., and colleagues from Prisma Health and the University of South Carolina found that provider-rated clinical work intensity is influenced by visit characteristics, but not by provider characteristics such as age, sex, and years of experience. Their findings suggest   providing training in difficult conversations involving chemotherapy or terminal prognosis may decrease clinical work intensity.
The full results of the study are available in the Journal of Oncology Practice.