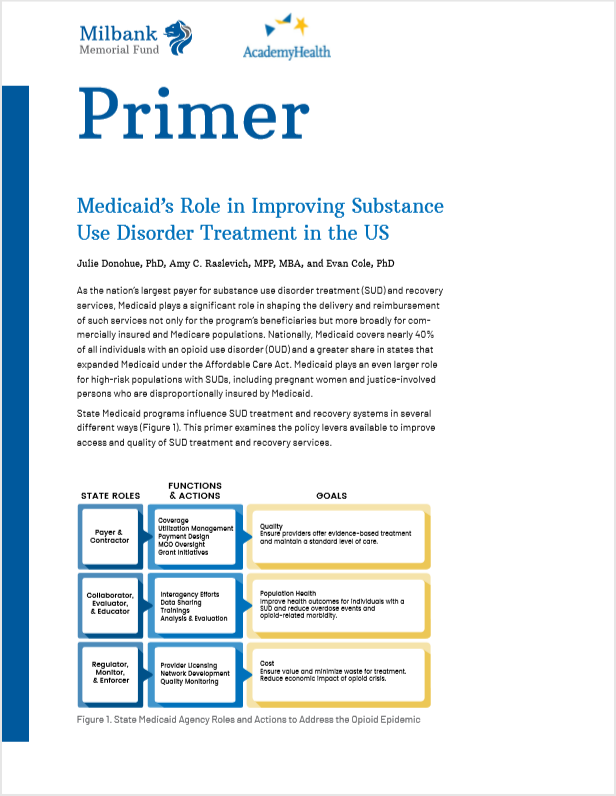 Primer: Medicaid's Role in Improving Substance Use Disorder Treatment
This primer examines the policy levers available to improve access and quality of SUD treatment and recovery services.
Download Publication
As the nation's largest payer for substance use disorder treatment (SUD) and recovery services, Medicaid plays a significant role in shaping the delivery and reimbursement of such services not only for the program's beneficiaries but more broadly for commercially insured and Medicare populations. Nationally, Medicaid covers nearly 40% of all individuals with an opioid use disorder (OUD) and a greater share in states that expanded Medicaid under the Affordable Care Act. Medicaid plays an even larger role for high-risk populations with SUDs, including pregnant women and justice-involved persons who are disproportionally insured by Medicaid. Thus, state Medicaid programs can influence SUD treatment in a variety of different ways. This publication, a part of a series of publications in partnership with Milbank Memorial Fund, builds off work from AcademyHealth's Medicaid Outcomes Distribute Research Network and focuses on the policy options states can leverage to impact the quality of OUD treatment for Medicaid enrollees.