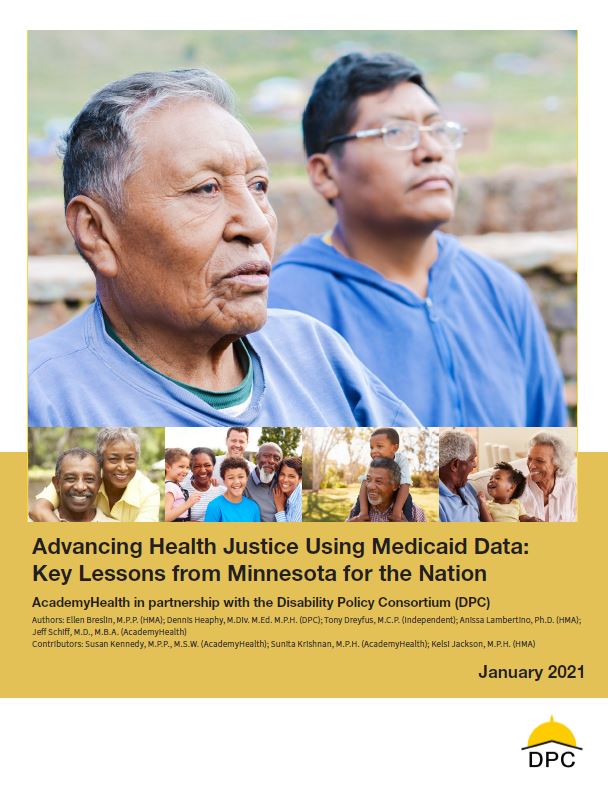 Advancing Health Justice Using Medicaid Data: Key Lessons from Minnesota for the Nation
This report highlights the importance of investment in Medicaid data analytics to measure and reduce health disparities and inequities resulting from injustice. The report provides a comprehensive evidence base of health disparities among children and adults covered under Minnesota's Medicaid program through a health equity lens. These results are now being used by the state to advance health equity in its Medicaid program.
Download Publication
State Medicaid programs play an essential role in providing healthcare coverage to millions of Americans who experience institutional and interpersonal discrimination and bias. COVID-19 has made it clear that Medicaid programs need data, new tools, methodologies, and strategies to identify and reduce preventable morbidity and mortality rates in under-resourced communities. This report will help state Medicaid programs to measure health disparities as an initial step in the design and implementation of strategies to advance health justice.
This report:
Provides information to support state Medicaid programs to measure and address health disparities;

Highlights the essential contribution to the evidence base by one state's Medicaid program;

Underscores racial injustice, discrimination, bias, and stigma in our health care system;

Emphasizes the importance of using an intersectional approach to disparity measurement; and

Urges state Medicaid programs to invest in data and analysis to measure health disparities.