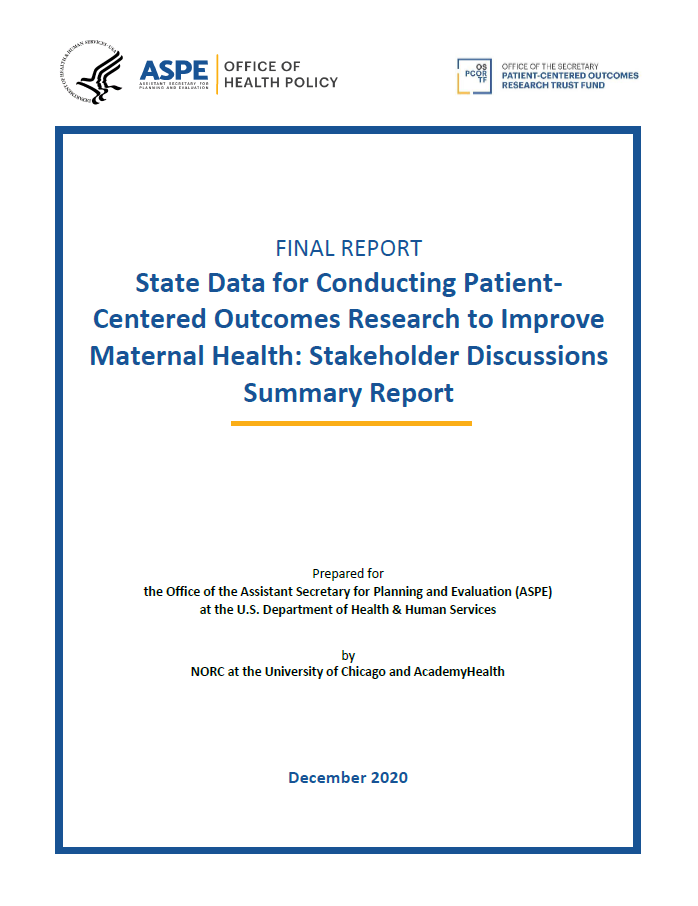 State Data for Conducting Patient-Centered Outcomes Research to Improve Maternal Health: Stakeholder Discussions Summary Report
This final report, with support from the HHS' Assistant Secretary for Planning and Evaluation, outlines discussant interviews regarding state-based maternal health data linkage initiatives.
Download Publication
In the U.S., maternal mortality (MM) rates differ by state, influenced by care quality structures and Medicaid coverage policy among other factors, which can explain the increasing trend of severe maternal morbidity (SMM) rates. In early 2020, the U.S. Department of Health and Human Services (HHS) announced the "Improving Maternal Health in America" initiative with a focus on reducing poor pregnancy and postpartum outcomes. One of the goals outlined under this initiative is to "improve data and bolster research to inform future interventions."
This report presents a summary of discussions with stakeholders conducted to identify key components of successful state-based maternal health data linkage initiatives, to recognize the gaps in implementing such initiatives including data use for research, and understand the current status of existing linkages of state-level data with other data sources and with electronic health records.
Discussants were selected from each of the following stakeholder groups:
Researchers;

State Medicaid Medical Directors;

Data stewards;

State Maternal Mortality Review Committee (MMRC) members; and

Perinatal Quality Collaborative (PQC) members.
The stakeholder discussions highlighted several advanced state data infrastructure characteristics such as having the capacity to blend multiple data resources and the facility to explore the use of health information exchanges to access clinical records on women's pre-pregnancy health. Stakeholders also provided information on funding mechanisms of state data initiatives on MM/SMM. Furthermore, the discussions revealed several data-related challenges faced by state initiatives such as concerns about the quality of data on race/ethnicity and having limited ability to link data on mothers with their babies. Stakeholders provided insight on future goals of their state's initiatives on MM/SMM. Finally, stakeholders mentioned several considerations on future actions that may contribute to improving the health and well-being of women nationwide.