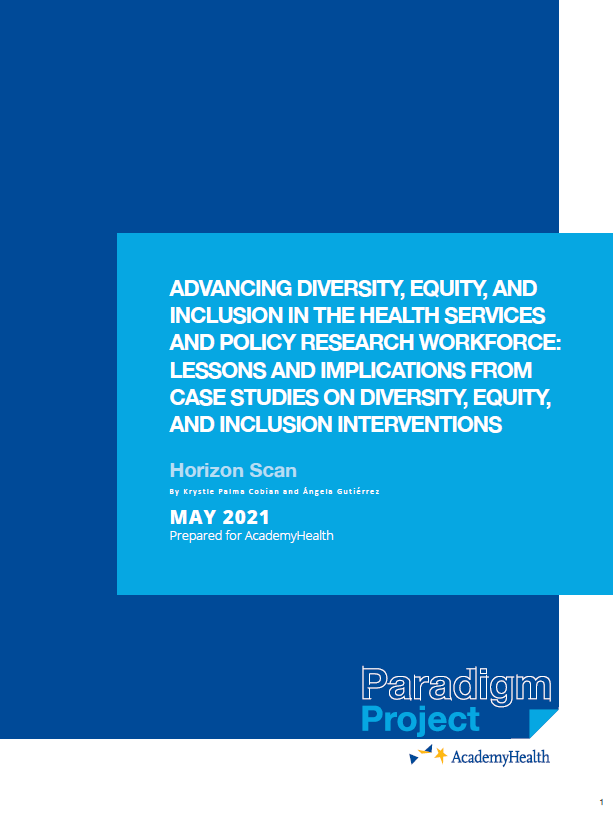 Lessons and Implications from Case Studies on Diversity, Equity, and Inclusion Interventions
This Horizon Scan provides an overview of existing DEI programs and practices to ultimately stimulate conversations and action that can advance DEI within health services and policy research.
Download Publication
This paper presents four cases highlighting DEI interventions that increased diversity within academia and the scientific workforce. The interventions focus on:
Career development and training programs

coupled with systemic efforts to reduce barriers to recruit and retain a diverse set of applicants.

Cluster hiring

to increase retention, enhance socialization, and minimize feelings of isolation often felt by individuals from historically underrepresented groups within the field.

A commitment to career mentorship (e.g., resources and programs) for individuals at the beginning or mid-point of their research careers that goes beyond help writing grant applications.

Community-based participatory research

in which researchers form real, equitable partnerships with community members and organizations to enhance and inform research projects and expand who is considered part of the research workforce.
The authors apply lessons from these interventions to the field of HSR and provide four recommendations to the field to increase workforce diversity:
Implement multi-pronged strategies that target barriers to entry into the field for a diverse set of applicants at the individual, community, state, and federal levels.

Focus hiring strategies at all levels—not just entry-level positions.

Raise awareness of the health services and policy research field to a younger, more diverse generation of students.

Track progress toward DEI goals.