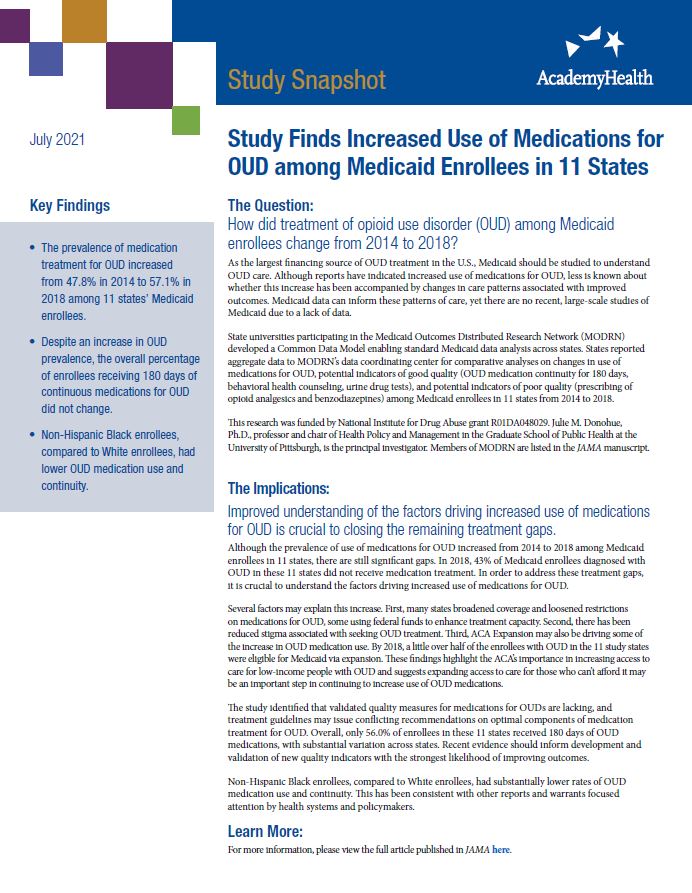 Study Snapshot: Study Finds Increased Use of Medications for OUD among Medicaid Enrollees in 11 States
This study snapshot outlines findings from research examining use of medications for OUD and potential indicators of quality of care across 11 states.
Download Publication
Over the past decade, the United States has continued to see a rise in opioid overdose deaths. This startling trend necessitates the need for improved OUD treatment. As the largest financing source for OUD treatment in the United States, Medicaid plays a critical role in providing this treatment. However, there is limited information on treatment of OUD and treatment quality among Medicaid enrollees.
Drawing on data from 11 state Medicaid programs, Julie Donohue, PhD found substantial improvements in use of medications for OUD from 2014 to 2018. Yet, there were important gaps in treatment along with substantial variability across states. In order to address these gaps, it is crucial to understand the factors driving increased use of medications for OUD. Additionally, results indicated quality measures are lacking and treatment guidelines may issue conflicting recommendations. Recent evidence should be used to inform the development of new quality indicators with the strongest likelihood of improving outcomes.   
For more information, please view the full article published in JAMA here.