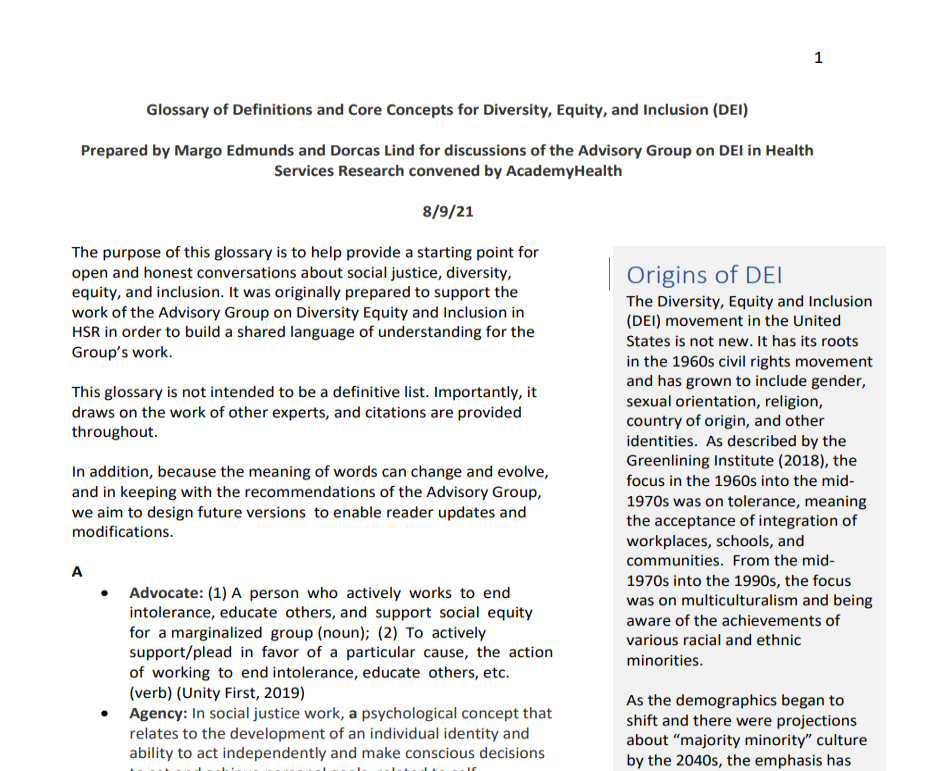 Glossary of Core Concepts for Diversity, Equity, and Inclusion (DEI)
This glossary provides an opportunity to help encourage open and honest conversations about social justice, diversity, equity, and inclusion in support of the recommendations made by the DEI Advisory Group
Download Publication
In August of 2021, AcademyHealth's external Advisory Group on Diversity, Equity, and Inclusion (DEI) released a report with recommendations to guide an anti-racist agenda of inclusion in the field of Health Services Research (HSR). In response to recommendation 1.2 (see below), AcademyHealth is pleased to release the first version of a DEI glossary of terms. The glossary will be updated to reflect changes in language and usage as the field evolves.  
Recommendation 1.2: Develop and disseminate a glossary of terms.
The original list of terms and definitions was based on an industry standard source, The Language of Inclusion, 3rd edition, by James Wright, and tailored for the HSR field. Working with the Advisory Group on DEI, Margo Edmunds and Dorcas Lind expanded the list to include terms that were used by advisory group members during their discussions as well as by source documents used as references. Wherever possible, a definition from a credible and culturally competent institution or individual was cited. Advisory Group members reviewed and contributed to the list of terms and reviewed several drafts. This version was endorsed by the Advisory Group members and reflects their collective expertise and experience.
This glossary is meant to be a starting point to familiarize researchers with a shared language of essential DEI terms and concepts. As terms and their definitions evolve over time, AcademyHealth plans to solicit community feedback on updates and modifications.