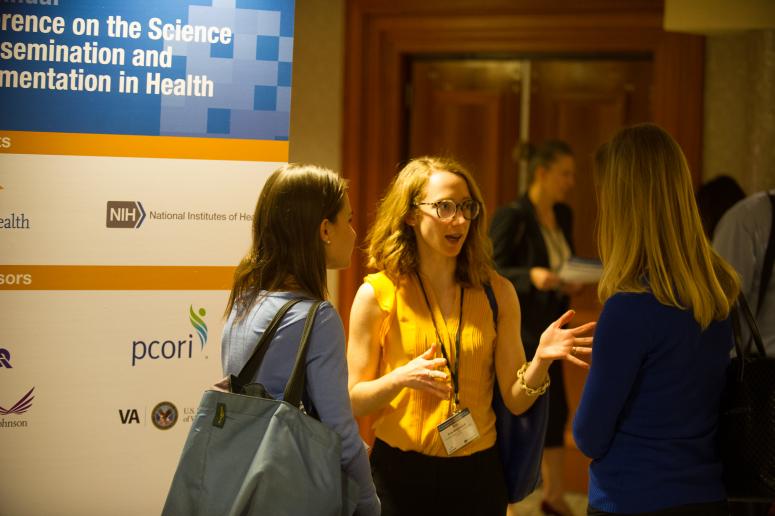 The 9th Annual Conference on the Science of Dissemination and Implementation in Health wrapped up last week after two full days of discussion around adaptation, innovation, and translation. The conference debuted its first ever Poster Slam Session.
With innovative session formats like the slam, great plenaries, diverse breakouts and over 1,100 attendees, there was plenty to talk about! The conference hashtag, #DIScience16, was even trending on Twitter.
Co-hosted by AcademyHealth and the National Institute of Health (NIH), the conference kicked off with a welcome from Lisa Simpson, President and CEO of AcademyHealth and David Chambers, Deputy Director for Implementation Science of the Division of Cancer Control and Population Science at the National Cancer Institute. Both thought leaders discussed the importance of dissemination and implementation science, and Chambers presented the addition of the conference's newest theme, precision medicine.
Below is a recap of just a few sessions from this year's conference. The full agenda is online, and slides will be available in early 2017:
The Innovation Conundrum
Roy Rosin, Penn Medicine
Following Dr. Simpson and Dr. Chambers' welcome, Roy Rosin, Chief Innovation Office at Penn Medicine, took the stage for the conference keynote, "The Innovation Conundrum." Using examples from different industries such as technology and finance, Rosin emphasized the need to be contextual when driving innovation in any sector, including health care. He further explained the importance of focusing on what people do versus what they say, the importance of the method over the idea, and how to learn fast at a low cost, even if the learning part includes failure. He concluded the keynote with five lessons learned in innovation that can apply in most industries, including health care:
Get contextual: Focus on what the demand is
Learn fast at a low cost: It's okay to fail, as long as the cost of losing isn't really high
Have clear criteria: The ability to reuse, recommend, and the ability to capture value
Package for dissemination: Craft and communicate what is remarkable and package it for the audience
Do not start with one sided relationship: Identify who really cares about the innovation
Balancing Adaptation and Fidelity: Exploring the Continuum
Greg Aarons, University of California, San Diego
Don Goldmann, Chief Medical and Scientific Officer, Institute for Healthcare Improvement 
Amy Kilbourne, Director of the Quality Enhancement Research Initiative national program, VA (QUERI)
Susan Michie, Professor of Health Psychology at University College London
Lisa Saldana, Oregon Social Learning Institute
This panel focused on the strategies and challenges for studying adaptation without sacrificing meaningful fidelity. Greg Aarons moderated the panel and discussed the need for some adaptation in clinical intervention and provided a clear definition of fidelity. He defined fidelity as "the extent to which intervention was delivered as planned, and an indicator of the quality and integrity of the intervention as conceived by the developers." Each panelist covered a different angle on adaptation and fidelity:
Susan Michie indicated that the issues of fidelity and adaptation are the same across clinical, public health, and implementation interventions. She also discussed the problem of poor fidelity and the need to be better about context because "unless we have good theories of context we're not in a good position to know what to adapt and when."
Don Goldmann expressed the importance of understanding the prototype, whatever the intervention, so that experiments and models have the equipment to succeed.
Lisa Saldana discussed the indicators needed to measure strong implementation fidelity, including good referral sources and contextual factors within the building of infrastructures.
Amy Kilbourne presented on the work that QUERI is conducting with implementation strategies in order to promote adaptation, including promoting positive deviance, adaptation of implementation process, and real time adaptation of evidence-based practice.
Poster Slam Session
The D&I Conference's first ever poster slam session was moderated by Lisa Simpson and featured 18 different studies, all of which were chosen from the accepted submissions for the conference's two poster sessions. Each presenter had three minutes to present, and was limited to five slides. Topics covered included:
Use of natural language processing to support prevention of nonelective rehospitalizaiton
Evidence-based health promotion to small worksites
The translation of health economics research on substance use disorders
Standards for reporting implementation studies
Tailoring knowledge in evidence based medicine
View a full list of the poster slam presentations online.
Planning for the Long Term: Considering Sustainment and De-Implementation of Interventions
Moderator: David Chambers, Deputy Director, Implementation Science, Division of Cancer Control and Population Sciences, National Cancer Institute Robert Kaplan, University of California, Los Angeles
Catherine Sarkisian, University of California, Los Angeles
Sharon Straus, Professor in the Department of Medicine at the University of Toronto
Shannon Wiltsey Stirman, Clinical Psychologist, National Center for PTSD, VA Palo Alto Healthcare System and Stanford University
Challenged with the limits of short-term goals and limitations in funding, dissemination and implementation researchers often focus on the initial stages of adoption and implementation. This panel, moderated by David Chambers, explored how the field can think about long term outcomes of the efforts to disseminate and implement evidence and evidence-based interventions, specifically concentrating on decisions regarding sustainment or de-implementation of interventions.
In her presentation, Catherine Sarkisian discussed deimplementation in the context of the Choosing Wisely campaign. She discussed the intense overuse in medicine and how sometimes it seems like some "patients' job is solely going to the doctor."
Next, Bob Kaplan discussed how health care can save or sink in the United States and the case for health reform and fiscal sustainability. He pointed out that if the United States decreased its ICU spending by 20 percent, we could support all of the NIH research.
Sharon Straus discussed the linkage between de-adoption and sustainability in research and the need for better benchmarks in deciding how to know when to stop something and when to adapt.
Sharon Stirman emphasized the need for planning for sustainability and the need to access different influences, understand their interactions, and plan for them to change. She also touched on research regarding how to promote sustainability.
Translating and Disseminating in the Health Policy Arena
This breakout session was moderated by AcademyHealth's Michael Gluck, and featured four panelists and one discussant. The four panelists presented on case studies and research about translating and disseminating research in health policy, in the context of different policy actors such as advocates, legislators, and community partners. The following research papers were discussed:
How Do Implementation Strategies Impact Efforts to Integrate Evidence-Based Interventions into Tobacco Retail Policy?
Framing and Disseminating Research Information to Legislators and Advocates Involved in Cancer Control Policy Change
Using Decision Analysis to Understand Policy-Makers' Use of Research and Local Evidence for Evidence-Informed Policies
A Longitudinal Investigation of Knowledge Brokering as a Mechanism for Integrating Research Evidence into Health Policymaking
Novel Directions in Dissemination Research
Moderator: Gila Neta, Program Director, Implementation Science, Division of Cancer Control and Population Sciences, National Cancer Institute
Hilda Bastian, National Institutes of Health
Gary Bennett, Duke University
Matt Kreuter, Kahn Family Professor of Public Health and Associate Dean for Public Health at The Brown School at Washington University in St. Louis
Randy Schwartz, Senior Vice President of Health Systems, American Cancer Society
The conference's final plenary explored future directions for dissemination researchers with the ongoing advances in communications technology and new sources of data. Moderated by Gila Neta, panelists discussed ways for researchers to get evidence and evidence-based interventions spread to target audiences.
Matt Kreuter named some of the key factors needed to get research tested interventions into widespread practice, including awareness, publicity, evidence, demand, money and cultural appropriation. He also discussed increased evaluation of what programs are worth dissemination efforts.
Next, Hilda Bastian posed the question "who really are the influential people?" She said "if we know who [the influential people] are, then we can target specific people who can disseminate successfully."
Gary Bennet encouraged researchers to "think more intentionally about how we learn about the commercialization process and to how learn how to best study it to learn more about interventions."
The last panelist of the conference, Randy Schwartz directed researchers to better build capacity through linkages in systems, processes, and infrastructures.
Slides from this year's conference will be posted in early 2017. For more information, including date and location for next year's conference, visit www.academyhealth.org/DIscience. 
Blog comments are restricted to AcademyHealth members only. To add comments, please sign-in.