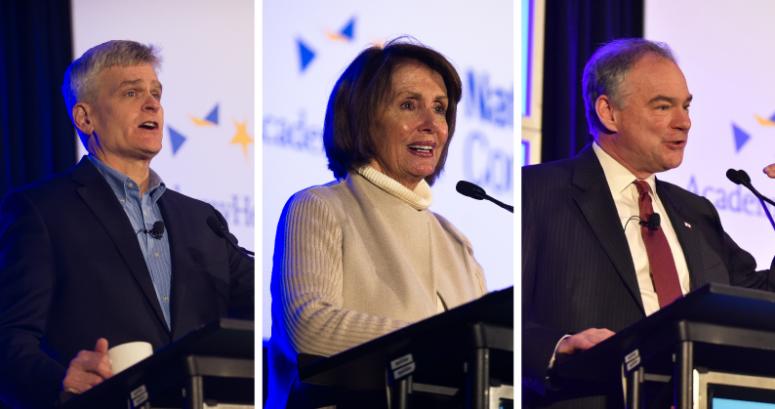 Day 1: Monday, January 30
Plenary: National Health Policy Priorities for the 115th Congress
Senator Bill Cassidy (LA) provided an overview of the latest discussion on repeal and replace of the Affordable Care Act (ACA), including his proposed Patient Freedom Act. The Patient Freedom Act would pass legislation that would let states choose from the following three different health care options in 2013:
A "better choice plan," providing individuals who do not receive an income tax benefit from employer-sponsored insurance with a demographic-adjusted credit, allowing them to enroll in health insurance if they choose to be.
Stay enrolled in the Affordable Care Act.
To choose an alternate plan that does not include the Better Choice plan or ACA
The Senator completed his remarks by calling attendees "some of the brightest people when it comes to understanding health care in the nation."
Late-Breaking: What's Next for Drug Pricing? Policy Approaches to Promoting Value-Based Care
Chair: John Selig, The Lewin Group; Speakers: Rhonda Driver, Oregon Health and Science University; Mark McClellan, Duke University; Leigh Purvis, AARP; Wayne Sichel, Bristol-Myers Squibb Company
Framed by the acknowledgment of the intense amount of public interest on this topic, panelists represented a variety of perspectives on the issue of drug pricing. Leigh Purvis provided an overview of the issue with an emphasis on the consumer perspective noting that older Americans use an average of four to five prescriptions per month and 68 percent have chronic conditions requiring ongoing drug therapy. Rhonda Driver highlighted work in Oregon focused on bringing clarity to the complicated landscape of drug purchasing for state Medicaid programs and providing alternative payment models (APMs) to help improve patient access to evidence-based therapies while allowing states to predict and manage prescription drug costs. Mark McClellan emphasized the importance of a multi-factorial policy approach to drug pricing and outlined potential alignment of drug payments with APMs. Wayne Sichel provided an industry perspective, noting that policy approaches should be assessed based on their impact on quality patient care, innovation and efficiency.
What Do We Know about the Consumer Experience on the Insurance Marketplaces? Insights from Three Impactful Projects
Chair: Katherine Hempstead, Robert Wood Johnson Foundation; Speakers: Alison Betty, GMMB; Sabrina Corlette, Georgetown University; Janet Weiner, University of Pennsylvania
This policy roundtable featured recent evidence on consumers' experiences in the individual health insurance market, including on the insurance marketplaces. In setting up the discussion, chair Katherine Hempstead noted that marketplace consumers are generally satisfied with their insurance coverage and view cost as the primary consideration when deciding on a plan. Less is known about consumers who purchase insurance in the individual market outside of the marketplaces. Remarks by three grantees of the Robert Wood Johnson Foundation (RWJF) centered on work that has helped inform policymakers, advocates, and other health care stakeholders regarding health reform implementation.     
Janet Weiner noted that a quick-strike approach to data collection and analysis allowed agility in developing a series of data briefs that addressed variation in ACA implementation across states.
Sabrina Corlette identified two issues that are likely to persist under a replacement for the ACA: 1) how best to determine eligibility for coverage given the complexity of the current system, and 2) how to help consumers understand the wide array of plan choices available to them.
Drawing on a series of public opinion research projects, Alison Betty noted that both marketplace consumers and consumers in the larger individual market are generally inclined to keep the coverage they have, rather than shop for different plans from year to year.
Lunch Plenary: HSR Impact Award and How Investors Are Looking at Health Care
Moderator: Paul Ginsburg, Schaeffer Center for Health Policy and Economics; University of Southern California and Brookings Institution Panelists: Bijan Salehizadeh, NaviMed Capital; Annie Lamont, Oak HC/FT
Monday afternoon's lunch plenary began with the presentation of AcademyHealth's esteemed HSR Impact Award, which recognizes research that has had a significant impact on health policy and/or practice. This year's award-winning research was "Evaluating the Impacts of Health Insurance and the Affordable Care Act," which examined four distinct areas relevant to the Affordable Care Act. Dr. Benjamin Sommers, Harvard T.H. Chan School of Public Health, accepted the award.
Following the HSR Impact Award presentation was the lunch plenary "How Investors are Looking at Health Care," during which speakers Paul Ginsburg, Annie Lamont, and Bijan Salehizadeh discussed the world of venture capital investment from the perspective of two investors focused on health care delivery. Lamont and Salehizadeh, from Oak HC/FT and NaviMed Capital, both said their firms sought out technology-enabled solutions in health care, with Lamont noting their emphasis on those focused on lowering cost and improve quality. Salehizadeh described more in places outside of health hubs such as Silicon Valley and Boston. He noted that health care is a broad-based business and while there are great innovations happening in smaller markets, less people look to invest there.
Special Plenary: Nancy Pelosi and the 2017 Health Care Agenda
House Democratic Leader Nancy Pelosi addressed NHPC attendees in a special lunch plenary session where she highlighted reduced costs, expanded access, and improved quality under the ACA. Leader Pelosi emphasized the belief that health care is a right for all Americans rather than a privilege of the few referencing the Bill of Rights and saying "A healthy life, not tied to an insurance policy, gives people the liberty to pursue happiness." Looking ahead, Pelosi highlighted the need for evidence to help inform decision making, telling attendees, "We've got to have data and that is what you are all about. I have so much respect for what you do and I thank you for your focus on evidence-based decision making."
Early Evidence on Payment Reform
Chairs: Michael Akinyele, Lymphoma Research Foundation; Linda Blumberg, Urban Institute; Speakers: Lindsay Erikson, Integrated Healthcare Associate; Susan Birch, Colorado Department of Health Care Policy and Financing; Kara Morgan, Battelle Memorial Institute; Kevin Quinn, Conduent Inc.; Neil Fleming, Baylor Scott & White Health; Andreea Balan-Cohen, Deloitte Center for Health Solutions; Michale Millenson, Health Quality Advisors LLC; Kathleen Carey, Boston University School of Public Heath
In this rapid fire session, presenters took five minutes to present their work on 20 slides with 15 seconds per slide, followed by Q&A. Research focused on progress in linking payment and value with papers on a variety of issues. From an overview of the basic payment methods in health care and studies looking at patient-centered medicine to improvements in emergency room use and safety-net hospitals, the session highlighted the barriers and opportunities to value-based payment models. Questions from attendees centered on the challenges of representing total cost of care and integrating social determinants of health into models.
Plenary: Innovations That Are Disrupting Health Care Moderator: Karen Feinstein, Jewish Healthcare Foundation
Moderator: Karen Feinstein, Jewish Healthcare Foundation; Panelists: Nancy Gagliano, Culbert Healthcare Solutions; Chris Gibbons, Federal Communications Commission; Rasu B. Shrestha, University of Pittsburgh Medical Center
Day one wrapped up with a panel discussion about the latest innovations and disruptive forces in health care. Karen Feinstein framed the conversation with questions about recent advances and future trends in convenient care, telehealth, and health care start-ups. Rasu B. Shrestha discussed the possibility of artificial intelligence's ability to humanize health and the "data rich and information poor" status of the field. Chris Gibbons noted that, in some ways, policy lags behind technology because concern has to manifest for action in that area. Nancy Gagliano discussed the future of the pharmacy and its potential role in innovating health care.
Day 2: Tuesday, January 31
Plenary: Lessons from Congressional Staff Alumni 
Moderator: John K. Iglehart, Health Affairs Panelists: Robert Horne, Horizon Government Affairs; Cybele Bjorklund, Sanofi; Janelle Krishnamoorthy, Merck; Emily Porter, The Nickles Group
Day two opened with the plenary "Lessons from Congressional Staff Alumni." Moderator John Iglehart and the panelists shared insights of inner workings of Congress and how the recent election could shape legislative policy process in the year ahead. Key points included:
Despite many unknowns, panelists noted members' of congress ability to work together as a reason for optimism
It is important to continue to generate high-quality research so we have evidence at the ready to inform policy
In order to translate evidence to make a different, panelists advised attendees to illustrate data with stories, engage with professional associations and their local media
What Will Policymakers Learn from Evaluations of State 1115 Medicaid Waiver Demonstrations?
Chair: Donna Friedsam, University of Wisconsin; Speakers: Sara Rosenbaum, George Washington University; John Ayanian, University of Michigan; Joseph Thompson, Arkansas Center for Health Improvement
This policy roundtable focused on Medicaid expansions under 1115 research and demonstration authority, a section of the Social Security Act that gives the Secretary of Health and Human Services authority to approve experimental, pilot, or demonstration projects that promote the objectives of the Medicaid. The session began with an overview on 1115 from Sara Rosenbaum who emphasized its role in advancing Medicaid services such as managed care and long-term services and supports. John Ayanian highlighted successful expansion efforts in Michigan that include cost-sharing for enrollees, financial incentives for healthy behaviors, and health savings-like accounts. Joseph Thompson shared findings from an interim evaluation report for CMS on the Arkansas Health Care Independence Program, the original "Private Option" Medicaid expansion model and Donna Friedsam shared insights from previous evaluations of Wisconsin's 1115 Medicaid waivers.
Special Lunch Plenary with Senator Tim Kaine
Senator Tim Kaine (VA) began Tuesday's lunch plenary discussing health care policy within the new Congress and administration. He emphasized the importance of health care education, and the idea that "health care coverage isn't about what happens when you're sick or ill, but about what happens when you're healthy, too." He went on to discuss matters associated with ACA repeal and replace and the importance of bipartisan conversations around replace options. He encouraged more conversations and ideas to ensure a compromise and plan that works well for all Americans, ending with an exhortation for NHPC attendees: "I want to put pressure on your shoulders. Give us lots of ideas."
The State Perspective on Public Health, Coverage, and Innovation
Moderator: Jordan Rau, Kaiser Health News; Panelists: Sandra R. Hernández, California Health Care Foundation; Dorothy Teeter, Washington State Health Care Authority; Nick Lyon Director, Michigan Department of Health and Human Services; Mary Applegate, Ohio Department of Medicaid
Following Tim Kaine's address, Tuesday's lunch plenary continued with a conversation featuring leaders on the front lines of state action to expand coverage, spur innovation and address population health. Moderated by Jordan Rau, each panelist focused on a different state's model towards expanding coverage and fostering innovation.
Mary Applegate discussed how Ohio viewed Medicaid expansion as a strategy to improve population health.
Nick Lyon discussed efforts in Michigan to bring different health programs together in order to help people become healthier.
Dorothy Teeter explained the importance and value of community connections in addressing social determinants of health.
Sandra Hernandez shared insights on how health care works for low income people in California and the importance of generating as much evidence and information as possible to inform policymakers in the state of California.
Plenary: The Media on the 2016 Election and What's Next for Health Policy
Chair: Shannon Brownlee; Speakers: Paige Winfield-Cunningham, Washington Examiner; Dan Diamond, POLITICO Pulse; Avik Roy, The Foundation for Research on Equal Opportunity; Julie Rovner, Kaiser Health News
In the last session of the conference, members of the media took the stage to discuss key issues in health policy. The wide-ranging discussion included the most recent hot topics in the headlines, such as immigration and the confirmation of Health and Human Services Secretary Nominee Tom Price, as well as age-old debates about health care cost and approaches to Medicare and Medicaid reform. In looking to the future, journalists unanimously agreed that Tom Price will be confirmed, but shared differing opinions on the likelihood of Medicare reform and what the approach would be to Medicaid reform. The panel advised keeping an eye on a couple key members of congress including Speaker of the House Paul Ryan, Chair of the Senate Finance Committee Orin Hatch, and Senator Bill Cassidy.
Blog comments are restricted to AcademyHealth members only. To add comments, please sign-in.