Access to high quality data is the bedrock of cutting edge, evidence-based research. However, as many AcademyHealth members can likely attest, accessing the right data for a study is rarely as simple as it sounds and can be subject to a host of barriers. As policymakers continue to struggle with the question of how to improve the American health care system, access to high quality data becomes increasingly critical for health services research.
That's why today I am announcing a new data access and pricing policy that will open access to Health Care Cost Institute (HCCI) data to any researcher at any university in the US. The new policy is a major step to expand access to HCCI data in order to enable the robust research we need for an informed debate on reform and innovation in the health care system.
Why Now?
Much of the debate around the American health care system focuses, with good reason, on insurance markets and care delivery models. In recent years, the roles of prices, costs and affordability have been increasingly emphasized. HCCI's data can enable research that sheds new light on these key topics. By broadening the pool of researchers who can access HCCI data, we can expand the potential of the data. Data of this quality and quantity should be made available to as many minds as possible to generate the critical insights that all stakeholders need to inform the process and ultimately improve the health care system.
HCCI's data contains billions of fully adjudicated claims from commercial insurance markets accounting for over one quarter of the under-65 employer-sponsored insurance population in the U.S. and millions of individuals with individual market coverage, and permits longitudinal patient-level analyses. HCCI's data also includes claims information for more than five million Medicare Advantage (MA) beneficiaries, providing researchers with one of the largest sources of MA data, which is particularly valuable in light of the recent decision by CMS not to release MA encounter data for research purposes. As MA enrollment continues to grow, we need to better understand the costs and outcomes for MA plan members.
HCCI's own research and the findings of our external partners demonstrate the kinds of valuable insights that can be derived from HCCI data:
The Model
We've created a fully transparent pricing model that is flexible to meet the evolving needs of a variety of users and projects.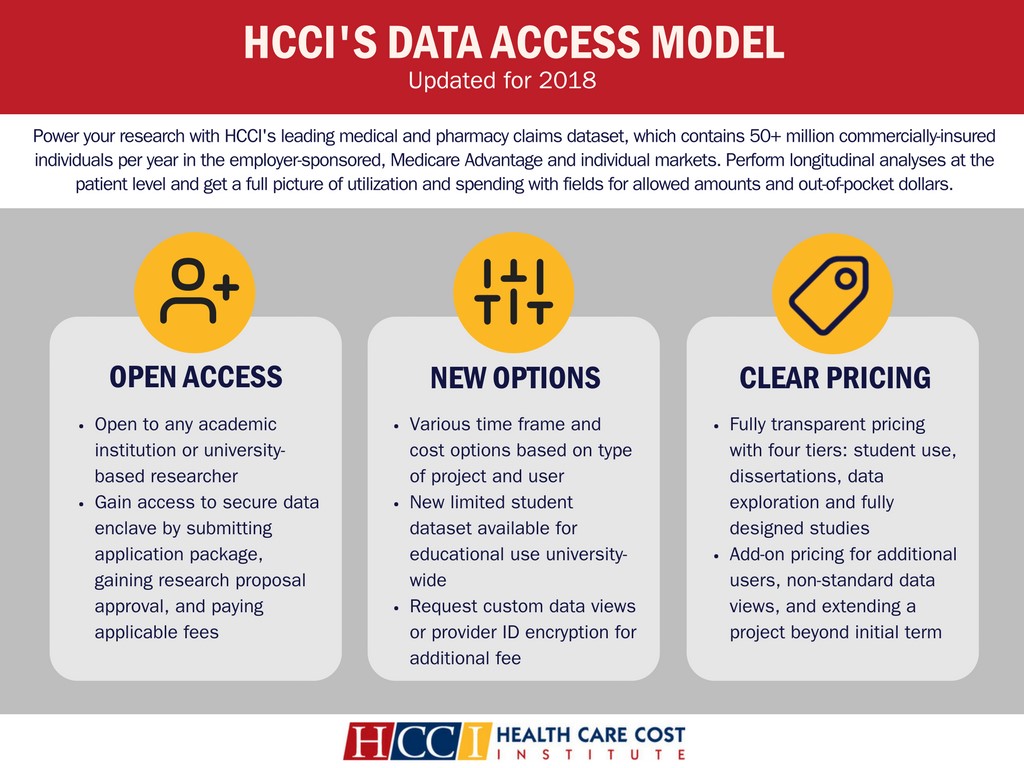 HCCI's new access model will go live in January 2018. For details on how to apply for access to HCCI data, please visit our webpage at healthcostinstitute.org/dataaccess.
About HCCI
HCCI was founded in 2011 to promote and enable insights into the drivers of American health care costs. Research powered by HCCI data has resulted in over 100 research products, including numerous academic publications, dozens of presentations and hundreds of media citations. HCCI data supports a national cost transparency website that provides regional estimates for hundreds of care bundles, and a soon-to-be-launched state-specific transparency site in Florida.
The opinions expressed in this blog post are the author's own and do not necessarily reflect the view of AcademyHealth.Organizational Affiliates are a critical link in AcademyHealth's ability to effectively advocate for the field, and support the future field of health services researchers. Organizational Affiliates gain visibility among AcademyHealth membership, enjoy unique networking opportunities, and benefit from event discounts. Click here to learn more.
Blog comments are restricted to AcademyHealth members only. To add comments, please sign-in.