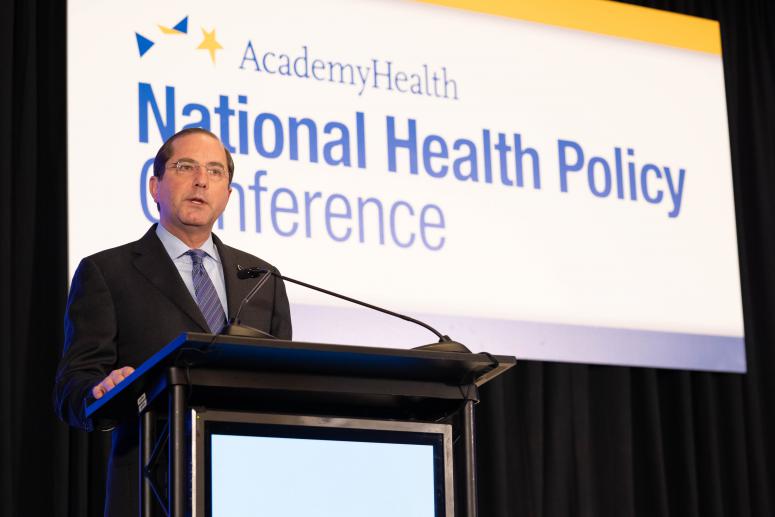 The promise and implications of digital health emerged as a theme at AcademyHealth's National Health Policy Conference.  In his opening keynote, HHS Secretary Alex Azar noted that, as part of the Blue Button 2.0 initiative, CMS made it possible for seniors to make their Medicare records available to private-sector apps, for example, in order to receive reminders for care. In later discussions, speakers like Naomi Fried, Health Innovation Strategies, spoke about "digiceuticals" that may diagnose and treat people as effectively as lab tests and medications, and without side effects or trips to the doctor. Jodi Daniel, Crowell and Moring, noted trends toward patients' rights to access data, disclosure limitations, disclosure accounting, and burden reduction.  Bechara Choucair, Kaiser Permanente, expressed concern that AI would entrench disparities in the health system. 
In parallel with the emergence of digital health possibilities like those noted by the speakers, societal notions of privacy have shifted in our increasingly digital world. We have replaced personal journals -- written in ink, locked, and hidden beneath a mattress -- with publicly available blogs and vlogs.  We use privacy-limited Facebook accounts to share photos in place of static photo albums.  We trade personal information (age, preferences, email addresses, phone numbers) for retail discounts.  We tell Google our symptoms, exchanging our personal health information for guidance and connection to others who may share our plight.  In 2014, George Halvorson, Institute for InterGroup Understanding, described some of these shifting norms as they apply to health, using the term data altruism.
Notions of digital health privacy will continue to evolve, in part in response to an increasingly porous boundary between what constitutes health and what does not.  The confluence may bring benefits.  Kristina Sheridan, MITRE, champions patient empowerment by including patient experience data in healthcare.  For example, how might my care change if my health data included details I provided - like that I skipped my prescribed medication three weeks ago because the drug made me too groggy to take my English test? 
The confluence may also bring risks. For example, a 2018 article noted that insurers can use non-health related consumer data – clothing size, name changes, TV-watching habits – to set insurance rates.  In another much more sensational example, a 2007 NPR article recounts how police identified the notorious BTK serial killer with a judge's order for the suspect's daughters DNA -- from her pap smear. 
The balance of technological benefits to possible burdens is not new, nor are the types of issues raised.  Technological advances promise convenience, cures, and economic benefits.  In the balance are issues of privacy, autonomy, equity, and our relationship with data about ourselves. Can I access my health data?  Do I have a right to know who is using it, and for what purpose?  Do I have a right to limit the use of my health data?  Who should own it?  Are there different answers to these questions depending on my socioeconomic status?
Numerous efforts are underway to usher in the era of digital health benefits and address the risks. For example:
Together, these and other efforts begin to form part of our societal approach to realizing the promise and addressing other implications of the era of digital health.
The opinions expressed in this blog post are the author's own and do not necessarily reflect the view of AcademyHealth.
Organizational Affiliates are a critical link in AcademyHealth's ability to effectively advocate for the field, and support the future field of health services researchers. Organizational Affiliates gain visibility among AcademyHealth membership, enjoy unique networking opportunities, and benefit from event discounts. Click here to learn more.
Blog comments are restricted to AcademyHealth members only. To add comments, please sign-in.