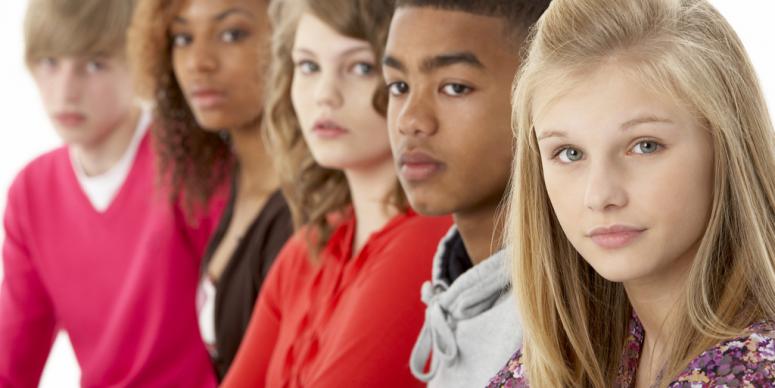 In a compelling blog posted here earlier this week, teens engaged in mental health policy with the Jewish Healthcare Foundation (JHF) spoke movingly about the mental health needs of today's adolescents. They also provided a stirring call to action for researchers.  They said:
"Talk to us!"  
"Go into local schools … [you] will be shocked by the alarming thoughts students have, the lack of help they are currently getting…
"Give youth the opportunity to partake in the conversations that enforce policy and practice change regarding their own issues; they know them best! Part of empowering teens is validating their struggles, and proving that their voices will be listened to."
These adolescents are right about the need. Half of all mental illness begins before the age of 14, and 75 percent of mental disorders begin by the age of 24. Teens without a diagnosed mental disorder are hurting. In 2017, almost a third of high school students experienced serious psychological distress that interfered with engaging in their usual activities. Almost 20% seriously considered attempting suicide, and 7.4% made an attempt. Almost 20% engaged in binge drinking. The commission of a homicide by a teen is rare but the effects can be devastating to many more, beyond the tragic death of the person killed.
Adolescent brain science is contributing greatly to our understanding of adolescent behavior and adolescence is believed by many to be a developmental period as critical as early childhood. At the same time that neurodevelopmental and hormone-related changes in the brain allow for greater executive function, other changes favor greater risk-taking.  Adolescence is also now understood to last longer than previously thought – from puberty through a person's mid-20s.
As the Children's Mental Health Awareness Week blog post and other data indicate, teens are more aware that they and their peers are suffering and need help, although stigma is still a big issue for them. In summary, teens want to be listened to and supported by adults in their lives, and they include researchers in that group. As an adolescent medicine specialist posted recently, "It's time for a pro-teenager movement."
What can researchers do?
Researchers can help provide the evidence that teens will need to advocate for policy changes at multiple levels, and, as health services researchers increasingly do, work with teen and other citizen advocates and policymakers on implementation. On a day to day level, researchers can conduct mental health research beyond the clinic and its focus on mental disorders, by conducting studies where a fuller range of teens can be found. They can use the emerging guidance on youth engagement to involve teens in research question development, design, data collection and analysis, and dissemination. Child and adolescent health researchers could work with teens as knowledge brokers, bringing existing and current evidence to school staff, district superintendents, State education departments, other local community departments, and the federal and state governments.
For example, we are engaging teens with lived mental health experience in the Teen Mental Health Crisis initiative that AcademyHealth and Adolescents and Children Together for Health (ACT For Health) are leading in partnership with the Jewish Healthcare Foundation (JHF). Their involvement is important to ensure that resulting policy recommendations for the federal and state governments are grounded in the needs and priorities of teens and that the resulting actions will have meaningful BENEFIT. Teen involvement at this stage of the process should also help youth advocates have more confidence in the recommendations as they take them forward to policymakers.
Research ripe for a move to evidence-informed policymaking
There are numerous other examples of policy-relevant research that teens may find useful as they search for better policies in their schools and communities. For example, youth in states with higher proportions of schools teaching LGBTQ-inclusive sex education were found to have lower odds of experiencing poor mental health. Teens could take these data to State leaders concerned about the high rates of LGBTQIA mental health crises. Another study found reductions in suicide risk for Hispanic teens when teachers and other school adults formed supportive relationships with students. This information may prompt school district officials to take steps to educate school staff about adolescent mental health and neurodevelopment and to support teachers and others as they work to act on their new knowledge. Other research finds that school-based integrated care models – where medical doctors and mental health personnel work together -- appear related to greater screening and detection of student mental health problems. Beyond gaining access to data supporting innovative approaches to school mental health, teens can help develop mental health policy-focused implementation and dissemination science for the next generation. 
Challenges and Benefits of Youth Engagement
Conducting research in schools and engaging youth in the research will not be easy. Schools are already busy and understaffed for mental health purposes. On the other hand, context-informed research may provide insights and solutions that can help schools achieve their many missions. There is no one successful archetype for effective youth engagement.  While other countries and federal agencies provide models that may be able to be adapted to the U.S. context, the field recognizes the need for additional evaluation. Finally, high school and youth engagement may take extra time and research resources; as other countries do, funders and publishers could encourage and support youth engagement and school-based mental health research. To make the research findings more relevant to multiple settings, high schools and researchers can be supported to form high school research networks to enable ecologically sound youth mental health investigations.
Teen mental health is at a critical point. Teens want and need both teen-centered research and evidence-informed policy. AcademyHealth is honored to be engaged with ACT For Health and JHF in the Teen Mental Health Crises initiative and to bring our expertise to bear on moving evidence to policy and population engagement. Youth engagement in research and policy can have multiple benefits and many teens are ready and willing to get involved. 
Blog comments are restricted to AcademyHealth members only. To add comments, please sign-in.