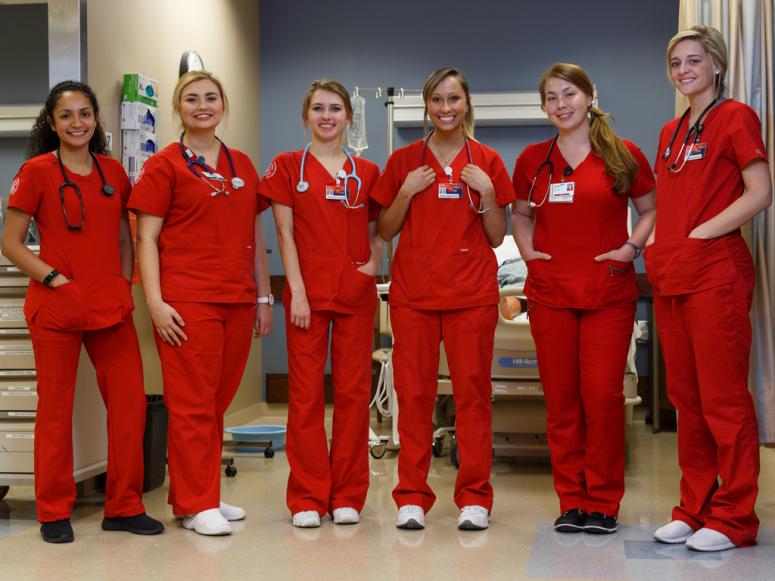 Health services research (HSR) training for nurses is a vital component to national efforts aimed at preparing nurse scientists who examine the distribution of the health care workforce, evaluate effects of the organizational context on health care outcomes, and test health system interventions. The 2019 AcademyHealth Annual Research Meeting (ARM) emphasized the importance of training programs on success in developing the next generation of HSR scientist—including nurse scientists. Fortunately there are many options for nurses that seek Ph.D. pre- and post-doctoral research training.
Indiana University (IU) is replete with interdisciplinary opportunities which include HSR training, leadership, and mentorship (e.g., implementation science, comparative effectiveness and patient centered outcomes research). Faculty and students often have leadership roles or serve on AcademyHealth committees, task forces, review panels, or the Board.  Dr. Nir Menachemi  is immediate past chair of the Education Council, which emphasizes priorities and trends in the educational needs of our members and the field of HSR. The AcademyHealth Student Chapter at IUPUI is interdisciplinary and vibrant with officers from Richard M. Fairbanks School of Public Health and Indiana University School of Nursing.  
Indiana University is also home to many additional pre and post-doctoral training programs. Funded by the U.S. National Library of Medicine (NLM), the on-campus Regenstrief Institute offers a Public and Population Health Informatics (PHI) fellowship training program focused on health and wellness improvements using advanced analytics and information technologies with the goal of addressing public health problems (e.g. the opioid epidemic, obesity, or diabetes). It is important to note that the Regenstrief Institute is also home for the William M. Tierney Center for Health Services Research which provides a venue for HSR-focused investigators and students. Indiana University School of Medicine, IU Health and The Regenstrief Institute were awarded a K12 training program, "PATIENTS in Learning Health Systems (LHS) Career Development Program," by the Agency for Healthcare Research and Quality (AHRQ)  co-sponsored by the Patient Centered Outcomes Research Institute (PCORI).  This new LHS Center will offer early career researchers opportunities to improve patient care and health systems by systematically generating, adopting, and applying evidence to inform health system decision making.
At the Indiana University School of Nursing, Ph.D. pre- and post-doctoral training opportunities are available through two NIH funded T32s. Although not specifically focused on HSR, both programs train fellows to conduct high impact research in areas of national health priorities.   The first T32 is funded by the National Institute of Nursing Research, where Ph.D. and post-doctoral trainees focus on developing and testing self-management interventions to prevent and manage serious chronic conditions such as heart failure, cancer, and Alzheimer disease.  The second T32 is funded by the National Cancer Institute (NCI), and Ph.D. and postdoctoral trainees focus on health problems within the domain of behavioral oncology. This NCI-funded T-32 is intended for interdisciplinary trainees who focus on cancer prevention and control across the continuum of cancer prevention, early detection, treatment and survivorship.
While attending this year's ARM, I had the opportunity to interact with nurse trainees from the University of Pennsylvania, Center for Health Outcomes Policy Research (CHOP established in 1989) and the University of Michigan School of Nursing Hillman Scholars. University of Michigan and University of Pennsylvania's Schools of Nursing both have active T32's that are HSR aligned and funded by the National Institute of Nursing Research.
The importance of HSR training for nurses has risen as national priorities seek to improve health care quality and safety across the continuum of care and settings. Thus, Indiana University joins the nation in providing many opportunities for training nurses to conduct HSR at the Ph.D. pre- and post-doctoral levels.
For a list of other institutions offering training in the full range of health services research, including implementation and dissemination research and embedded research opportunities, visit the AcademyHealth HSR Training Program web listing here.
Blog comments are restricted to AcademyHealth members only. To add comments, please sign-in.