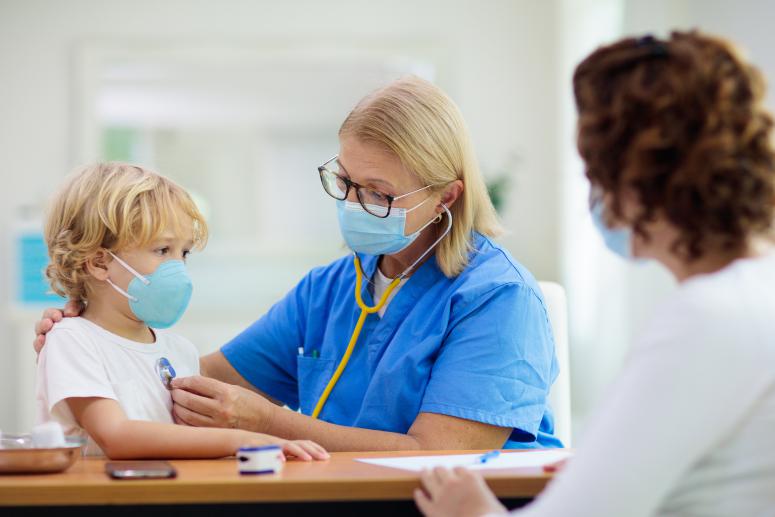 AcademyHealth President and CEO Lisa Simpson interviewed Charlie Bruner, of the Integrated Care for Kids (InCK) Marks network, about its efforts to advance child health care transformation. The two child health experts discussed the move toward value in child health and how both the pandemic and renewed attention to racial inequities highlight the importance of a holistic approach to health and wellbeing. Their conversation has been edited for length and clarity.
SIMPSON: For those not steeped in efforts to improve health care for children, how do you define "child health care transformation" and why is it important to focus on children, specifically?
BRUNER: Transformation involves moving from a medical care system to a system based on a broad focus on health – physical and biomedical health, but also cognitive, social/relational, and psychological/behavioral health. While many principles and goals for health care transformation apply to all age groups, child health care transformation requires that health care recognize children's specific developmental needs.
SIMPSON: So true – as a pediatrician and health services researcher, I have spent much of my career explaining the unique needs of children. Today, we are seeing that a lot of the impetus for health care transformation has been on emphasizing "value" over "volume." How does this play out for children and child health care transformation?
BRUNER: Many pediatric innovations and exemplary practices have shown the value – in terms of impact upon children's healthy development – through responding to social as well as bio-medical determinants of health. The seminal article on value-based care and the triple aim recognizes that achieving the triple aim requires greater investments in preventive services. In terms of children there is growing consensus that there are high returns on investment from such efforts. Such "high value" practice needs to be recognized in financing child health.
SIMPSON: So child health care transformation is a big concept and might seem amorphous to some of our readers. Have the components been defined and how much do we know about their impacts?
BRUNER: In many respects, the pediatric field has led in defining health as more than the absence of disease, injury, or infirmity, focusing instead on achieving optimal health. The American Academy of Pediatrics has developed strong guidelines for primary care in Bright Futures, guidelines that respond to social as well as medical complexities and risks. It has adopted the principles of a medical home that  stress family-centered and team-based care. What I refer to as the P.A.R.E.N.T.S. Science (Protective factors, Adverse childhood experiences, Resiliency, Epigenetics, Neurobiology, Toxic stress, and Social determinants of health) provides compelling evidence of the  importance of children's healthy development through improving the safety, stability, and nurturing in the home.
SIMPSON: COVID-19 has produced huge disruptions in people's lives and in pediatric care. How has COVID-19 affected your work?
BRUNER: From crisis also comes opportunity. COVID-19 and the attention to racial inequities and injustice have created a new urgency to transform child health care from a medical care system to a health care system. While children have not experienced the major medical brunt of COVID-19 in terms of morbidity and mortality, they have faced disruptions that represent adverse experiences which threaten to impact their healthy development. Our discussions with child health practitioners  point to how important it was for them both to pivot to practice in new ways and to respond to the challenges of  maintaining a safe and nurturing home environment for children during COVID-19 and social distancing. One positive aspect of COVID-19 is that the community response from primary care providers, community health workers, and others on the frontline has brought attention to the need for a holistic response to health.
SIMPSON: There is increasing emphasis that health care transformation itself must advance equity and reduce disparities. How does this fit into InCK Marks child health transformation framework?
BRUNER: Today, while four in five senior citizens are white, non-Hispanic, over half of all young children are of color.  We have a moral imperative to work to rectify racial and other inequities in our health system. Racism is unhealthy. The child health care system alone cannot end discrimination or disparity, but it it must work to rectify inequities, model inclusion, and pay special attention to the impacts of racism on child development. Transformation requires health care practices to be equity practices that continuously work to provide inclusive, and culturally and linguistically responsive care – as well as to speak out against discrimination in all its forms.
SIMPSON: What would you consider as success, in terms of the work you are doing through InCK Marks? What do you aspire for the field?
BRUNER: I think the conclusion from InCK Marks is simple: "We know enough to act." We don't have all the answers on how transform all aspects of child health – but we know more than enough to dramatically scale up what we do know to establish a new expected standard of care. My vision of success is that those leaders in child health care transformation really spell out the policies and investments needed to move forward – and through collective advocacy – secure them.
SIMPSON: What resources is InCK Marks producing and what is its research agenda?
BRUNER: InCK Marks relies upon the research and expertise already available in the field, including the exemplary work by members of its National Resource Network, rather than conducting original, primary research. InCK Marks produces working papers, webinars, and reports that summarize the current state-of-the-field.
The strength of InCK Marks is that it views its role as ensuring leaders can draw upon the best thinking, research, experts and advocates in the field. There is tremendous activity in the field, and we are constantly finding new resources and additional champions for advancing child health. We generally take the Margaret Meade approach to "transformation," and we have a growing group of committed individuals to transform child health.
Blog comments are restricted to AcademyHealth members only. To add comments, please sign-in.