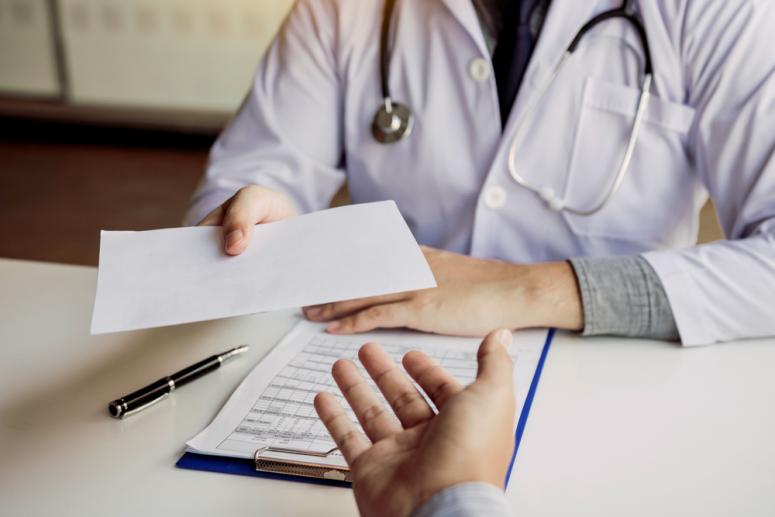 In the first post on the issue of cost of care screening, we discussed the importance of and barriers to screening for cost of care issues from the patient perspective. Studies funded by the Robert Wood Johnson Foundation make it clear that providers often have serious reservations about whether and how to implement these screening measures in their clinical settings. The very idea that physicians should be concerned about the financial impact of treatment on their patients is relatively recent. In the not-so-distant past, when asked about having cost of care discussions with their patients, doctors often stated that they lacked the training, knowledge and resources to respond to questions about the financial impact of treatment.
However, providers are recognizing that discussing the financial impact of a treatment and its resulting "toxicity" helps patients make informed decisions about their care. While some of this reflects evolving patient attitudes and expectations, it also results from a shifting health care world in which patients are often responsible for a much higher percentage of the cost of their care than in the past. Today, more patients have "skinny" insurance plans with high deductibles, copays and inadequate coverage for prolonged or expensive courses of treatment. This shift coincides with rapidly improving treatment options for many diseases, as well as drugs that are often more expensive and required as people live longer. Even patients with good insurance and stable financial situations experience significant impact on their lives when they confront serious or extended illness leading to bankruptcy, devastated savings, and medical debt.
In order to address cost of care issues, it is essential to identify them early and throughout the treatment process. Failure to do so means that patients experience preventable symptoms because they don't take medications, miss appointments and delay or cannot afford treatment. While the need is clear, providers in a wide range of clinical settings are struggling to develop ways of incorporating screening for cost of care issues into their clinical workflow, while ensuring that the information gained from that process is utilized effectively and assessing the value of cost of care discussions for both patients and their providers. 
One persistent obstacle is concern about a patient asking questions for which physicians and other team members do not have an answer. Under the best of circumstances, it is very difficult for the treatment team to have accurate, real time information about an individual patient's potential costs of care. "Having a cost of care discussion brings to bear a large number of variables," says Alan Balch, Ph.D., CEO of the Patient Advocate Foundation. "Patients have widely divergent insurance coverage, and very different factors in their lives that influence their ability to bear the costs of serious illness."
The problems are not limited to the individual variation of patient needs. As Jerry Krishan, M.D., Ph.D. of the University of Illinois Chicago notes: "Very few systems really have the ability to provide cost of care information. The information is fragmented at best, and that creates a natural reluctance to screen for or raise these issues. We really need better tools at every level."
That said, most clinical decisions involve some form of established standard of care or adherence to a clinical pathway. It is possible to provide a reasonable estimate of the costs for a course of treatment when patients and their doctors consider treatment options with the caveat that the individual experience will vary. Screening for potential financial problems or concerns greatly increases the probability that these cost of care discussions will be useful in establishing a workable care and treatment plan.
There are steps that clinicians can take to incorporate screening for cost of care issues into the decision making process. These include:
Standardize and normalize screening. Screening works best when everyone is asked the same questions. This reduces patient concerns about getting lower quality care and provides a sound basis on which to respond to concerns and assess the value of cost of care discussions for both patients and providers.

Customize the screening process for your clinical environment. Providers and systems can work to determine when screening should occur, who should do it, and what kinds of resources are available.

Involve the whole team. Physicians play a central role in communicating with patients, but other members of the team including nurses, nurse practitioners, physician's assistants and social workers often have more time to discuss patient concerns.

Assess patient concerns about financial impact throughout the treatment process.

Give patients and physicians the tools and resources they need to ask the right questions and be able to respond to issues as they rise—and continue to improve these resources.

Assess the value and effectiveness of cost of care screening on a regular basis—from both the patient and provider perspective.
Screening for financial concerns related to clinical care is the tip of the iceberg in normalizing cost of care discussions. Achieving that goal means being aware of potential pitfalls from both the patient and provider perspective to minimize or overcome these obstacles and have honest conversations about treatment options and available resources. As with so many patient-provider communication issues, the goal is to create a safe space based on mutual trust within a system that recognizes individual variables while standardizing, documenting and measuring each step in the process.
More information about the cost of care work done by Robert Wood Johnson grantees can be found here.
Blog comments are restricted to AcademyHealth members only. To add comments, please sign-in.