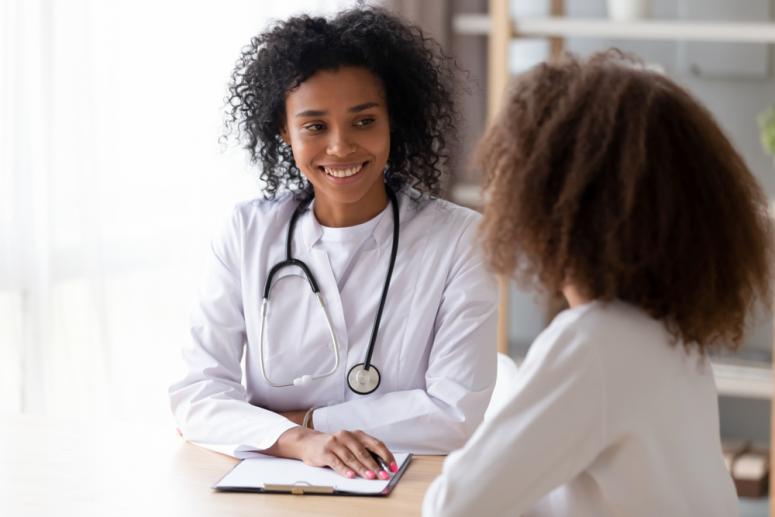 In the United States, May is Mental Health Month. The month is filled with events and activities sponsored by multiple organizations, including those aimed at increasing awareness of child and adolescent mental health and wellbeing. In light of the public health crisis of anti-Black racism, there has been some new attention to advancing the mental health and well-being of Black young people. This blog post considers where the national conversation about diversity, equity and inclusion in health services research (HSR) could go to help ensure that our young Black citizens can get what they need to help them flourish psychologically, socially, and emotionally.  
We put our focus on equity and health care, while recognizing the importance to Black child mental health of policies and practices beyond health care. Based on intriguing research that demonstrates the limitations of universal interventions to improve the health of Black children, we suggest that current proposals for health care transformation take special care to address equity in processes and outcomes.
Equity in Black Child and Adolescent Mental Health and Well-being
Equity has been defined as "the state, quality or ideal of being just, impartial, and fair." Equity is different from equality in that equity involves trying to understand and give people what they need to enjoy full, healthy lives. Equality, in contrast, aims to ensure that everyone gets the same things to enjoy full, healthy lives and that everyone has the same outcomes. Equality assumes that everyone has the same access and opportunities, which is often not the case when it comes to health care. Focusing on equity is critical for understanding and acting on the mental health needs of young Black people, and all children and adolescents.
Given the longstanding and growing set of crises in child mental health, achieving equality in mental health outcomes across all children, regardless of race, would not be a fair and just outcome. Based on the most recent (2001-2003) nationally representative survey, half of all 13- to 18-year-olds (49.5 percent) were found to have had at least one mental disorder during their brief lifetimes, with lifetime prevalence ranging from 31.9 percent for anxiety disorders, to 8.5 percent for substance use disorders. These overall rates are not desirable for anyone. While rates of major depressive disorders and suicide are now rising among Black children and teens faster than among white children, some readers may be surprised to learn that the national landmark study found few disparities between Black and white teens. The prevalence of mood and behavior disorders were not significantly different for Blacks and whites, but Black 13- to 18-year-olds were more likely than whites to have an anxiety disorder, and were less likely than whites to have a substance use disorder.
The picture is similar for indicators of flourishing and psychological distress. Using Bethell's measures of flourishing, scores for Black children ages 6-17 fell between those of whites and Hispanics (65 percent, 69 percent, and 60 percent, respectively). About one-third of all high school students—Black, Latino, and white—report having experienced such sadness and hopelessness that they could not engage in their usual activities (a measure called persistent psychological distress). Black and white students have similar rates of suicide attempts (12 percent), but are significantly different when it comes to seriously thinking about committing suicide (a precursor to an attempt). What is clearly different is the systemic racism that comes as a result of being considered Black.
Systemic or Structural Racism and Mental Health
Systemic or structural racism is a major political and social determinant of health and mental health for young Black people. Longstanding patterns of racialization and systemic racism have been shown to persist in the many contemporary policies and practices that can cause physical and psychological harm to Black children. These include Black children's overrepresentation and under-adoption in the child welfare system; the "school to prison pipeline" in education; disproportionate police stop and frisks; and exposure to violence against Blacks by law enforcement. Involuntary encounters with police often involve physical violence or threats of violence or are otherwise intrusive and can produce damaging psychological effects. Educational and law enforcement inequities can be tied in part to hyper-segregated Black communities. In turn, segregated residential patterns, which are dominant, have been found to stem from Federal and local policies such as promises not kept during Reconstruction, and the redlining that persists today.
It can be hard for people to believe the specifics, but health and mental health care also have a long tradition of racism that pervades systems today. The payment system is the main driver of health system design. Many of the foundations of Medicaid are said to be responsible for the disparities we see today. Apart from payment systems, based in large part on the 18th century "science" of Black inferiority, the hugely influential Flexner Report of 1910 recommended excluding Black people from medical schools and hospitals; even today only 2 percent of psychologists and psychiatrists are Black, and less than 4 percent of academic faculty are people of color. Mental health leaders are reminding their colleagues of how racism affects care, and recommending scaling racial equity from individual therapists to psychiatric institutions. For example, mental health care facilities disproportionately subject Black youth to involuntary admissions, and overuse seclusion and restraint for young Black male patients. Patients of color are more likely to be admitted to low-safety psychiatric facilities. Overall, Black teens' access to mental health services is far worse than whites' – a disparity that has increased between 2005 and 2018.
Health Systems Transformation and Science Innovation
What health systems changes might we expect to transform the environments in which our children and teens live their everyday lives? 
Beginning with Medicaid/CHIP, the payment system that covers most children and adolescents, senior leaders in children's health have proposed policy changes to make health systems more responsive to children's needs, including a Federal takeover of the Medicaid program and Medicare-level reimbursement levels in Medicaid/CHIP. 
Other high-level changes that could increase equity for Black youth include a Marshall Plan-like effort for children's mental well-being across all public systems, full-fledged integration of mental health into mainstream health care, and reimbursement for subclinical psychological problems. Meaningful involvement of Black youth in these and other reforms could also help ensure equity in processes and outcomes, and contribute to adolescent empowerment by making health care a system more conducive to flourishing. Less groundbreaking changes such as tele-mental health sustainment, expansion of school mental health, and peer providers could also benefit from more research. Including the national and private insurance contexts could be most informative.
Complete integration of mental and "physical" health care would be revolutionary and could potentially contribute to greater equity, such as improved access to care, a particular need of Black youth. Integrated care shows promise, particularly in a recent systematic review that found that primary-care-based collaborative care that was population-based, measurement-based, and evidence-based was associated with more positive child mental health outcomes. The review did not include interventions specific to equity or patient engagement as components, or equity as an outcome, but equity and engagement are WHO-recommended components of youth-friendly health services, and could be tested in future research. According to the Bipartisan Policy Center, true integration will take concerted action at multiple levels (e.g., insurance coverage, workforce development). Developing and evaluating such a multi-level approach would be an interesting challenge to child and adolescent health services researchers.
Health insurers typically require a DSM-V diagnosable mental disorder to reimburse for services. This means that many Black teens and their peers with more prevalent levels of psychological distress (e.g., the one out of three who are persistently sad and hopeless) can be constrained from getting professional help. Entities like the Commonwealth Fund and the National Association of Medicaid Directors with Well Being Trust have called for more flexibility in reimbursement rules, and changes have been made abroad and here in California and Colorado. Their impacts on equity for Black young people is a critical topic for HSR.
In AcademyHealth reports, Advancing Teen Flourishing and Teen Mental Health Crises, a dominant theme endorsed by National Expert Panels and teens themselves was the need to include young people, especially those of color, in system design and research. Involvement of young Black people is essential given the extensive non-Black and non-teen leadership of health systems and science. Multiple entities and researchers continue their efforts to engage youth in meaningful ways. Action research is needed on how to ensure that youth engagement achieves high levels of the Ladder of Citizen Participation, to ensure that Black adolescents' efforts at leadership are not rejected by adults, to address institutional barriers, and to ensure that participation achieves equity.
Health systems transformation is essential to enhancing equity for Black children, but achieving flourishing will also mean paying attention to the full definition of mental health and the entire spectrum of services and environmental determinants (e.g., law enforcement, school climate) that contribute to thriving.
Guiding Principles for Improvement
Efforts to upend the effects of structural racism on child flourishing will require a new framework for child health services research, one that addresses all levels of socio-ecological models, and that focuses on equity in addition to disparities. Black youth should be actively involved in the redesign of systems at all levels to help shape culturally-relevant, effective change, and their flourishing outcomes should be at the center of assessment. 
Because children and teens are both our present and our future, we encourage our field to meet the challenge of advancing child and adolescent flourishing for our heretofore overlooked Black youth. This will take a concerted effort that goes across the spectrum of mental health and health-relevant systems, using a mental health definition that goes beyond diagnostic categories and addresses structural and systemic determinants of flourishing. The growing interest of the National Institutes of Health, the National Institute of Mental Health, and other funders in addressing structural racism provides a welcome sign of changes that will help child health services researchers put their efforts where their hearts are. Because the majority of researchers and practitioners are white and relatively privileged, active participation with Black youth and Black professionals is essential, as is a stance that is humble and willing to cede power to those with lived experience.
Blog comments are restricted to AcademyHealth members only. To add comments, please sign-in.