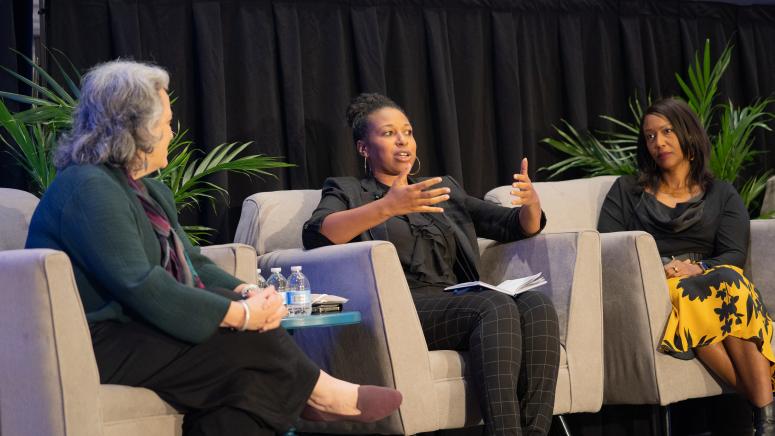 AcademyHealth President and CEO Dr. Lisa Simpson said in her opening remarks at the in-person 2022 Health Datapalooza and National Health Policy Conference "Having an equity-first approach is fundamental to how data is created, curated, used and governed."
Panels throughout the event from the opening plenary "New Data and Paradigms for Advancing Health Equity" to the closing plenary "Dismantling Discrimination in Health" expanded on the idea, highlighting that data collection and digital innovations can either address or widen health equity gaps, informing policy changes along the way.
The many panels addressing these critical topics showcased the importance of addressing health data and policy in the same place as health data informs policymaking, digital health, and equitable care delivery.
Erasure and Discrimination Through Data Collection
Abigail Echo-Hawk spoke in the opening panel on the "Data Genocide of American Indians and Alaska Natives in COVID-19 Data" report by the Urban Indian Health Institute of which Hawk is the director, detailing the inadequate collection of race and ethnicity data for American Indians and Alaska Natives. "And with the non-collection of data, what it does is it eliminates us, it allows policymakers not to direct the resources and the allocations that are necessary and needed for the health and wellbeing of our communities," Echo-Hawk said.
The metrics "have been created for us not by us," she said, which means that they are perpetuating inequity over systemic change. "We have to make the assumption that the categories of data collected are the wrong ones. Because the data is more often wrong than right," Echo-Hawk said. This erasure through data informed a disturbing public health response - instead of being sent PPE, her organization was sent body bags. 
Panelists from the live breakout session Building Models and Solutions Equitably and Inclusively in Health and Healthcare also noted that datasets, AI, and machine learning models aren't free from the historical and social contexts that create them.
"These things are shaped by human practices and this means that the values at play effect about how we think about data," Anita Chandra said.
"We make a lot of decisions about payments, about benefits, about program design, based on the data that we're looking at. You can easily see that if you have any flaws or biases built into the data that you're using to make decisions, you can make a series of consecutive, inappropriate decisions," Nwando Olayiwola concluded during the opening plenary.
Addressing Discrimination in Data, Digital Health Innovations, and Policymaking
The pandemic has pushed innovation in terms of digital health and telehealth, but the designs still aren't always inclusive, experts at the conference continued to highlight. During the breakout session "Building Models and Solutions Equitably and Inclusively in Health and Healthcare," panelist Noemie Elhadad noted the importance of intersectionality in treatment and research.
"Who are the subgroups of people who are at adverse outcomes?" Elhadad asked, emphasizing the importance of working with communities to learn about their experiences to help lessen disparities in diagnosis and treatment.
The closing plenary panel focused on the ways community-driven change and technologies like telehealth are driving progress. For example, telehealth improves health equity by providing access to care that others may not have access to before the pandemic, as well as the opportunity to have a provider that looks like them and who is a member of their community. But there's still work to do to make progress, panelists noted.
"We need to make sure we are not replicating the same discriminatory patterns in this digital world we find ourselves in. We need to build systems that reduce and eliminate harm," panelist Maya Rockeymoore Cummings said. "We need to be thinking not only in terms of traditional policy but in this new digital policy realm."
Aletha Maybank of the American Medical Association focused on the role of the pandemic in exposing inequities and racism and shaping policies by public health municipalities. However, as FDA commissioner Robert Califf elevated during his keynote session at the conference, data shows not only decreasing life expectancy overall, but an increase in life expectancy disparities between races.
"Our data demonstrates that we are still discriminating, we are still denying care, and people are not having optimal health but are actually being harmed," Maybank said.
Fellow panelist Liana Douillet Guzmán agreed.
"Until our policymakers look more like the audiences they are serving and building policies for, we aren't going to get the equity we need or deserve. It's going to come from the community," she said, noting that in the meantime, we need to elevate voices and grassroots organizations who deliver the care that the current system isn't delivering.
Doing the work to address systemic issues goes beyond talking about health equity. Echo-Hawk concludes that it's important to be comfortable with being uncomfortable, "because until we are uncomfortable, we will not reach health equity."
While the live schedule of activities has ended, Health Datapalooza and National Health Policy Conference registrants have access to the recordings of 13 breakout sessions and all plenary sessions through May 6, 2022. Registration for the 2022 Annual Research Meeting taking place this June is currently open. Learn more here.
Blog comments are restricted to AcademyHealth members only. To add comments, please sign-in.