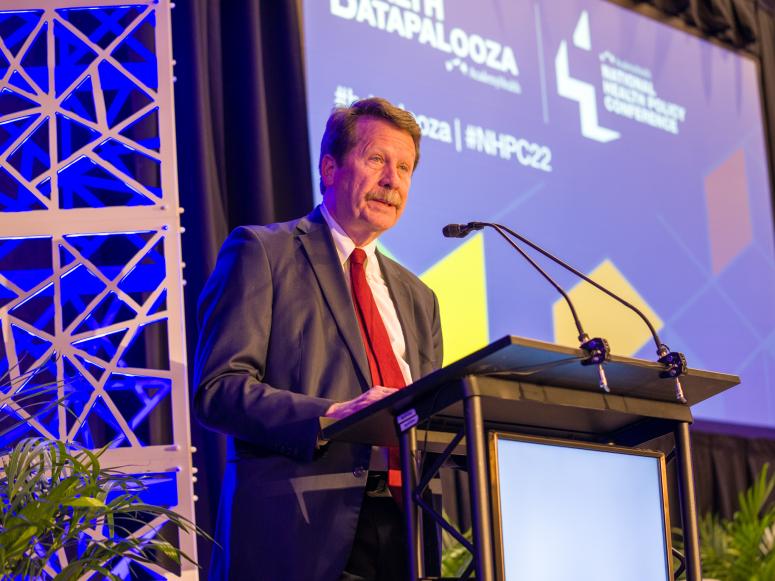 In the opening keynote of the 2022 Health Datapalooza and National Health Policy Conference, FDA Commissioner Robert Califf highlighted persistent challenges facing the U.S. health care system.
"I'm going to paint a relatively pessimistic picture hoping that it will stimulate you to fix it," he said. "Because we need some fixing right now."
He went on to outline six recommendations for advancing progress in health care quality and outcomes. Many of his points were echoed throughout the conference both on the main stage and in breakout sessions. Key themes related to health care organization and delivery included the need to revamp the system of evidence generation for decision making, leverage data and policy in a way that advances equity, and engage more diverse voices in the solutions. 
Advancing Evidence-Based Decision Making
"Despite all of our magnificent efforts, less than 20 percent of clinical practice guideline recommendations are based on high-quality evidence," Califf said. "How can that possibly be, given all the research that we're doing?"
Sessions throughout the conference provided insight into the many advances needed to advance evidence-based decision making. One key theme was a need to increase access to comprehensive and quality data. There were several emerging methods presented on this topic. One breakout session focused on the Agency for Healthcare Research and Quality's Social Determinants of Health Database, which includes data describing non-clinical information such as economic and education variables. This is the type of data that would be particularly important in policy discussions as researchers learn more about how social and health data interact.
In another session, panelists from the Department of Veterans Affairs highlighted how they were leveraging health care data across care boundaries, patient self-reported and social determinants of health data to combat the COVID-19 pandemic. Data standards and innovative solutions, such as natural language processing, have helped to accelerate case reporting, track long COVID outcomes, advance health equity, and drive evidence-based decision making.
Leveraging Data and Policy to Advance Equity
While there were many examples of the power of data to advance transformation in the health system, speakers on the main stage highlighted where work was still needed. For example, J. Nwando Olayiwola, during the plenary panel on advancing health equity, noted the need to build risk prediction models that anticipate health disparities to better represent underserved populations.
"If you assume the science and technology is good enough, you'll miss a lot of opportunities," she said.
Abigail Echo-Hawk agreed highlighting the need for data reform and more precise data collection across populations.
"Until we are all accurately represented, justice is not achieved," she said.
In addition to discussing better data for decision makers, the conference also explored many policy developments aimed at improving health and health care, including, price transparency. One panel of policy makers, consumer advocates, and researchers reviewed the progress of hospital price transparency regulations to date and discuss new insurer-focused regulations set to be effective later this year. Regarding other policy innovations, panelists discussed the new Accountable Care Organization Realizing Equity, Access, and Community Health (ACO-REACH) Model and how it is designed to reshape the systems incentives to achieve health equity.
Engaging Diverse Voices in Solution Design
Many attempts to leverage data and technology to improve health care delivery fail when technology tries to replace the doctor and one-off implementations add unnecessary complexity. As health care organizations look at tools across specialties and that compliment other programs, engaging diverse voices is essential to arrive at meaningful solutions.
"It's important to co-design and co-develop solutions so that they're inclusive and actually will be utilized by the patient populations that have been traditionally underserved," Ashlee Wisdom said in a plenary panel on consumer tech.
In a session on making care personal by leveraging data, panelists agreed that co-design is critical to ensuring uptake of tools.
"If patients don't use it, might as well throw it in the trash," said panelist Juan Pablo Segura.
The conference attendees and agenda reflected the importance of including the patient voice. This year's conference included patients at every step of the event process from committee members and reviewers to panelists and attendees. Indeed more than 40 patients attended the conference this year thanks to scholarships and patient leaders featured on the main stage to share their expertise and real-world experiences, which must inform the future of research, policy, and health care delivery.
"Too often, people come to me and say, 'What do you need us to do? How can we help you?'" Echo-Hawk said. "And my answer to that is, 'We have the answers. We've always had the answers. You never listened. Come to us with the resources that we need, and we will direct the efforts.'"
While the live schedule of activities has ended, Health Datapalooza and National Health Policy Conference registrants have access to the recordings of 13 breakout sessions and all plenary sessions through May 6, 2022. Registration for the 2022 Annual Research Meeting taking place this June is currently open. Learn more here.
Blog comments are restricted to AcademyHealth members only. To add comments, please sign-in.