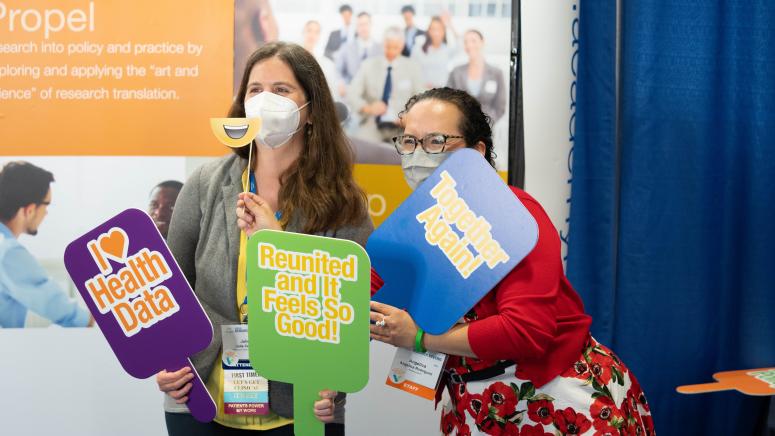 Being in the field of health services and policy research (HSR), you probably refer to yourself (or want to) as a top-of-the-line researcher, innovator, or disruptor. You're willing to put in the time and energy to deliver high quality research and results. Doing the work is the first step. Translating that into career success takes more than conducting the research.
An AcademyHealth membership takes the guesswork out of the path to career advancement and provides you with several opportunities to enhance your career and skillset. The following gives you a guide on how AcademyHealth membership can help you advance in your career.
There are several aspects unique to a career in HSR, but the path to advancement can be broken down into a few major components.
Build your visibility in the field

Expand your network and professional connections,

Consistently stay on top of the latest trends and developments.
The combination of these three key ingredients will not only enrich your career experience, they will also position you as a thought leader in the field.
Building your visibility
AcademyHealth's membership offers several ways to get your research directly in front of a nationwide audience.
There is, of course, the "gold standard," which is a podium or poster presentation at an AcademyHealth conference. This is a phenomenal way to present your work as it also gives you visibility online and at the event. There are also many opportunities throughout the year to increase your visibility.
As a member, you can author a blog, which will be featured as the lead article in the Daily News (sent to 4,000+ professionals in HSR) and shared on social media with over 25,000 followers. A blog post is your chance to show a target audience of researchers the intricacies and details of your work.
AcademyHealth members and conference attendees consistently tell us that we attract a level and depth of interdisciplinary fields they can't find anywhere else. This means positioning yourself as a thought leader through presenting or authoring a blog, you're not simply getting your work in front of the HSR field, you're bringing visibility to your work in front of many different audiences such as health economists, public health professionals, policy experts, patient collaborators, health data nerds, and many more.
Expand your network and professional connections
There are many ways to enhance your network through AcademyHealth membership as we curate experiences and host conferences, which bring together multidisciplinary experts. Attending and actively networking at our premier conferences, is a surefire way to add quality professionals to your contact list.
Additionally, serving as an Interest Group (IG) Advisory Committee member puts you in contact with 10-12 other HSR professionals in your same area of expertise. Over the course of a year, you'll be able to create a working agenda for the IG and have rich discussions on a specific topic (whether that is child health services research, women and gender health issues, or one of the other 17 topics represented by IGs).
Lastly, volunteering as an abstract reviewer is a fantastic way to get a behind-the-scenes look at how AcademyHealth conferences are built, and it puts you directly in touch with other professionals in the field to discuss the research that will shape our flagship events.
By using all of these member benefits, you'll not only build your contact list, you'll also build a reliable group of professionals who can put you directly in touch when their professional network. This is a great way to stay current on what your colleagues are working toward and help bridge the gap that may exist in your project/work.
Stay on top of the latest developments
In a survey AcademyHealth previously conducted, researchers reported one of their top challenges is staying up to date on the latest in the field. This is understandable. We are living in the information age. There's so much out there and it can become overwhelming to determine what is high quality and relevant information you need to read. HSR professionals join AcademyHealth because we do the hard, time-consuming work for them. We sift through the mounds and mounds of information and spent hours refining our search terms and journal sources, so you are only receiving the most relevant trends, updates, and developments.
First and foremost, AcademyHealth writes our Member Update and Partners newsletters. Both newsletters arrive directly to members' email inboxes and are jam packed with events, activities and thought leadership, which helps you maintain/create a competitive advantage in the field.
Member Update comes out three times a month and is focused on AcademyHealth-led events, activities, and programmatic activities. This is an email you will want to read to learn about the next conference, abstract submission deadline, awards nomination cycle, IG meeting, or to simply stay abreast of the program/learning community work AcademyHealth is moving forward. Think of Member Update as the newsletter that shows you how to take advantage of AcademyHealth's thought leadership opportunities and schedule deadlines, conferences, and interactive professional development activities in your calendar.
Partners comes out once a month and solely features the work of AcademyHealth organizational members, spotlighting what the leading HSR employers, universities, and organizations are producing. This gives you direct insight into their priorities, so you identify research collaboration opportunities and uncover potential research gaps.
And, lastly, the Daily News email comes to your inbox daily and AcademyHealth invests in a technology that custom curates these news alerts for you based on your personal reading preferences and interests to keep you updated on the top trends and innovations in HSR.
Take Advantage of All These Opportunities:  Join AcademyHealth!
Whether you've been in the field for one day or thirty years, there is a place for you at AcademyHealth to help you maintain or create a competitive advantage. Join us here.
Members, make sure your membership is up to date by renewing now.
Not sure if you're a member? Our friendly membership team is on hand to help you find out and join at membership@academyhealth.org.
Blog comments are restricted to AcademyHealth members only. To add comments, please sign-in.