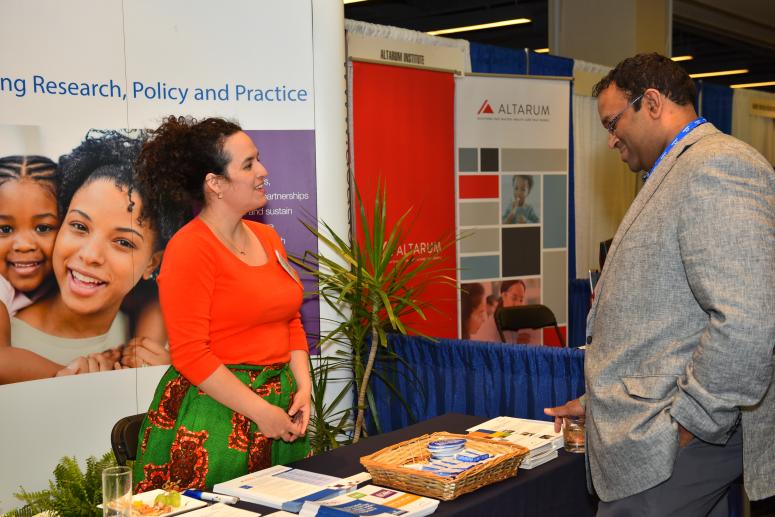 Next week, AcademyHealth will host the 2023 Health Datapalooza in Arlington, VA on February 23-24. Health Datapalooza is a gathering place for people and organizations creating knowledge from data and pioneering innovations that drive policy and practice and generate market value. The two-day program is jam packed with exciting plenaries, breakout sessions, and networking opportunities. This blog post offers a sneak peak of all that Health Datapalooza has to offer in 2023.
Health and Safety
As always, protecting the health and safety of our attendees is our number one priority. All in-person attendees, staff, and contractors must have up to date COVID-19 vaccinations two weeks prior to the meeting date to participate. Attendee vaccination status will be verified via the software platform LINK. For instructions on how to use LINK to verify your vaccination status and more information about health and safety at Health Datapalooza, please visit our health and safety protocols page.
Rich Content: Learning and Leading in Keynote and Breakout Sessions
Health Datapalooza is the place for how, not hype. The agenda includes four plenary sessions across the themes of data, policy, and action. In these plenary sessions, speakers from across the health policy and heath data sectors will offer insights on the use of data as a tool for innovation, trust and transparency, the implications of data sharing and interoperability, and more. Attendees can expect to walk away from each session with calls to action that center equity, make them think outside the box, and inspire them to respond to challenges in health care with fresh ideas. Highlights from the plenaries include a keynote from Micky Tripathi, National Coordinator for Health Information Technology, a panel on digital health post Dobbs, a fireside chat with Jonathan Blum, Principal Deputy Administrator and Chief Operating Officer, CMS, and a keynote with Maneesh Juneja, Digital Health Futurist, looking at "Generative AI: What does it mean for the future of healthcare in the USA?"
An agenda at a glance is available on our website, as well as a full online agenda. The online agenda allows you to search for content by day, theme, session type, and speakers. In addition to plenaries, the agenda includes breakout sessions, lightning talks, and networking opportunities such as Coffee Chats, unconference sessions, and exhibit hours. Take advantage of this tool and start planning your Health Datapalooza experience now!
Mobile App
You can now view the full agenda on the Health Datapalooza mobile app.  Download the app to connect with fellow attendees, build your schedule, and view the most up-to-date agenda.
Networking: Meet Your People at Health Datapalooza
Content may be king, but connections are what make the conference experience special. Health Datapalooza makes connection easy with a variety of activities and opportunities to engage with your peers outside of plenary sessions. Make sure to check out the following while you're at the conference:  
Unconference Sessions
Health Datapalooza unconference sessions provide an opportunity to explore topics in a more informal and less structured setting. This is your opportunity to shape the conversation. Connect with other Health Datapalooza attendees looking for in-depth, unscheduled topics at an unconference session.
Continue the Conversation Sessions
Heard something exciting in a session and want to learn more? Continue the Conversation sessions provide the space for attendees to discuss what they learned in breakout sessions and what takeaways they gained. Hold on to your thoughts from the breakouts and meet up with your peers to continue the conversation.
Coffee Chat
Grab a cup of coffee and join an informal chat led by Ashish Patel, CareSet Systems and Aneesh Chopra, CareJourney, to discuss opportunities and challenges working with Medicare data in VRDC. This coffee chat is open to anyone looking for more connection and conversation at the conference.
Pitch Tents
Get a quick hit of innovation in these 10-minute presentations from your peers that provide insight into what they've been working on in the health data and health policy space. Drop into a pitch tent presentation to learn more about the future of health data, policies, and innovation.
Fun Run
Begin the last day of the 2023 Health Datapalooza with a fun and invigorating morning run. Take in the sights of Arlington, VA while giving your body the energy and kick-start it needs to make it through the final day of the conference! Find more information and sign up for the fun run here.
AcademyHealth Booth
Grab some swag and chat with AcademyHealth staff at the AcademyHealth booth. The booth will be in the exhibit hall located in Independence Center A. Stop by to learn more about AcademyHealth and how to use your membership to reach your career goals.
Exhibit Hall
At the Health Datapalooza exhibit hall, attendees have the opportunity to meet and network with organizations working across the heath data and health policy spectrum. Make sure to visit the exhibit hall during the following hours:
Thursday, February 23: 11:45 a.m. - 6:00 p.m.
Friday, February 24: 10:00 a.m. - 3:00 p.m.
See You There
At Health Datapalooza, you can expect to collaborate, innovate, and disrupt the industry with your peers no matter where you find yourself throughout the day. Whether in a plenary session, over coffee, or in the hallways, Health Datapalooza is where ideas get real. See you there!
Keep up with us on social throughout Health Datapalooza. Follow @AcademyHealth and @hdpalooza and use #hdpalooza to get the latest updates and share your takeaways from the conference. Be sure to follow our social media ambassadors, who will be live tweeting the conference. Find their handles (scroll all the way down!) here.
Blog comments are restricted to AcademyHealth members only. To add comments, please sign-in.