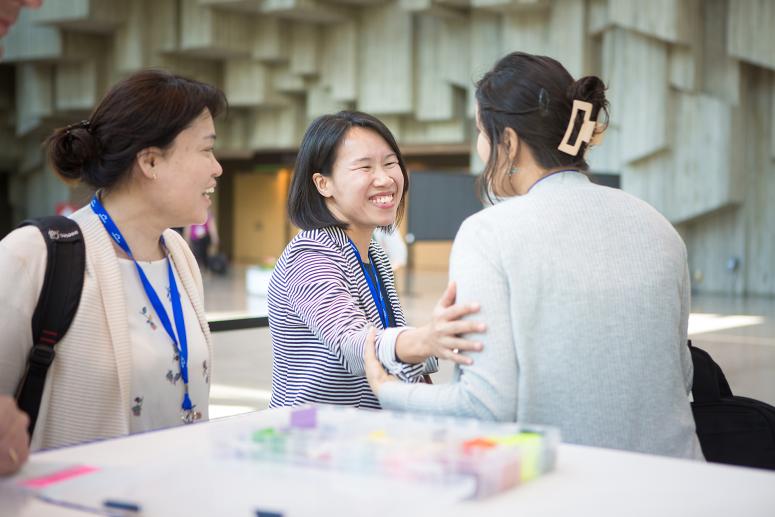 As a first-time attendee, I found ARM 2023 to be an extremely engaging and energizing experience, and I hope you did also. Networking and engaging with a supportive interdisciplinary community of health services researchers, policy makers and stakeholders are among the main reasons people attend Academy Health's Annual Research Meeting (ARM). This is not surprising given that positive professional relationships have a variety of important benefits: expanding networks, publishing, collaboration and funding opportunities, mentor/mentee relationships, awards/recognition and professional advancement. Now that it has been a few weeks since the conclusion of ARM 2023, here are some ways to nurture new and existing relationships for future collaboration and connection!
Reflect
Conferences are packed with information, education, and networking interactions, and it's likely you returned home with several digital or paper business cards, email addresses, or perhaps flagged attendees in the ARM 2023 app. Maybe there were some posters you wanted to see but didn't get a chance to. Setting aside some time to intentionally reflect on who you'd like to connect with and why is a great first step in making or maintaining connections following any conference. Some experts recommend sorting connections into groups (i.e., personal, career, collaboration) or prioritizing connections. Whatever your process may be, it doesn't take long to reach out and move from making to maintaining these new relationships.
Reach Out
Maintaining connections can require some courage, and even more so after spending a lot of time in isolation over the past couple years due to the COVID-19 pandemic. Sending a personalized email thanking someone for their work, along with specific details on where/when you met them or where you saw them present (ideally within 1-2 weeks post conference) is a great start. Dr. Bianca Frogner, director of the University of Washington Center for Health Workforce Studies, encourages this also: "If you had a great conversation with a new colleague at the ARM, don't be afraid to find their email and write them a short note saying how much you enjoyed speaking with them! If there is a particular paper, including one that you co-authored, that you think may be interesting to your new connection, send that along too. Doing this can be a useful way to refresh people's mind about your connection and maybe even start a meaningful dialogue!" Dr. Frogner also said she often gets new connections on Twitter and LinkedIn after a conference, and it's another great way to refresh her memory regarding who she met and may want to connect with afterward.
If you weren't able to make an in-person connection, that's okay! You can still connect virtually by introducing yourself and letting a colleague know what you appreciated about their work, ask questions, or note the ways your work/interests may align. If you can't find them on social media, try searching the ARM 2023 app or Academy Health website! The ARM 2023 app will be available through the end of September 2023. This means you can search for people who consented to having their profiles public under "Attendees," view posters, read bios and double check the message center to make sure you didn't miss any connections. For more tips on virtual networking that can also be applied to post-ARM connections, check out this 2020 Blog for helpful tips and example e-introductions.
Reconnect throughout the year
Building relationships requires time and consistency. Make sure your investment of time, energy and other resources to attend ARM 2023 is well spent and not a one-time forgotten conversation. Engage or reach out at regular intervals via social media or email. Academy Health also has a built-in system for staying connected to other members with similar interests – Interest Groups! I know what you're thinking. Taryn, you just wrote an ENTIRE blog on Interest Groups. We get it. You're pro-AH Interest Groups. While that is entirely true, it is still worth reiterating these 19 groups provide members with opportunities for knowledge exchange, collaboration, designated time/space to connect all throughout the year! This membership benefit is a great way to continue building relationships and move into collaboration with other AH members across the nation.
In closing, there's a good chance network expansion was a part of your motivation in attending ARM 2023. Don't let these new connections fade into memory. This blog provides some straightforward suggestions to maintain connections and collaboration following ARM 2023 that can be applied to other conferences as well. Renowned AH mentor and recipient of the inaugural Interdisciplinary Research Group on Nursing Issues (IRGNI) Mentorship Award Dr. Allison Squires told me, "Don't be shy! Reach out. People are pretty receptive." I have found this to be true, and I hope you do as well when you reach out to some of your ARM 2023 connections
Blog comments are restricted to AcademyHealth members only. To add comments, please sign-in.